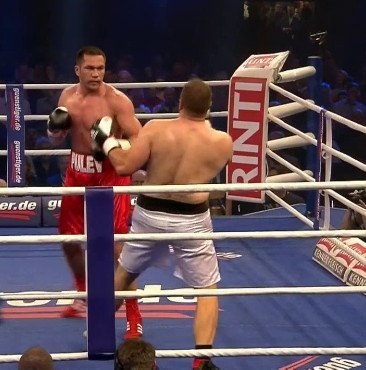 Heavyweight Kubrat Pulev's scheduled fight against TBA on April 5th almost fell apart as he had a hard time finding an opponent. Obviously schedules and budget for this event were tight as a couple of journey men snubbed the offer to face Pulev citing inadequate time for preparation and unattractive remuneration. It was a non-title fight to begin with as Pulev is unlikely to take any chances before it becomes clear whether Wladimir Klitschko will defend his IBF title against him.
The day was saved by the 39 year old Croatian boxer Ivica Percovic (20-24) who had little hope against an opponent of such caliber. Pulev worked from the outside and fired at will as he stayed practically outside his opponent's limited range. Whenever Percovic decided to try a big shot he telegraphed it from a mile. Pulev's defense is generally reliable as he has good ring orientation and maintains a comfortable distance using footwork and body movement to gain a good position. His angles are neutral as his style is not aggressive or openly defensive.
Percovic earned his paycheck by bravely standing in the line of Pulev's bombardment for three full rounds. It wasn't just the jab this time; Pulev's jab was garnished by big right hands on a regular basis. Pulev busted his opponent's nose with a right hand in the second round and Percovic had a hard time surviving the round. He came out for more in round 3 and still managed to hang on but spat his gum shield at the bell and went back to his corner smiling. He had done enough and came out of his corner after the break only to congratulate Pulev. Medical expenses in Germany sometimes exceed a boxer's reward (Shannon Briggs complained about that after he fought Vitali Klitschko), so Ivica Percovic perhaps did more than enough under the circumstances.
Kubrat Pulev has earned his shot at the IBF title and even if this fight did not answer any questions about him, he is still the mandatory challenger. He has won all of his fights and even if fans have yet to see him knock down an opponent with a power shot to the head, he is very competent at what he does.
Klitschko is fighting Alex Leapai instead of his mandatory opponent and it is not clear how Leapai qualified for a championship fight. He beat Denis Boytsov who had been "promised" a fight with Klitschko. If Boytsov had been ranked high or earned his "promised" title shot, it would make sense for Leapai to take his place. But when the champion replaces one voluntary defense with another voluntary defense against hand-picked opponents and somehow gets it sanctioned, there should be some form of justice for those who have worked their way up.
In all fairness Kubrat Pulev may not possess the power and speed among other qualities to threaten Wladimir Klitschko's reign in the division but Klitschko needs to prove that in the ring. Wladimir Klitschko has to fight Kubrat Pulev, this fight may not save the division or set financial records, it might set things straight instead.