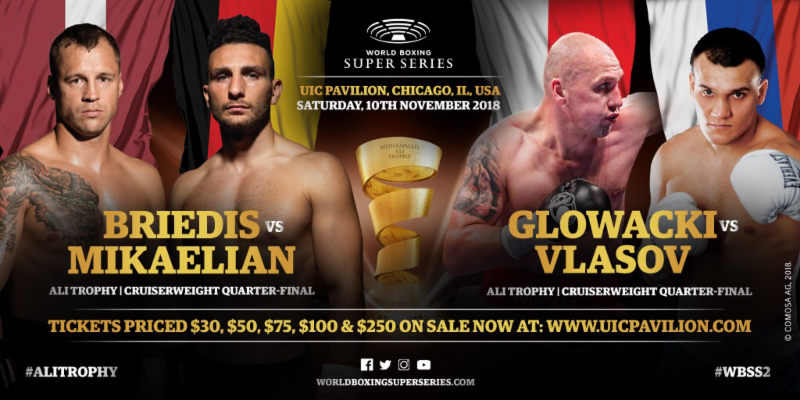 Poland's Krzysztof Glowacki and Russia's Maksim Vlasov have studied each other thoroughly before their Ali Trophy Cruiserweight Quarter-Final November 10 at the UIC Pavilion in Chicago.
Tickets are available via TicketMaster.com or by calling 800-745-3000.
"I've watched a lot of his (Vlasov's) fights together with my coach and we have tactics ready," said 32-year-old Glowacki (30-1, 19 KOs). "Of course, he does have a lot of weak points but he also has a lot of strengths.
"But I'm not focused on him, really. I don't care what he does, what he eats or whether he sleeps a lot. I'm mostly interested in myself and what I do. Because I know that if I give everything, I'll win.
"What am I bringing to the tournament? My faith for the most part, my faith that I'm going to win and I know there can only be one champion."
Vlasov, a fighter with success at multiple weights, is well prepared for the challenge.
"I know a lot about my opponent Krzysztof Glowacki," said 32-year-old Vlasov (42-2, 25 KOs). "I watched many of his fights, he is a difficult and dangerous boxer. He is a fighter who can shoot at any moment and one always need to watch him and stay focused.
"At this stage of my career, this fight against Glowacki is key. It's either do or die."
Latvia's Mairis Briedis vs Germany's Noel Mikaelian and Krzysztof Glowacki vs Maksim Vlasov are the two Cruiserweight Quarter-Finals on an incredible doubleheader when the World Boxing Super Series comes to the UIC Pavilion in Chicago.
Fans in the U.S. can watch the quarter-finals LIVE on DAZN, the global sports streaming platform. To sign up for a one-month free trial, fans can visit DAZN.com or download the DAZN app to their preferred connected device.
Several local prospects will highlight the exciting undercard.
###
Famed Boxer-turned-Broadcaster Paulie Malignaggi to host press conference kickoff of 3rd Annual Sugar Bert Boxing National Championship Nov. 16-18 Hundreds of boxers to compete in world-class amateur boxing two-ring tournament
Former two-division world champion Paul "Paulie" Malignaggi will be on hand as top amateur boxers throughout the U.S. and Caribbean converge on Orlando this week to test their training, increase their rankings, and earn bragging rights as winners in the third annual Sugar Bert Boxing National Championship.
The three-day event, sanctioned by USA Boxing and sponsored by TITLE Boxing, features Olympic-style amateur boxing at its highest level. "More international boxers are recognizing this tournament as one of the largest USA open invitation boxing tournaments in the country," says Bert "Sugar Bert" Wells, president of Sugar Bert Boxing Promotions (SBBP).
The championship is being held Nov. 16-18 at the Park Inn by Radisson, 3011 Maingate Lane, in Kissimmee. Boxer registration begins Friday in the Sawgrass Conference Room at the Park Inn, and the tournament kicks off at 1 p.m. Saturday, Nov. 17, in the Royal Palm Ballroom. Doors open at noon for spectators on Saturday and Sunday. A press conference hosted by Malignaggi will be held at 3 p.m. Friday in the hotel's Oleander Conference Room to discuss the championship and introduce several boxers and special guests.
"We are expecting more than 500 of the 2,000 amateur boxers who fought in one of our four qualifiers this year to compete in the national championship," Wells says. Boxers will compete in two different rings at the championship, separated into weight classes (bantam, intermediate, junior, senior, women, open men, novice, and master). They are vying for title belts as well as medals from the World Boxing Council and the National Boxing Association, and other prizes.
Notable boxers include teams led by International Boxing Federation champion Steve "USS" Cunningham and welterweight champion John Jackson, whose contenders are coming from the U.S. Virgin Islands.
"This championship series is something that's unlike any other currently in amateur boxing. All boxers are invited to participate, although there will be separate brackets for first-time competitors and boxers who received a victory at one of our 2018 Sugar Bert Qualifiers," says Wells. "These young men and women have been working hard in the months leading up to the championship, and they are ready, they are hungry."
In addition to TITLE Boxing, the event also is sponsored by the World Boxing Council, National Boxing Association, Rival Boxing Equipment, Publix Supermarkets, Allstate Insurance, Olive Garden, Smokey Bones, and What's Trending news hub.
General admission tickets for the championship event start at $10 for children ages 4-8, and $15 for adults. Ringside seats are $25.