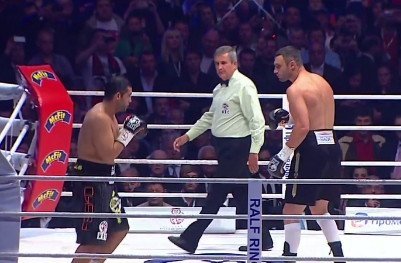 WORLD BOXING COUNCIL NEWS
September 11, 2012 – Mexico City. From the office of WBC President Dr. José Sulaimán: The following is one of the weekly "Hook to the Liver" columns by WBC President Dr. José Sulaimán that are published in El Universal every Sunday. From September 9, translated from Spanish:
HOOK TO THE LIVER
By José Sulaimán
I took the plane trip to Russia to be present for the defense of our great world champion Vitali Klitschko, who fought against Manuel Charr – the first Syrian-Lebanese heavyweight title challenger in history.
Vitali came to visit me in my room, to thank me for having taken such a long journey to attend his fight. He also thanked me for all that the WBC has done for him, especially when he had to retire as champion due to injuries, and then received support and open doors from us to return and continue a magnificent career that has already touched the gates of glory.
This made me think about things in life. A champion of Vitali's greatness has the humility, decency, and heart to express his appreciation, touching, of course, my innermost feelings, often wounded by the ingratitude and misunderstanding of others. They've been given every opportunity to become what they are, but then respond with lies and falsehoods.
There are also some boxing commissions who believe their home is Heaven, and that they are almighty. They don't understand or recognize that a WBC world champion is exclusive to our agency, for being the one and only owner of this accolade.
In the case of the September 15 fight in Las Vegas, we are not responsible for the appointment of judges. The Nevada Commission humiliated us, taking out of their sleeve a judge who has only acted for another organization … and that the WBC has never named. This has passed the line of tolerance, and I do not doubt that major steps must be taken to challenge discrimination, abuse, and lack of respect for the most basic principle of justice and rights.
The World Boxing Council, founded in the first world boxing convention hosted by Mexican President Adolfo Lopez Mateos, was established in February 1963, and is celebrating its 50th anniversary. It consists of a group of commissioners from 165 countries who give the very best of themselves for the benefit of boxing and its boxers.
Absolutely no WBC executives receive compensation for the time and effort given, while a state boxing commission in the United States is devoted exclusively to recording contracts, issuing licenses, and monitoring their stateside fights.
The World Boxing Council has created pensions for boxers. We handle a large number of surgeries and hospitalization of boxers. We create regulations for achieving protection for the fighter and temper justice in the fights. It would take many pages to describe the multiple events for the benefit of boxing. The primary basis of those who work at the WBC is love. Love for boxing. Love boxers like they are our children.
We fought against many difficulties to try to eradicate – or at least reduce – the abuse and exploitation of boxers, many of whom have been treated as merchandise and not as a human beings. The constant attention to and implementation of medical and scientific advice is precisely to protect those brave and hardy souls who get up into the ring. That is the very heart of the WBC. That is who we are!
We will keep fighting against some commissions. Against them we'll struggle to ensure respect for dignity, rights and justice.
Thank you very much, until next week.