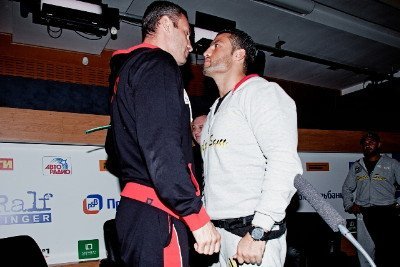 (Photo credit: KMG/Michael Sterling) Vitali Klitschko (44-2, 40 KOs) and Manuel Charr (21-0, 11 KOs), participated today in a press conference and talked about their upcoming clash next Saturday. WBC World Heavyweight Champion Klitschko and his contender Charr will face off at the Olimpiyskiy arena in Moscow.
Vitali Klitschko: "Manuel Charr is one of the toughest opponents right now. He is young, aggressive and strong. I am sure it will be a real battle on Saturday. My training camp was very good and I am in good shape and can't wait to step into the ring again."
Manuel Charr: "I know Vitali's trainer Fritz Sdunek and I worked with him. Therefore I know how he has prepared Vitali. I have my tactics against Vitali and I am 1000 per cent sure that my tactics will be better. I will be the new WBC world heavyweight champion."
Tickets are available on www.olimpik.ru (booking), hotline + 7 (495) 786 33 33 and www.concert.ru, hotline + 7 (495) 644 22 22.
In Germany, Klitschko vs. Charr will be broadcasted on RTL, Russia 2 will show the fight in Russia, HBO will shown the fight in the U.S..