Share the post "Klara Svensson returns on November 16, fights "almost" at home"
*After her successful Team Sauerland debut in Kolding, Klara Svensson will return to the ring at the Nordic Fight Night in Albertslund on November 16. The Swedish Princess (11-0, 4 KOs) will take on veteran Bulgarian fighter Borislava Goranova (6-36-1), who has been in the ring with champions like Cecilia Braekhus and Anne-Sophie Mathis. Never before has Svensson fought closer to her home city of Malmö. "That is great, I really look forward to it," she said. "I almost felt at home in Kolding because I could hear my fans shouting in Swedish. But this will be even better. The atmosphere will be fantastic! All my friends and fans from Malmö will cross the bridge to support me. Together with Patrick and Micki Nielsen´s fans from Albertslund, they will create a lot of noise."
Svensson was satisfied, yet not thrilled with her points victory over Milena Koleva on October 19. "I was happy to get back into the ring, it had been a while since my last fight," she stated. "I know I can do much better, though, I had a tough opponent who threw shots from very unorthodox angles. But it was a good start and I am glad to fight again so soon. Things are going very well with my new coach Joey Gamache, we have a good chemistry and I felt very comfortable with him in the ring."
Said promoter Nisse Sauerland: "It´s good for Klara to be back in the ring quickly so that she and Joey can get used to each other. They are quite a dynamic duo who can go a long way in 2014."
Tickets for the Nordic Fight Night at Musikteatret Albertslund are available at billetnet.dk.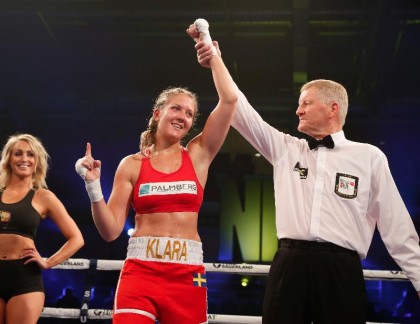 Share the post "Klara Svensson returns on November 16, fights "almost" at home"