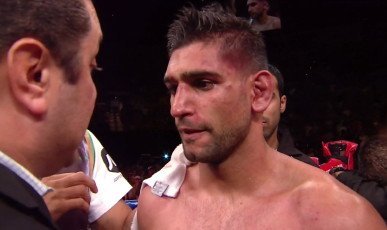 SHEFFIELD, ENGLAND, February 28 – After nearly two years fighting away from England, the "King" is back.  On Saturday, April 27 at Motorpoint Arena in Sheffield, British superstar Amir "King" Khan returns to England to face former World Champion Julio "The Kidd" Diaz.
 
Plus, 2012 Olympic Bronze Medalist Anthony Ogogo makes his long-awaited professional debut in a four round middleweight bout against an opponent to be determined.
 
"April 27th is going to be a special night," said Khan.  "It's been two years since I last fought in the United Kingdom and I can't wait to get in the ring in front of my fans.  Julio Diaz is a former World Champion and a very dangerous opponent who is coming off of an impressive performance in his last fight.  I know he will be coming with guns blazing and I'm ready for whatever he has to throw at me.  With my speed and boxing skills, and his power and experience, it makes for a really exciting matchup.  He may have other ideas but I'm adamant that my return to the British shores is going to be a very successful one."
 
"I'm not going to England for the fight to go to the scorecards.  I'm fighting for the knockout," said Diaz.  "I know the knockout is the only thing that will get me the win, so I'm training extra hard already in order to get a victory on Khan's home turf.  I'm a heavy hitter and he can't take a punch, so to me, that is the perfect combination."
            "The opportunity to turn pro on such a big fight card in England is a dream come true," said Ogogo.  "I want to become a superstar and this is the first step.  I know I have to win in an impressive fashion in my first fight as a pro and I plan on doing just that."
 
"Return of the King": Khan vs. Diaz is a 12 round 143 pound catch-weight bout presented by Golden Boy Promotions and Khan Promotions and sponsored by JD Sport and Maxi Muscle.
 
Tickets, priced at £300, £200, £125, £75 and £50 plus applicable taxes and service charges go on sale on Thursday, February 28 at 9:00 a.m. BT and may be purchased at the Motorpoint Arena box office, by calling (+44) 0114 256 5656, online at www.motorpointarenasheffield.co.uk or through Sports Corporation by calling 0845 163 0845 or at www.sportscorporation.com.