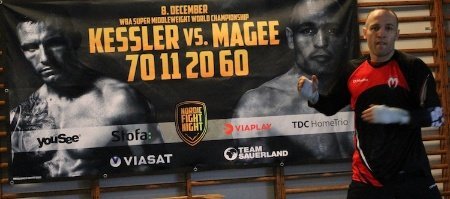 Jimmy Montoya has predicted that Mikkel Kessler (45-2, 34 KOs) will knock out World Boxing Association (WBA) Super-Middleweight Champion Brian Magee (36-4-1, 25 KOs) in Saturday night´s clash at Jyske Bank BOXEN. "I don´t want to take anything away from Magee, he is a great fighter and very skilled, but Mikkel is just too strong and too good for him," Montoya said at today´s press training in Herning. "Mikkel is just one of a kind. Magee won´t be there for the tenth round."
Kessler is confident he will claim another spectacular victory. "The KO over Allan Green was great, now I want to defeat Magee and become world champion again," he stated. "This is personal now, Magee has knocked out two of my countryman, but now his winning streak in Denmark will come to an end. I´m in great shape and I´m ready to get it on."
Magee was impressed by the pre-fight media interest. "You can tell by the hype that there is great interest in our fight," he said.
"I guess I am the most hated man in Denmark this week but that´s fine. I am here to beat one of the greatest fighters Denmark has ever had and I am confident I can do that. I love fighting in Denmark, the fans are great and the atmosphere will be brilliant.
It´s going to be fantastic fight, a fantastic show. I am ready to beat Kessler."
Tickets for the Nordic Fight Night at Jyske Bank BOXEN can be purchased at www.billetnet.dk. More pictures are available at www.facebook.com/TeamSauerlandBoxing.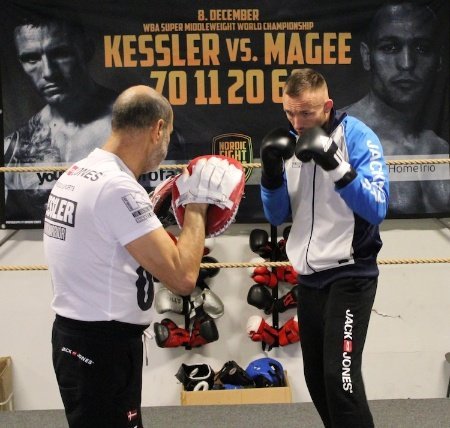 J