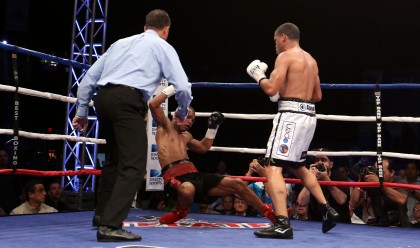 Photos: PR BEST BOXING PROMOTIONS – Juan Manuel Lopez won by TKO at 1:04 of the ninth round when after send Aldimar Silva Santos to the canvas, the referee stopped the fight. Silva Santos was down by Lopez in the fifth and seventh round.
Jose Gonzalez won by TKO at :01 seconds of the seventh round after a bloody Alejandro Rodrigues can't continue the fight.
Mcjoe Arroyo won by TKO at :01 of the fourth round when Felipe Rivas didn't answer the bell.
Felix Verdejo won by TKO at :26 seconds of the third round when after a hard punch sent Jose Santiago to the floor, the referee stopped the bout. Santiago was down in the first round too.
McWilliams Arroyo won by KO at :45 seconds of the fourth round after a hard combination sent Miguel Tamayo to the canvas for the count. Tamayo had been down two times in second round.
This bout tended in a No decision when Omar Salado didn't continue the fight after an unintentional punch by Jonathan Gonzalez behind the head in the very first round.
John Karl Sosa won by unanimous decision when the three judges voted 40-35. Daniel Rodriguez was down in round one with a Sosa's hard left hook.
Jomar Ortiz won by unanimous decision over Eliezer Agosto when the three judges voted 40-36.