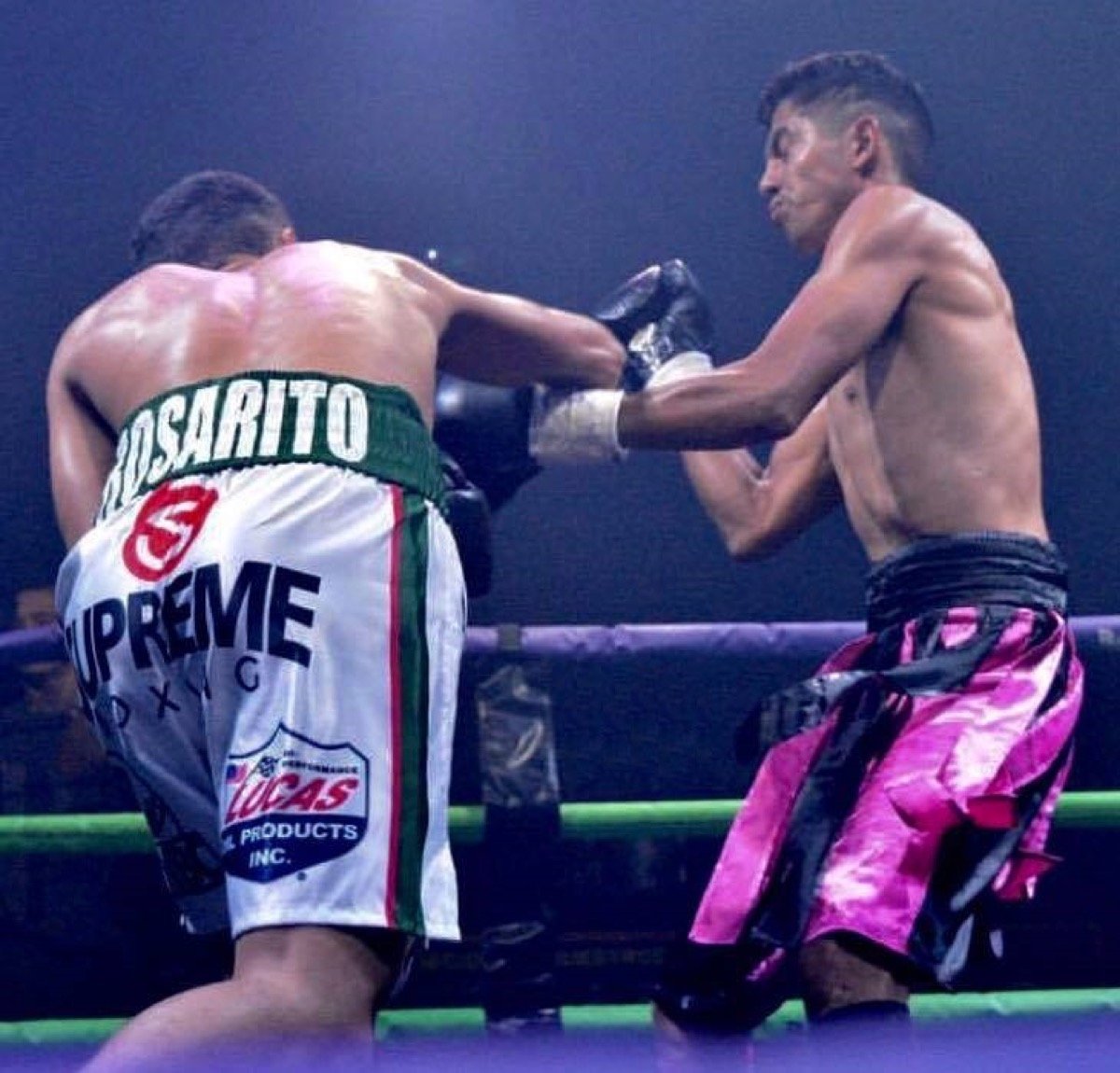 In what was third fight of the year, Riverside, California unbeaten prospect Joseph "El Tigre" Landeros extended his undefeated record to 15-0 (15 KO's) with a knockout win in three rounds over Chiapa's Aramis Solis, 14-8 (9 KO's) at the Big Punch Arena in Tijuana, Baja California, Mexico.
Fight was part of the "Nights of Boxing" series card, last Friday, December 7th promoted by Jibaro Perez Promotions and was the possibly the last fight in Mexico for a career that started when Landeros was 15 years old.
For the Riverside fighter, 2018 was a year of transition and preparation for his incursion into boxing in the United States where he will be allowed to fight after February, when reaches adulthood at the age of 18.
Against Aramis Solis, it was a solid outing.
Since the opening bell, Landeros went forward trying to engage an opponent known as a counterpuncher, taller and with a longer reach than the California fighter.
The constant attack by Landeros was neutralized by continued holding and occasional uppercuts and left hooks from Solis, several that caught Landeros from the oustide.
Eventually, Landeros was able to work inside and after several left hooks, followed by a couple of right crosses. Solis complained of an injury to his right arm at the middle of the second round.
After that, Solis was given the 8 count after a slip combined with light punch. Once the fight resumed, Landeros went in for the kill, hurting and then knocking down Solis with two solid left hooks.
Solis beat the count, but the bell rang after he got up. Once in his corner, the fighter and his team decided to call it a day.
Under Tijuana's Commission rules, he was counted out in his stool, for an official technical knockout at the 10 second mark of the 3rd round.
"I would have liked that this fight go a lot longer, but sometimes things just happened. The reason was that, after doing about 150 rounds of sparring in the training camp for this fight, I wanted to show my improved skills as much as possible. However, even in the short fight, where I took some pretty good punches, I felt in total control; " said Landeros.
"In general, I am happy to say that at 17 years of age, I have completed 15 professional fights and all have been won by knockout. Having said that, I will take some time to enjoy the holidays with my family, before going into the next big step in my career. Overall it has been a year of progress and a good preparation for the future. My team and I like to review and follow the successful footprints of other boxers in boxing history. Cases such that of Sugar Ray Leonard and Angelo Dundee, where the legendary manager made sure that Leonard was getting experience against all kinds of opposition. Boxers, punchers, movers. If you followed my career, you will that this year's fights included a fast boxer in Irvin Ordaz, my first left handed opponent in Luis Manuel Macias, and a tall defensive fighter in Aramis Solis. Also, the level of opposition has improved. Macias fought for a WBA regional title in Kiev and was a experienced 12-round fighter, while Solis has fought in several 10 and 8 rounds bouts in the past, fighting in Canada, Nicaragua and Australia, against world-class competition;" added Landeros.
"Also, after the last two fights, I now know that I can no longer make the 118 pound limt and will possibly have to go to 126 in 2019. I'm just growing according to my age. Next year will be interesting for me. First half of the year I still have to divide my time between boxing and school. In the second part, I will have the ability to go anywhere, against opponents of a much higher level; added Landeros, who closes this year with participation in a Nike Commercial and leading parts in two boxing movies that will be released in 2019.
To date, Landeros has been approached by several promotional companies, but will hold to any promotional and managerial decisions until he makes his presentation in the United States boxing scene.