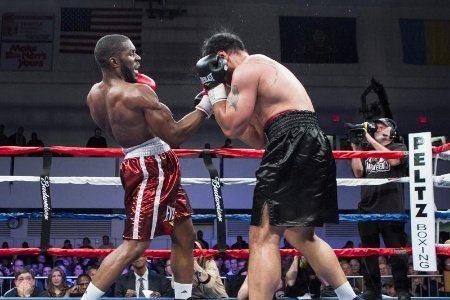 PHILADELPHIA – Photos: Chris Toney — Bryant Jennings, 16-0, 7 KOs, retained his USBA heavyweight championship with a sudden 5th round TKO of Bowie Tupou at 1:37 of round five. Jennings won the fight before his hometown, North Philadelphia crowd. Tupou landed some heavy blows of his own but fell victim to a vicious right uppercut delivered by Jennings. Tupou crashed to the canvas but managed to climb to his feet. However referee Blair Talmadge stopped the contest as Tupou, 22-3, 16 KOs, got up.
The fight was the nationally televised main event of NBC Sports Network's Fight Night boxing series. The entire broadcast will be replayed on Wednesday, December 12 from 7 pm – 9pm ET.
"He was strong," Jennings said of his opponent. "But when I landed that punch, I really felt like I had him. I thought he might not get up."
In the 10-round semi-final bout, Philadelphia's Eric Hunter, 17-2, 9 KOs, dished Jerry Belmontes, of Corpus Christi, TX, his first professional defeat, with a unanimous points verdict. Belmontes fell to 17-1 with 5 KOs. Hunter dropped Belmontes with a counter left hook in round two and generally controlled the entertaining bout. The official scored were 99-91, 99-90 and 97-92.
"I had some ring rust," Hunter said. "I didn't think the knockdown would come so fast, but after that I felt myself getting sharper."
In other bouts, Angel Ocasio, 7-0-2, 2 KOs, looked strong stopping Esteban Rodriguez, 6-4-1, 1 KO, at 38 seconds of round two. Ocasio floored Rodriguez once in round one, and twice more in round two before referee Shawn Clark halted the fight.
Jason Sosa, 7-1-2, 3 KOs, dropped Isaac Suarez, 7-2, 3 KOs, in round two and scored a TKO in the same round when referee Blair Talmadge stopped the fight at the 2:10 mark.
Joshua Arocha, 3-6-2, 2 KOs, upset previously unbeaten Alex Barbosa, 4-1, 1 KO, with a 4-round unanimous decision. The judges scored were 39-37 and 40-36 twice.
Todd Unthank-may, 6-0, 2 KOs, rose from a first round knockdown to score a 4-round unanimous decision over Taneal Goyco, 4-5-1, 2 KOs. All three judges scored the bout 38-37.
Undefeated Jesse Hart, 5-0, 4 KOs, stayed in the win column with a 4-round unanimous decision over Steven Tyner, 3-9-2, 2 KOs. Hart scored a knockdown in the first round, but saw his KO streak snapped by the tough Tyner.
Anthony Burgin remain undefeated, 2-0, 1 KO, with a 4-round unanimous decision over Kenneth Brown, who was making his professional debut in the bout. Burgin was in control the whole way, and earned a shutout on the three official scorecards (40-36).
Hasan Young, 2-1-1, opened the show with a first round TKO of Josue Rivera, 0-2. Three knockdowns by Hasan ended the bout at 1:52 of the initial round.
To find the location of the NBC Sports Network on your local cable, satellite or IPTV provider, click here:http://www.nbcsports.msnbc.com/id/30092015/ns/sports/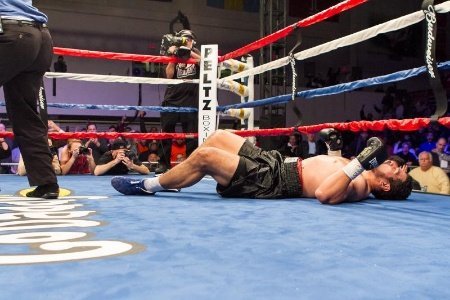 Keandre Leatherwood and Alantez Fox victorious
December 9, 2012 – Boxing 360 fighters, Keandre Leatherwood (12-1-1, 8 KOs) and Alantez Fox (8-0-1, 4 KOs), scored impressive victories on Saturday.
At the Benton Convention Center in Winston-Salem, North Carolina light-middleweight prospect, Keandre Leatherwood, battered around Marcus Primera (20-27-2, 13 KOs) for six rounds, hurting the journeyman several times before the final bell rang. The scorecards read 59-53 across the board all in favor of Leatherwood.
"I wanted to get some good hard rounds in and Primera hung in there." said Leatherwood. "I had him hurt a couple of times and I thought he wasn't going to make to the final bell, but he showed great heart and I give him credit for being a warrior and going the distance. I'm excited about the plans Boxing 360 has in store for me and I'm looking forward to a great 2013."
At the Convention Center in Washington DC, undefeated light-middleweight standout, Alantez Fox, made quick work of veteran Jimmy LeBlanc (13-23-4, 5 KOs), by way of a first round TKO. After LeBlanc was stunned, Fox landed a barrage of punches, forcing the referee to stop the bout in the opening round.
"I felt really strong going into this fight and I wanted to make a good first impression fighting for Boxing 360," Fox said. "Once I saw that he was hurt, I jumped on him and took him out of there. I'm still learning a lot about myself every I step in the ring. Mario Yagobi said he's going to keep me busy in 2013 and I'm ready to take my career to the next level with Boxing 360."
"Leatherwood and Fox are great kids and they have bright futures fighting for Boxing 360." stated Yagobi. "I'm going to move them up properly and make sure they are in meaningful fights that will prepare them for the next level. 2013 will be a great year for all my fighters."