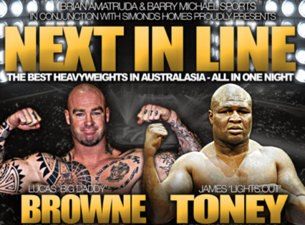 New boxing promoter Mick Gatto is thrilled to bring out American and Middleweight, Super Middleweight & Cruiserweight and two time Ring Magazine Fighter of the Year, James "Lights Out" Toney to Australia to fight in the main event against Australia's undefeated Heavyweight boxing champion Lucas "Big Daddy" Browne in Melbourne's Convention and Exhibition Centre on Sunday 28th April from 2pm.
"Im looking forward to coming to Australia where I'll be fighting Lucas "The Clown" Browne where im gonna knock his lights out" says Toney.
Toney (74 – 45 by KO – 7 losses, 3 draws) has been a World Boxing Champion in the heavyweight, cruiserweight, middleweight, super cruiserweight, light heavyweight, and super middleweight divisions and is still a force to be reckoned with at 44 years of age. He will be fighting his next battle in the heavyweight division on his first ever fight in Australia. Perth's Lucas "Big Daddy" Browne, 33, has never been beaten, having won 15 fights including 14 KO's.
Aussie boxing champ Danny Green famously requested a sparring session with James Toney at the famed Wildcard Gym in Hollywood, back in 2004.
With Jeff Fenech looking on it turned into a blood bath with Green getting the worst of it and spurting blood all over the ring.
It became known as a "gym war for the ages" and turned into a YouTube sensation.
74-7 (45KO)
Tickets available from www.ticketmster.com.au from $99.95