Share the post "Jack Culcay expects tough challenge – Pitto aiming for first title"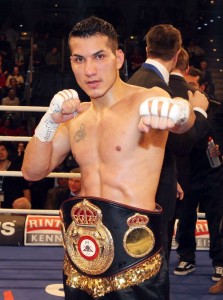 Jack Culcay (14-0, 10 KOs) knows he has a big challenge ahead of him. The 27-year-old will defend his WBA-Intercontinental Light Middleweight Championship at the Sporthalle Hamburg, Germany on April 27. However, there is much more at stake than his title when he enters the ring with Guido Nicolas Pitto (17-1, 7 KOs) from Argentina. Culcay is also aiming for a shot at the European Championship towards the end of the year. In order to do so, he will have to get past the tall Argentine who many experts, including Culcay himself, see as his toughest challenge to date.
The fact that Pitto will most likely be a stern test for the young German is one of the reasons Culcay is looking forward to the fight in his adopted hometown of Hamburg. "Pitto has a height advantage and his fitness level is immaculate," said Culcay. "Hence, it will be quite difficult to see his stamina fade early. But I am convinced that I possess enough energy to go the distance with him. I have already stated my intention to pursue even bigger goals. However, I have to beat Pitto before I can start thinking of that. For now that is the only thing I am thinking about."
Meanwhile, his opponent of the night, Guido Nicolas Pitto, has his own quest to title glory in mind. The 25-year-old professional from Argentina, who now resides in Spain's capital Madrid, will be fighting for his first international pro title when he takes on Culcay: "I have been waiting for this chance my whole life, that is why I am doing all of this. I will give it a 100 percent and more." He is also sure that he will cause Culcay some serious trouble and will not just let the German walk all over him. "Culcay is probably my strongest opponent to date. Nevertheless, I know he will feel the same about me. Therefore it will be a real war come April 27."
Share the post "Jack Culcay expects tough challenge – Pitto aiming for first title"