Share the post "Is Povetkin getting cold feet after agreeing to bout with Oquendo"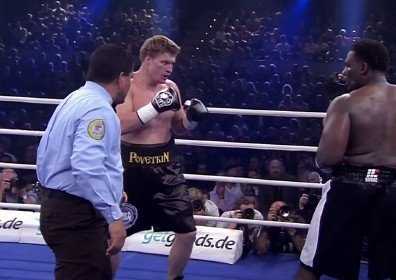 WBA heavyweight champion Alexander Povetkin (25-0, 17KOs) is attempting to renege on a deal to fight WBA Latin American champion Fres Oquendo (35-7, 23 KOs) and is instead trying to fight unheralded, untested and completely unknown Andrzej Wawrzyk (27-0, 13KOs). Oquendo, who is currently number five in the WBA Heavyweight rankings, had accepted a low ball offer from Povetkin in order to get a shot at the title. Hitz Boxing and Roy Jones Jr.'s Square Ring Inc. promote Oquendo (Team Oquendo).
"Povetkin is a coward whose word is absolutely meaningless," said Oquendo. "I signed a bout agreement even though it was an embarrassing lowball offer for a world heavyweight championship fight. After I accepted he got scared and is trying to fight someone no one has heard of, hell I can't even pronounce the kid's name."
A few weeks ago Team Oquendo was contacted by Povetkin's people to set the fight between the two and quickly agreed to terms. Sources are now telling Team Oquendo that Povetkin's camp wants a significantly weaker opponent which is why they are considering Wawrzyk.
"This is the proverbial 'he is too good for his own good' situation. Its amazing to me that at this point in his career he can't get a shot at a title after he has worked his way back into title contention," said Bobby Hitz, CEO of Hitz Boxing. "Fres is the best heavyweight contender in America. Whether its Povetkin or either one of the Klitschko brothers, they are afraid to fight Fres."
ABOUT HITZ BOXING: Since its debut in 1991, Hitz Boxing has been the Midwest's leading boxing promoter. Led by Bobby Hitz, who boasted a 21-4 record with 18 KO's as a boxer, Hitz Boxing is the longest running boxing promoter in the Chicago area dating back to the bi-monthly boxing series the "Ramada Rumble," held at the former Rosemont Ramada Inn. The organization currently promotes the wildly popular "Fight Night at the Horseshoe" at the Horseshoe Casino in Hammond, IN and is the subject of "Hitz Boxing," a reality show airing on YouTube which has amassed over 3 million views. Over the years the organization has produced matches that have included some of the top names in boxing such as James Toney, Antonio Tarver, Montell Griffin, Iran Barkley, Andrew Golota and "Fast Fres Oquendo.
###
Share the post "Is Povetkin getting cold feet after agreeing to bout with Oquendo"