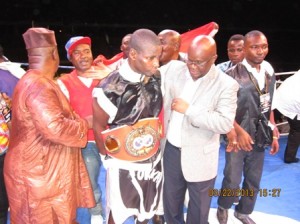 The "IBF Continental Africa Welterweight King" and the 2008 "Beijing Olympic" Ghanaian marvelous Frederick Lawson has finally found a replacement for the Burkinabe boxer Patrice Sou Toke.
The man that Lawson should be watching closely is the "Georgian Strongman" George Ungiadze 22(10)-14(3)-0 and this time around they will fight for the vacant "IBF International Welterweight Crown in end of June 2013".
Marvelous Frederick Lawson with a canning metaphor of cruelly disposing his opponents is known for his non-nonsense attitude and he box the way "Marvelous" Marvin Hagler did in the 80s. Lawson is cool and has a tendency to wink to his opponents when punishing them in the ring.
Frederick Lawson will go to the rumble with 20(19)-0-0 boxing record which makes his opponents tremble as he is yet to drop a fight. His mannerism of disposing his opponents is a clear-cut business and nobody ever stood his on slaughter except for one almost insane boxer who stood with him for a long distance and regreted it later after he was severed punished.
George Ungiadze, from Georgian Republic the country known for strongmen and beautiful ladies, want to change the record in Lawson's boxing career. Ungiadze is completely the opposite of Lawson, tough, perspicacious and proud, Ungiadze has been handling his boxing enterprises very seriously.
Coming from one of the former Soviet Union's Republics of "Georgia" the country of "Edward Shevaednadze", Ungiadze's demeanor with his opponents has been quite thorough! But, this time around he will meet the man who has knocked down all his opponents by 99.99% and the most celebrated "IBF Continental Africa Welterweight" champion.
When all is said and done and the judges have given their verdicts (would it go that far?)? The answer to this one billion dollars question will have to wait until the end of June, when the duo meet in the Ghanaian Capital City of Accra.
Alhaj Enusa Sally, the Managing Director of Enusa Company Limited and Lawson's manager and promoter together with the US based trainer Joseph Awiningyo believes that nothing will prevent him to add the "IBF International Welterweight Crown" to the number of titles he already has.
###
PHARAOH'S OFFSPRING "THE BUTCHER" IS READY TO TANGLE WITH "THE KING"
Egyptian Mostafa Ibrahim Ahmed better known as "The Butcher" will descend at the Windhoek Kutoka International Airport ready to tangle with the Africa, Middle East & Persian Gulf Featherweight King, Namibian Gottlieb Ndokosho for their impending rumble on June 29, 2013.
It can now be reveled that "The Butcher" accompanied by his trainer Richard Nwoba Anyisor has attracted a large entourage of Egyptian boxing fans most of whom will go to Namibia on the chartered planes. The Egyptians community in Namibia, has invited their Diasporas in South Africa, Botswana, Zimbabwe and Angola to go to Windhoek to support "The Butcher". Similarly, Namibians in thousands have been sending money from remote villages to buy tickets for this rumble in support for "The King" Gottlieb Ndokosho respectively.
It goes without saying that this impending rumble has attracted large numbers of boxing enthusiasts and for those who cannot find tickets would have to settle to watch it through the Namibian Stare Television "Live".
"The King" Gottlieb Ndokosho won the title in September 2012 after dispatching the Tanzanian "Journeyman" slugger Rajabu Maoja 1.50 minutes inside as one of the shortest KO in history! He has the record of knocking out his opponents and most Namibian always jams the venues early so as not to miss his fiercest opening punches! "King" Gottlieb Ndokosho will go in the ring with a record of 12(3)-3(1)-0 against 13(6)-4(2)-2 of Ibrahim Mostafa "The Butcher".
"The Butcher" believing that he is one of the Pharaohs descendants has vowed to win the championships and take it back to Cairo arguably, the cradle of mankind and civilization. it is there in Cairo where 5000 years ago pyramids were built without modern machinery which led the historians believing that Egyptians are the fathers of "mathematics and science". "The Butcher" therefore, would to emulates his ancestors by winning the "IBF AMEPG Featherweight Title" and honor Pharaohs of the Egypt!
The tournament is promoted by Kinda Boxing Promotion an up and coming promotion company incorporated in Namibia with a stable of several boxers. Also, Kinda has the "IBF World Youth Jr. Lightweight King" Albinus Felesianu in their stable who is rising as the future senior world champion.
###
IBF I/C WELTERWEIGHT QUEEN: TO BE KNOWN 27 JULY, 2013
The much anticipated rumble for the two gorgeous African female boxers both beautiful enough for a Catwalks contacts has to wait until July 27, 2013. This was revealed yesterday by Winnie Phiri, the Malawian promoter who is promoting Princess Agnes Matimakunena of Malawi against Kenyan Beautiful Hostess Florence Muthoni.
Promoter Winnie Phiri also a "Beautiful Hostess" from Malawi, allayed fears saying that she is able to promote the tournament that only technical hitches forced her company to postponed the rumble. The tournament will take place in Blantyre, the capital city of Republic of Malawi. The "IBF I/C Female Welterweight Championship" has been the talks of both Malawian and Kenyan circles as it has already elicited lot of excitements from various quarters as it gathers momentum towards the D-Day 27 July 2013.
Betting houses in both Kenya and Malawi are busy cashing in on who is the best suited to become the "IBF I/C Welterweight Queen". Similarly, students in both schools and colleges in Kenya and Malawi have been writing letters and poems to the two boxers wishing them all the best!
Much will depend on how far the two can go but, is it always said in "TANGLE" that "IT TAKES TWO TO TANGLE" and tangle they shall as we wait and see who will emerge to be the "IBF I/C Welterweight Queen" between the two beautiful sluggers!