Croatian heavyweight star Filip Hrgovic (7-0, 5 KOs) continues his World title hunt with a unanimous points win over former World title challenger Kevin Johnson (33-12-1, 17 KOs) last night at the KC Drazen Petrovic in Zagreb.
The WBC International Champion dominated Johnson over the eight round distance and came close to stopping the durable American in the second round with an overhand right landing flush and buckling the Kingpin's legs.
Johnson beat the count but offered little resistance as Hrgović continued to control the fight in the later rounds, and the decision was in no doubt when the scorecards were read out with all three judges favouring the Croatian, 80-71.
Hrgović, the 2015 European Amateur Championship Gold Medallist and 2016 Rio Olympic Bronze Medallist, ends 2018 on a high, having previously recorded victories over Sean Turner, Filberto Tovar and Amir Mansour.
"I would like to thank everybody who has supported me," said Hrgović. "I would also like to thank Kevin Johnson. He is a good fighter and he has my respect. I hit him with some big shots and he did not go down.
"I now plan to have a short break and enjoy Christmas with my family, and in the New Year I look forward to getting back in the gym and continuing my World title quest. In 2019, I am coming for all the belts!"
Promoter Nisse Sauerland was ringside watching on as Hrgović recorded his seventh career win, and says he was impressed with his fighter's display.
"That was a good performance from Filip," said Sauerland. "He will have learnt a lot from those eight rounds. He has already shown great development as a professional, and he can now enjoy a well deserved rest before a big 2019."
On the undercard, two-weight female World Champion Ivana Habazin outpointed Eva Bajic, avenging her 2013 defeat, while rising German star Leon Bauer climbed off the canvas to claim a unanimous points win over Jorge Silva.
HRGOVIĆ ATTRACTS HUGE TELEVISION MARKET SHARE IN CROATIA
Filip Hrgović attracted a 43% television market share in Croatia for his heavyweight showdown with former World title challenger Kevin Johnson on Saturday at the KC Dražen Petrović in Zagreb, broadcast live on RTL.
This huge percentage of the Croatian television watching public tuned in to see the Rio 2016 Olympic Bronze Medallist dominate Johnson, claiming his seventh professional win and continuing his World title charge.
Hrgović is now ranked top ten with the WBA and also holds World rankings with the WBC and WBO. Having been matched aggressively from the start of his career, the 26 year-old is already being positioned for a World title fight, which could come as early as next year.
"These sensational viewing figures are further proof of Filip's massive star appeal," said Zeljko Karajica, CEO of 7Sports, the sports unit of the ProSiebenSat.1 Group and Managing Director of the operating event agency MMP Event GmbH. "He is already a huge draw in his native Croatia, and as his career progresses, these numbers are only going to improve."
"We have a plan in place that will take Filip to the top of the heavyweight division, which is the pinnacle of the sport of boxing," said promoter Nisse Sauerland, of Team Sauerland. "Not only can he become one of the biggest names in Croatian sporting history, but also a global superstar."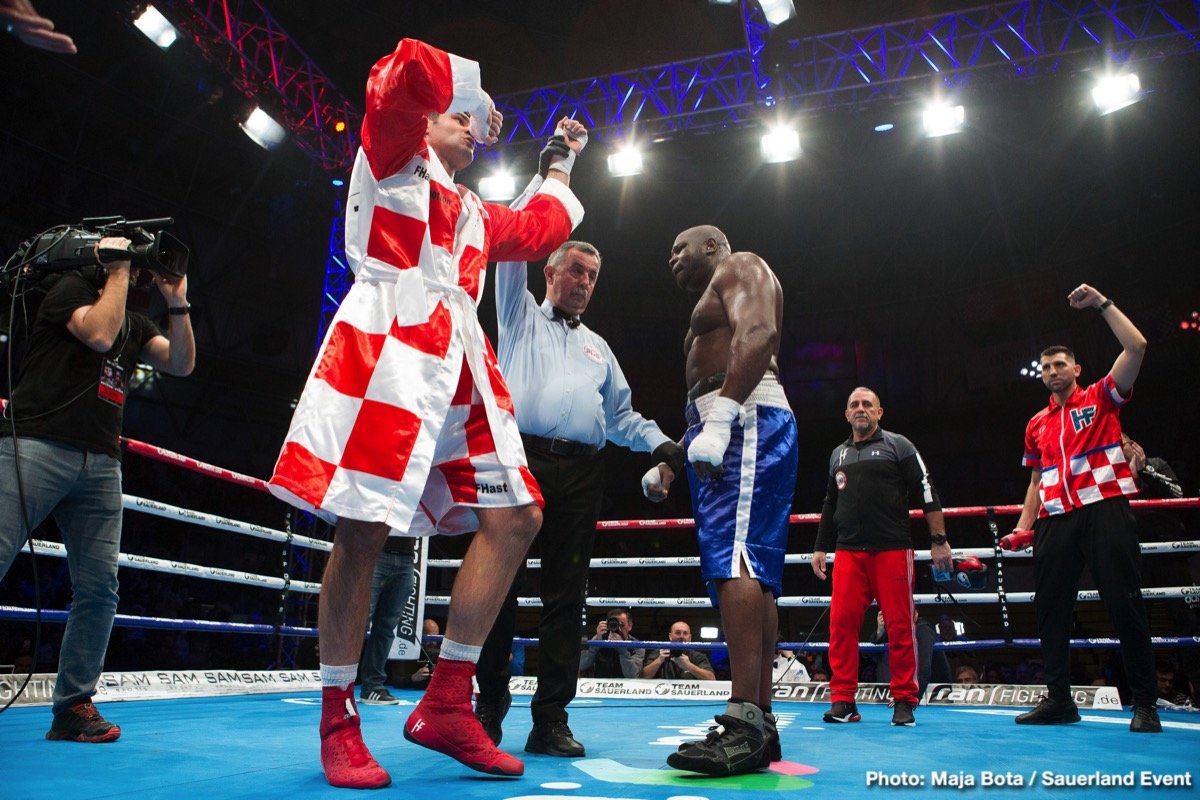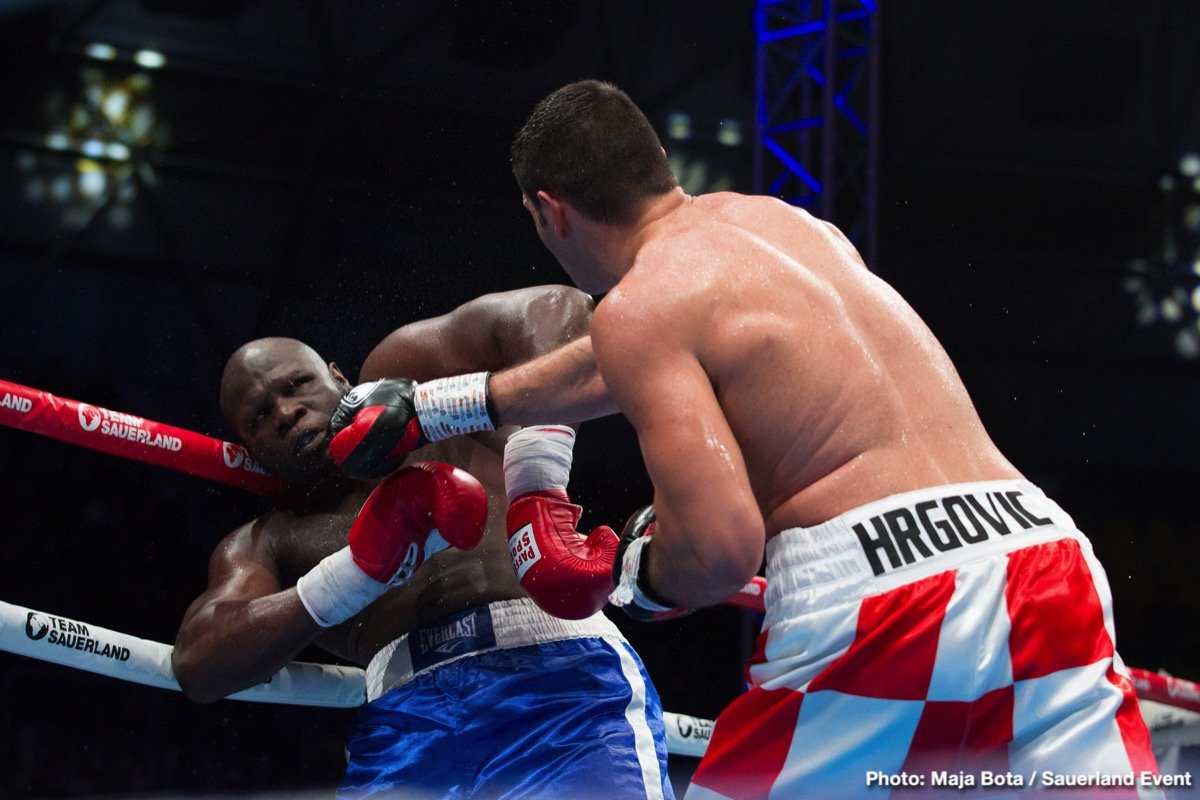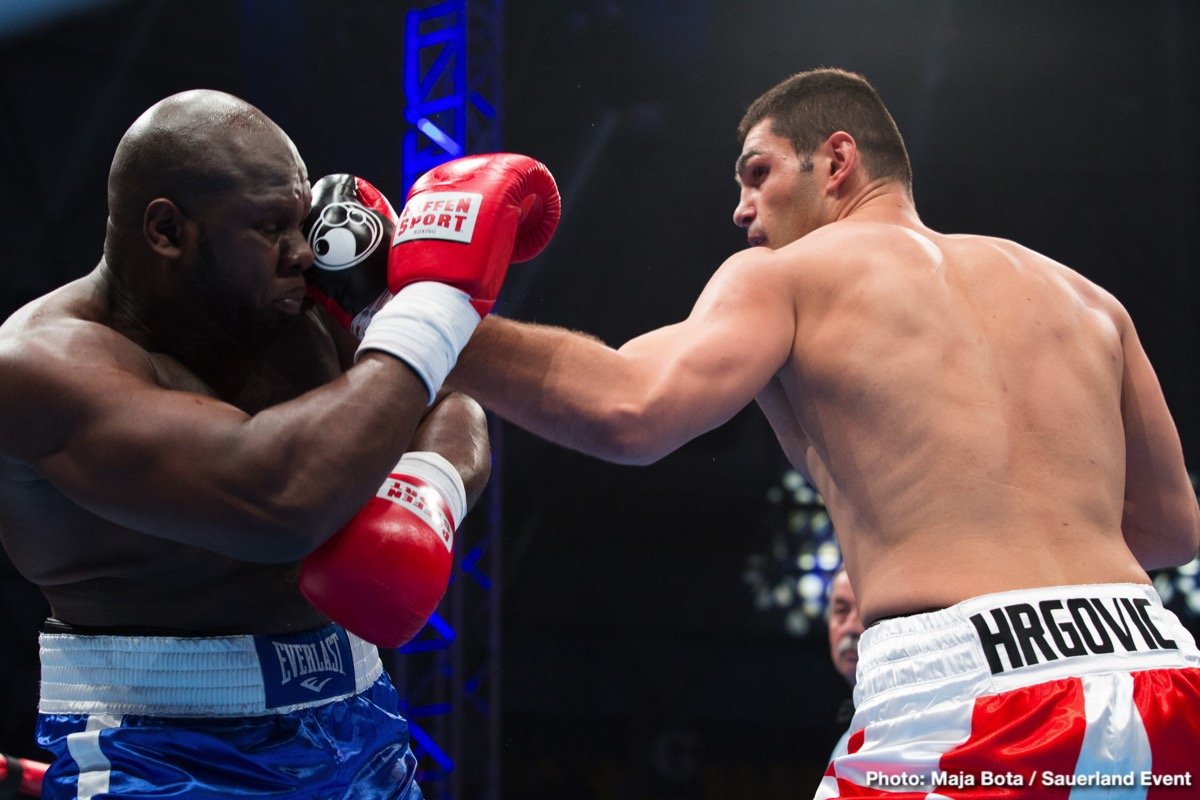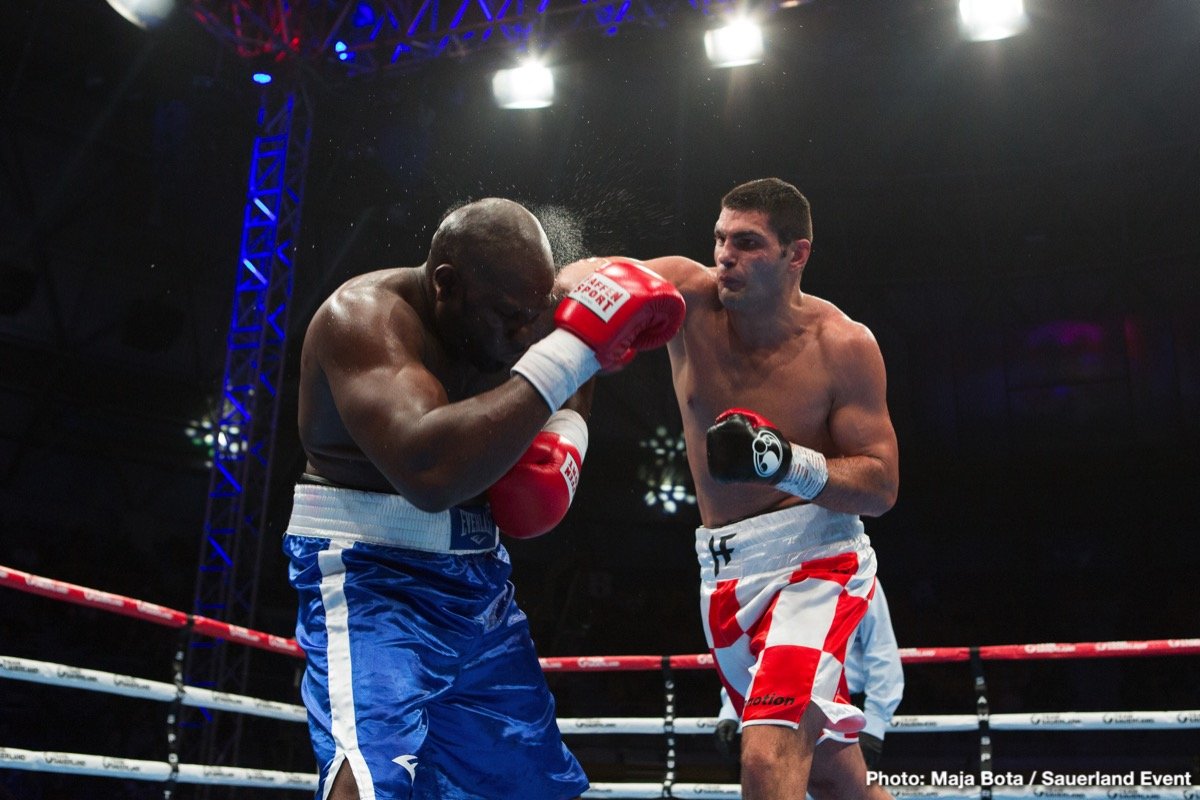 Leonet Defeats Lewandowski, Ortega Halts De los Santos
Frenchman Cyril Leonet won the vacant World Boxing Federation (WBF) International Heavyweight title on Friday night, December 7, on a big show promoted by Europrom at the Salle Des Trois Provinces in Brive, beating Germany´s Dennis Lewandowski.
Leonet (now 15-10-3, 5 KOs), a former French national and IBF Mediterranean titlist, out-boxed the otherwise game Lewandowski (13-3, 6 KOs), who did have his moments but never managed to get the upper hand on his veteran opponent.
After ten rounds of boxing, judges Giuseppe Quartarone and Ernst Salzgeber both scored the fight 100-91, while judge Jerome Lades saw it 100-90, all for Leonet. Referee in charge of the action was Christophe Hembert.
At La Estacion Food Park in Mexicali, Mexico, also on Friday night, local contender Sergio Ortega improved his professional record to 20-2 (14) and picked up the vacant WBF Mexico Light Welterweight title, emphatically stopping Lizandro De los Santos, 24-16-1 (10), in the second round.
A powerful combination of punches send De los Santos down a minute into the second round, but he beat the count of referee Fernando Renteria. However, when Ortega followed up and showered De los Santos with unanswered punches, the fight was soon after waved off. Official time 2:47.
The Ortega vs De los Santos WBF title fight was the main event of an eleven-bout show promoted by 686 Sport Promotion, billed as "Furia En El Ring"