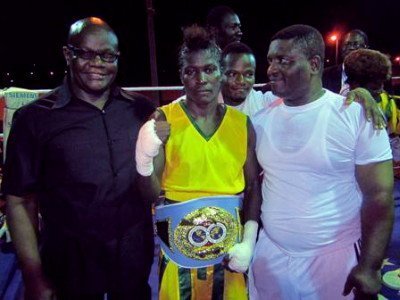 By Prince Dornu-Leiku: Ghana based Nigerian boxer, Helen Joseph made history on Friday night in Accra by knocking out Hungarian opponent, Marianna Gulyas in the opening 33 seconds of the very first round to claim the IBF Intercontinental Female Featherweight title.
But no sooner had she won and the 24 year old Joseph quickly put the past behind her and started demanding for a shot at world title glory without delay.
And a crack at global recognition is just what her impeccable managers, Golden Concepts International headed by experienced Ghanaian boxing financier, Henry Manly-Spain have delivered after netting a deal for the Nigerian slugger to face WBC Female Featherweight champion, US based Puerto Rican, Melissa Hernandez in Nigeria on July 27.
"I'm not surprised because I prepared very well for this fight. I know that not many women can handle my powerful punches to the stomach so I went for it and she couldn't take it. I didn't go in for a knockout, I wanted to excite the crowd a bit more but this is how it happened," Helen Joseph said right in the ring after being crowned champion by IBF Africa President, Onesmo Ngowi.
Helen who resides and trains in Ghana under the management of Golden Concepts International headed by Henry Manly-Spain, continued, amid a plea: "I feel great, happy and excited but this is just the beginning. Now I want the world title because I have a lot to offer, I'm ready to fight the best female fighters in the world."
And up in arms and resources to champion the dreams of Helen Joseph is Mr. Manly-Spain who has hailed the victory over the Hungarian and is predicting even greater victories for Joseph in the coming years.
"That was great, it was a good and impressive performance by Helen which has paved the way for her to fight for the world title in July. We've already agreed the deal and many Nigerians including her own State have requested for the fight to be fought in Nigeria and I think that's good," Manly-Spain told www.sportsinghana.com exclusively.
The Golden Concepts International chief added: "We have big plans for her and the ambition is for her to become the very best in her division all over the world. For the July 27 fight, we'll just pick up the title and consolidate our plans for the future."