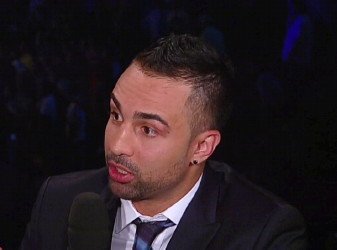 Through his 36-fight career, now going on his 13 year as a professional boxer, Paulie "The Magic Man" Malignaggi has thrown hands with some of the best fighters in the world, and has worked his way to retaining the current WBA World Welterweight Title.
Since getting stopped by Amir Khan back in 2011, Malignaggi has since won his last five fights, and recently has been looking to return back to action to defend his belt.
There was some noise made about him battling an aging, yet former champion in Shane Mosley, but it fell through. Then the talk surfaced about Malignaggi fighting Diego Chaves in Abu Dhabi, and yet again, nothing has materialized.
For the 32-year old technical boxer, one has to wonder, is there anywhere else to go in boxing? The Magic Man from Brooklyn has been working as an analyst for Showtime Boxing as of recent, and has been more exciting wearing a suit and tie than he has appeared in his last few trips to the ring.
Malignaggi has kept his name around the top of the welterweight list over the last few years due to his ability to pick apart less than formidable opponents utilizing his fast hands and elusiveness, while doing just enough to hang with the big dogs in the few chances he has gotten to exchange leather with the champs.
But despite his record of 32-4, 7 KO, each time Malignaggi stepped up and fought an opponent with any name, he got knocked back down to reality. He got stopped by Khan and Ricky Hatton, and lost a UD to Miguel Cotto and Juan Diaz.
Malignaggi's career can be summed up with one phrase…good, but far from great.
He can be compared to a baseball player with a strong enough skill set to be a standout all-star in the minor leagues, but a small fish in the major leagues.
As time is against him, proving in his last outing when he was awarded a hometown split decision over Pablo Cesar Cano when he clearly got outworked by the younger, stronger fighter, fans and critics must begin to wonder what is next for the Paulie?
So now, this past week, there has been mention of a possible matchup against lightweight champion Adrien Broner. Why? So Malignaggi can add another big name to his list of losses? It would be a lose-lose fight for both fighters as well as fans. Outside of providing pre-fight hype and trash talk that WWE and UFC fans would ROTFL over, the fight itself would be a big time mismatch and disappointment. Broner is at a point where he needs to step up the competition to show he is the real deal, and Paulie Malignaggi is not the avenue to explore.
Malignaggi's career is stagnant; there's no healthy medium for him. If he steps up to real competition and big name fighters again, he will be outclassed; and on the flip side, nobody wants to see him beating (or for that matter winning garbage decisions over) second rate fighters.
But don't worry Paulie Malignaggi fans. If the Showtime Boxing gig doesn't work out, and he steps away from the squared circle, he can always find work as an eyebrow model or audition for the next casting call of Jersey Shore.