Share the post "Gutknecht vs. Braehmer on February 2; Evensen to challenge Miskirtchian"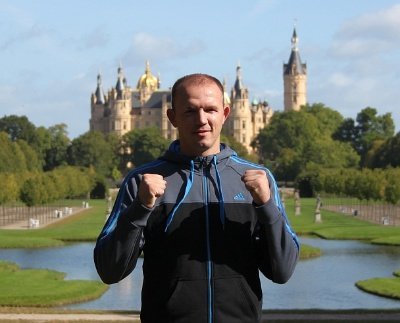 In boxing terms the year for Team Sauerland ends with Arthur Abraham´s title defense against Mehdi Bouadla on December 15. However, the planning for 2013 has already begun and it will start off with a bang. The legendary Max-Schmeling-Halle in Berlin, Germany will host the all-German affair between current European Champion Eduard Gutknecht (24-1, 9 KOs) and his compatriot and stablemate Juergen Braehmer (38-2, 30 KOs) on February 2.
Gutknecht clinched the EBU Title back in May of 2011 by a TKO victory in round eight over Britain's Danny McIntosh. Since then, he successfully defended the championship against Lorenzo DiGiacomo, Vyacheslav Uzelkov and Tony Averlant. The big four governing bodies of boxing all rank the prodigy of coach Ulli Wegner in their top ten. "It is going to be a great fight," said 30-year-old Gutknecht. "I am highly motivated for this bout. First of all, it is an all-German affair. Added to that, the winner will get a crack at a world championship. Juergen Braehmer is one of the big names in the world of boxing. I am really looking forward to be facing him inside the ring."
Former WBO Titlist Juergen Braehmer is also full of confidence when he is thinking ahead to the fight. "I am just excited about getting back into the ring and fighting for my new team for the first time. I know what it feels like to be a European and world champion. My goal is to get back to that level. I have the chance to prove to everybody what I am capable of on February 2. I want to get back to the top," said the 34-year-old, coached by Karsten Roewer.
Chris Meyer, managing director of Sauerland Event: "We are happy to kick off the new year in Berlin. This will be a very exciting fight. Eduard Gutknecht is the current WBC number two, Juergen Braehmer is listed as the number two by the WBO. February 2 is not just about the highly regarded EBU Light Heavyweight Championship but also the position as the mandatory challenger for the WBO Crown."
Tickets for the show at the Max-Schmeling-Halle in Berlin, Germany will be available next week at www.eventim.de.
###
Evensen to challenge European Featherweight Champion Miskirtchian on February 9
Team Sauerland is delighted to confirm that Andreas Evensen (17-2-1, 6 KOs) will challenge European Featherweight Champion Alexander Miskirtchian (21-2-1, 7 KOs) on February 9. The venue will be announced
in due time. "Andreas has clinched three good wins at the Nordic Fight Nights in 2012, he is ready to take the next step and go after the European Champion," promoter Nisse Sauerland said. "Miskirtchian is an
accomplished champion but I am confident his reign will end when Andreas gets his fast hands on him."
Miskirtchian won the belt in September 2011 with a split decision victory over Sofiane Takoucht. He has made one successful defence against Frenchman Philippe Frenois, whom Evensen dominated throughout
the entire ten rounds during their clash in Helsinki on November 10. "I have been waiting for this chance for a long time, I am glad the big day has finally come," Evensen said. "I will take Miskirtchian´s title and be the new champion on February 9."
Miskirtchian is looking forward to the showdown as well. "I am really excited to defend my European title against Evensen," he stated. "A few years ago he fought in Belgium against a friend of mine and I always
knew that I would face him one day. Evensen really is a warrior and he deserves to be the challenger. I saw his last fights and he did a good job. I will be 1000 percent ready and I will enjoy to defend my title and beat Evensen."
Share the post "Gutknecht vs. Braehmer on February 2; Evensen to challenge Miskirtchian"