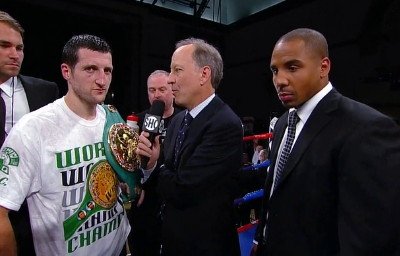 There's good news and bad news. The good news is that IBF/WBA super middleweight champion Carl Froch says he wants to fight Andre Ward in Las Vegas, Nevada. The bad news is the fight isn't likely going to happen until next year in the summer, if then. Froch says he wants fight other guys and save Ward for perhaps the very last fight of his career.
Froch said to the bbc.co.uk "Let's keep [Ward] on ice at the minute because I've got other options He is still in his rehab with his shoulder so I can probably get a fight in before Christmas, and then in the spring or summer next year we can have a massive showdown with Ward. That could be the end for me."
The problem with Froch saving Ward for last is a simple one. If Froch gets beaten by someone along the way, it's going to take away any interest Andre Ward might have in fighting him. Froch barely beat a past his best Mikkel Kessler last Saturday night in London, and might have lost that fight had Kessler fought a little harder in the first three rounds. Unless Froch is going to take it really easy until he faces Ward in the final fight of his career, I think he's going to be in danger of getting beaten.
It's not exactly inspiring that Froch wants to save Ward for the last fight of his career. I don't know about you put to me that just comes across like a fighter that is afraid to get beaten again. Ward easily beat Froch in the Super Six tournament two years ago by a 12 round unanimous decision. Froch has been talking about wanting to avenge the defeat ever since but he's never made the move to do that. Saving Ward for last gives the appearance that Froch isn't up to the task. I guess I can't blame him because I think would beat Froch even easier than he did last time.