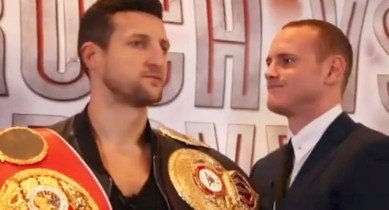 Tonight at 9PM EST/6PM PST, "JEK III Productions" presents a big "Cobra vs. St. George" edition of "The Pugilist KOrner's: Weekend Wrap"!!
Pugilist KOrner listener line: 718-506-1506
Throughout the first thirty minutes of the show, The Pugilist KOrner team will talk about Adonis Stevenson's unanimous decision victory over Andrzej Fonfara, and a potential unification bout with Bernard Hopkins later this year. JK and Joseph will also breakdown this weekend's huge fight card at Wembley Stadium, which will feature current IBF/WBA Super Middleweight Champion Carl "The Cobra" Froch and hard punching title challenger "St. George" Groves in the main event of the evening.
At the half hour mark of the show, "The Pugilist KOrner's: Weekend Wrap" is honored to feature elite level trainer Ronnie Shields. The Houston, Texas based fight coach will talk about the big Showtime tripleheader featuring Adonis Stevenson, Jermell Charlo, and Fernando Guerrero that took place this past Saturday night at the Bell Centre in Montreal, Canada, as well as this weekend's championship bouts in London, England, and Macau, China.
In the final segment of the evening, we're proud to feature master strategist James Gogue on "The Pugilist KOrner's: Weekend Wrap". The three decade boxing coach will breakdown a potential Stevenson/Hopkins unification bout at 175 pounds, as well as Wembley Stadium's massive main event between Froch and Groves. "The Gogue" will also breakdown this Saturday night's WBA Featherweight title fight between Nonito Donaire and Simpiwe Vetyeka at the Macau Venetian.
Tonight's program will be hosted by radio producer and commentator James E. King III, and boxing writer and ring announcer Joseph Herron.
Listen To Sports Internet Radio Stations with
wcsteelerfan
on BlogTalkRadio
Pugilist KOrner listener line: 718-506-1506
Tune in tonight at 9PM EST/6PM PST!!