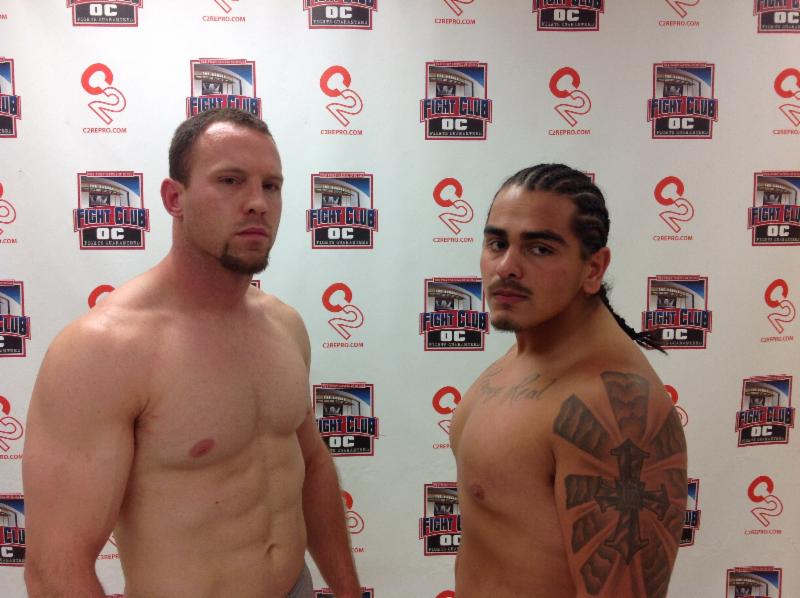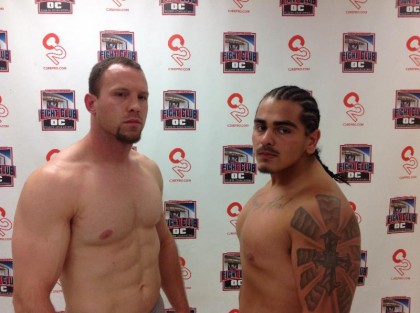 With a record 423 Fight Club OC Season Seats sold for Southern California's only hybrid fight series, it will be Opening Night of Season 4 for Roy Englebrecht Promotions when Fight Club OC kicks things off this Thursday evening April 17th in The Hangar at the OC Fair & Event Center.
What a night of action packed fights that Fight Club OC boxing matchmaker Whit Haydon and mma matchmaker Mel Valenzuela have assembled! You won't want to miss a punch, kick, or takedown, as the April 17th show will be a night full of some of the best young fighters So Cal has to offer, including four fighters from Orange County.
Thursday will also feature the Fight Club OC Poster Night Giveaway with all fans receiving a full color 18″x24″ 2014 Fight Club OC poster, and it will be the unveiling of the new Fight Club OC walkout t-shirts which were designed by Unanimous Clothing and will be worn by all Fight Club OC fighters.
Jesse West at 3-0 is only 24 years of age but he is ready to start his climb up the heavyweight rankings. This blonde boxer from Fruit Heights, Utah will be meeting veteran Giovani Sarran at 4-6.
Fight Club OC fans will fall in love with 3-0 Neeco "The Rooster" Macias who at 3-0 has one of the most unique fighter walkins in the sport. Macias will face 2-3 Julian Cruz out of Long Beach….Anaheim will be represented as Tony Thompson makes his pro debut at 154 pounds.
In pro mixed martial arts action….WOW!
Orange County will be well represented this Thursday as Fight Club OC fans might witness the best mma prospect in all of Orange County when Fullerton's 4-0 Curtis Millender looks to stay perfect, but he will be in a battle as he faces another Huntington Beach Bad Boy in veteran mma warrior John Mercurio. Millender out of the UFC gym in Fullerton is trained by top coach Billy Burke.
If that bout isn't enough, we've got Huntington Beach's 6-1 Joe Murphy vs South Gate's 6-0 Victor Henry. Need we say more…6-1 vs 6-0…a WAR! Murphy is a World Series of Fighting veteran and is trained by Billy Burke and Cleber. Henry is in good hands as he trains at CSW with former UFC champion Josh Barnett.
All tickets are priced at $55 and are available at www.fightcluboc.com or by calling the box office (909) 744-4867. Hangar doors open at 6:30pm with the show starting at 7:35pm. All Fight Club OC shows take place in The Hangar at the OC Fair & Event Center, 88 Fair Drive, Costa Mesa, CA. 92626.
Julian Cruz (151.8 lbs) vs. Neeco Macias (150.6 lbs)
FEATURED BOXING BOUT
John Mercurio (170.6 lbs) vs. Curtis Millender (170 lbs)
FEATURED MMA BOUT
Jesse West (214 lbs) vs. Giovanni Sarran (228 lbs)
HEAVYWEIGHT BOXING
Joe Murphy (134.8 lbs) vs. Victory Henry (134.2 lbs)
MMA
Tony Thompson (157 lbs) vs. Elliot Seymour (157.8 lbs)
Boxing