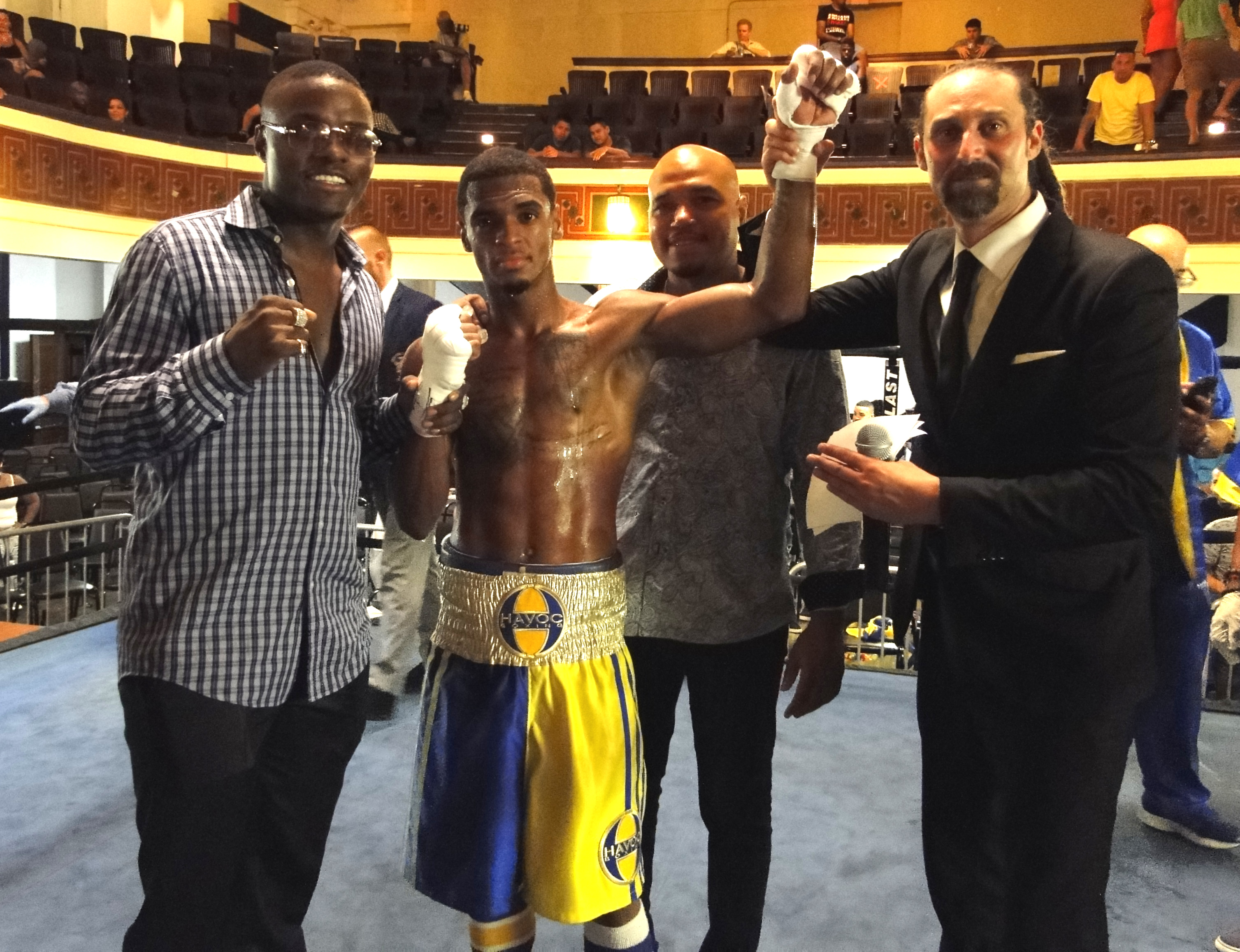 Wesley Ferrer improved to 5-0 with a 1st round knockout of Shiwone Gortman.
Brooklyn, N.Y. (September 5, 2014) – Ronson Frank's Uprising Promotions returned to action on Friday night at the Brooklyn Masonic Temple, in association with former WBO Middleweight Champion Peter "Kid Chocolate" Quillin. Six pro bouts and four amateur contests were on the docket, with Eileen Olszewski (9-5-3, 1 KO) and Christina Fuentes (3-6-4, 0 KOs) battling to a split draw in the main event. Victorious on the card were a pair of Uprising Promotions fighters, with undefeated 140-pounder Wesley Ferrer (5-0, 4 KOs) earning a first round stoppage while Irish welterweight Darren Mangan (1-0, 0 KOs) pitched a shutout in his professional debut.
In the main event, UBF/IFBA Flyweight Champion Eileen Olszewski (9-5-3, 1 KO) found a game Christina Fuentes (3-6-4, 0 KOs) on the opposite side of the ring. Possessing a distinct height advantage, Olszewski began the fight by trying to walk down her opponent, but Fuentes used nice footwork to work her way out of danger while picking her spots when she saw an opening. Over the middle rounds, Fuentes was the clear aggressor and was fighting with a noticeable amount of confidence. She appeared to be in complete control of the action until the sixth frame when Olszewski started finding success with short hooks on the inside, peppering her Texan counterpart with sharp shots to finish off the stanza.
In the seventh round, things leveled out a bit, followed up by an eighth frame that consisted entirely of close-range exchanges throughout its two-minute timeslot. The duo kept the level of action high during that final stanza, banging it out all the way until the concluding bell.
The tightly contested action made it a tough job on the ringside judges, which was evidenced by three scorecards that were all over the place. The first card announced was 78-74 in favor of Olszewski, followed up by a 77-75 tally in favor of Fuentes. The last count was even at 76-76, making the end result of this contest a split draw.
In the co-main event of the evening, former New York Golden Gloves standout Wesley Ferrer (5-0, 4 KOs) continued what has been nothing short of an electrifying start to his professional career. Facing a tough Shiwone Gortman (4-5-2, 2 KOs), Ferrer displayed great foot and hand speed from the opening bell, and he was in total control of the action. Using feints to offset the timing of Gortman, Ferrer eventually set up what would be the game-winner in the final minute of the first frame. From the orthodox position, Ferrer backed Gortman into the neutral corner before quickly switching to the southpaw stance to unload a crushing left hook to the liver that immediately crumbled his opposition. In an obvious state of tremendous pain, the blow was too much for Gortman to continue, and he was ultimately counted out at the 2:21 mark of the opening stanza.
Making his highly anticipated professional debut on this card was welterweight Darren Mangan (1-0, 0 KOs), who recently made the move from his native Ireland to New York City to work under the instruction of trainer Colin Morgan. The man on the other side of the ring from him was Kashif Muhammad (0-1), a Harlem resident who was also making his first outing as a professional prize fighter. Mangan appeared to quickly shake off any pre-bout jitters that he may have had, immediately coming forward and unloading a massive number of punches. He then kept that same work rate throughout the four rounds of action, showing good movement and ring generalship along the way. Fitness also proved to be in favor of Mangan, who maintained an intense pace while throwing punches in bunches to the body and head of a very durable Muhammad.
When all was said and done in this pairing, Mangan was awarded for his dominant performance, earning flush 40-36 tallies from the ringside officials.
In what was considered to be the Fight of the Night by most in attendance, junior welterweights Italy Martinez (1-2-1, 1 KO) and Ian James (3-9-1, 1 KO) participated in a non-stop brutal slugfest that went the entirety of its six allotted frames. In the opening round, James worked Martinez to the ropes and began unloading some heavy punishment, although Martinez seemed to be absorbing the punches quite well while he let James burn off some fuel.
In the second stanza, the two combatants stepped into a phone booth, and they did not leave its tight confines for a single second over the next three rounds. Every time James appeared to hurt Martinez with a flurry, the determined Mexican fighter quickly began to counter as if the damage had only awakened him. The duo continued to engage in a back-and-forth battle that put the Brooklyn Masonic Temple fans on their feet, and it was not until the fifth frame that they even attempted to fight at any type of distance. Working behind his jab increasingly more, Martinez began finding openings for some well-timed combinations, and the bout was still very much in question when the sixth round bell rang to signal the end of this entertaining scrap.
After the first judge revealed an even 57-57 count, James emerged victorious in an upset win that was confirmed by a pair of 58-56 scorecards from the remaining pair of ringside officials.
In junior middleweight action, Corona native Frank Castillo (3-0, 2 KOs) put on an impressive performance against a resilient Jonathan Jeter of Brooklyn. Each round of this contest was quite competitive, with Castillo getting off the crisper shots against a pressuring Jeter. Castillo timed the advances of his opponent well, and a hard counter right hand in the second stanza opened a cut on the left eye of Jeter that played a role in the final three frames of the bout. Castillo did buckle Jeter late in the third round after delivering a thundering overhand right, but the tough Brooklyn resident was able to gather himself well enough to get through to the bell. Behind on the cards, Jeter made a valiant effort to spoil the night for Castillo and his team in the last round, but both men remained standing when the fourth and final frame concluded.
With a tally of 40-36 matched alongside a pair of 39-37 cards in his favor, the victor in this outing was Castillo, who went the distance for the first time in his short professional career.
The first professional bout on the slate got the night started with some early fireworks, as unbeaten super middleweight Max Tassy (3-0, 1 KO) hammered Bilal Ali Salaam Jr. (0-1) with a devastating left hand in the opening moments of the first round. The vicious shot would prove to be all Tassy would need to earn his third professional win, scoring the one-punch knockout just 23 seconds into the affair.
Proud supporters of the FDNY and NYPD, Uprising Promotions conducted a fundraiser on Friday night that benefited children with autism. Proceeds from the evening will be donated to The School For Language and Communication Development in Glen Cove, New York.
Tonight's show was sponsored by Brooklyn Brothers, Frank Brothers Fitness, Gotham Gym and Trinity Boxing. For more information on Uprising Promotions, make sure to follow us on Instagram and Twitter (
@UprisingNYC
), as well as by liking our fan page on Facebook.
For interview requests with Uprising Promotions President Ronson Frank or any of the fighters on the Uprising Promotions roster, please contact Archibald directly at jarchibald@ResSports.com to arrange.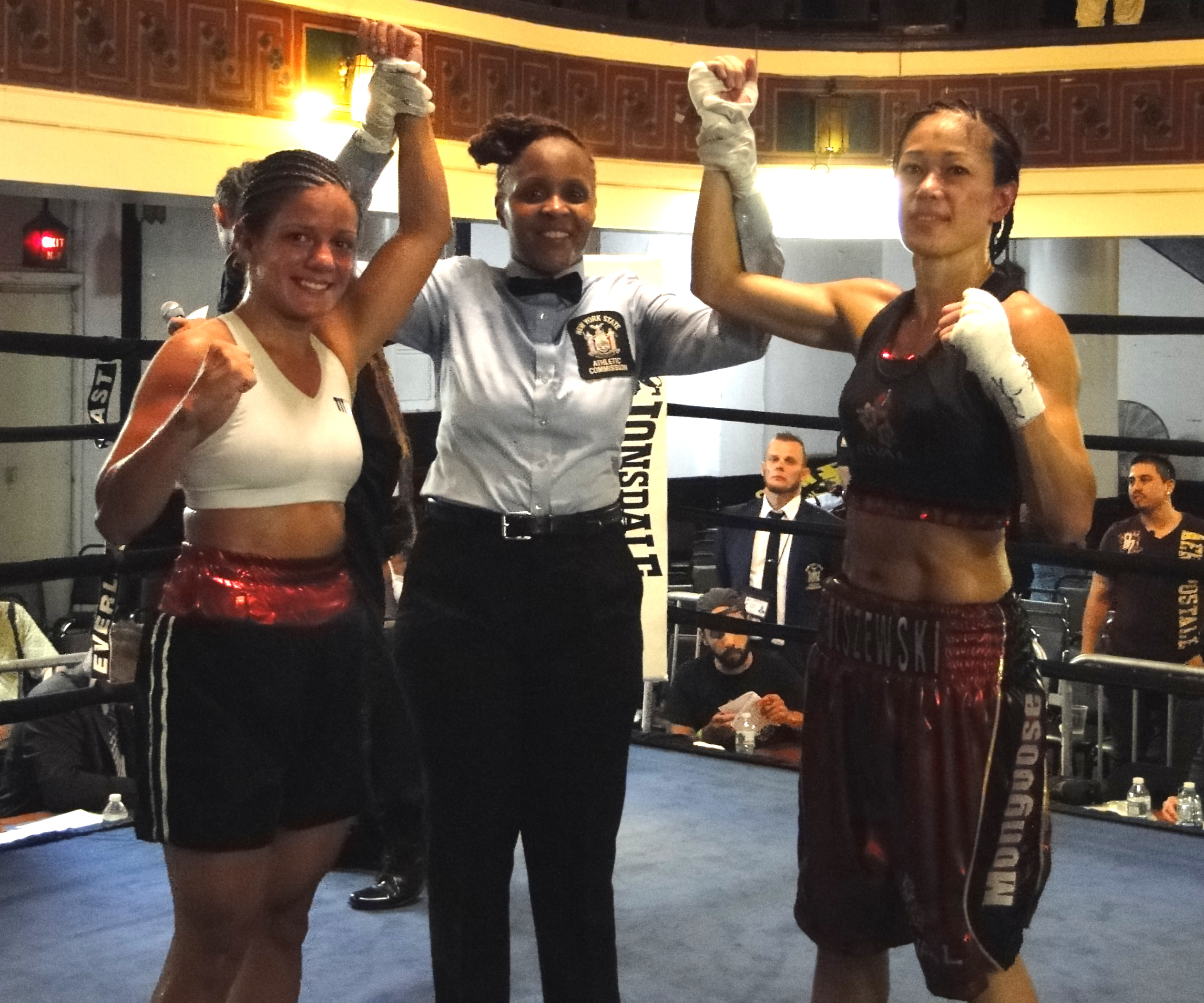 Christina Fuentes SD Eileen Olszewski (74-78, 77-75, 76-76)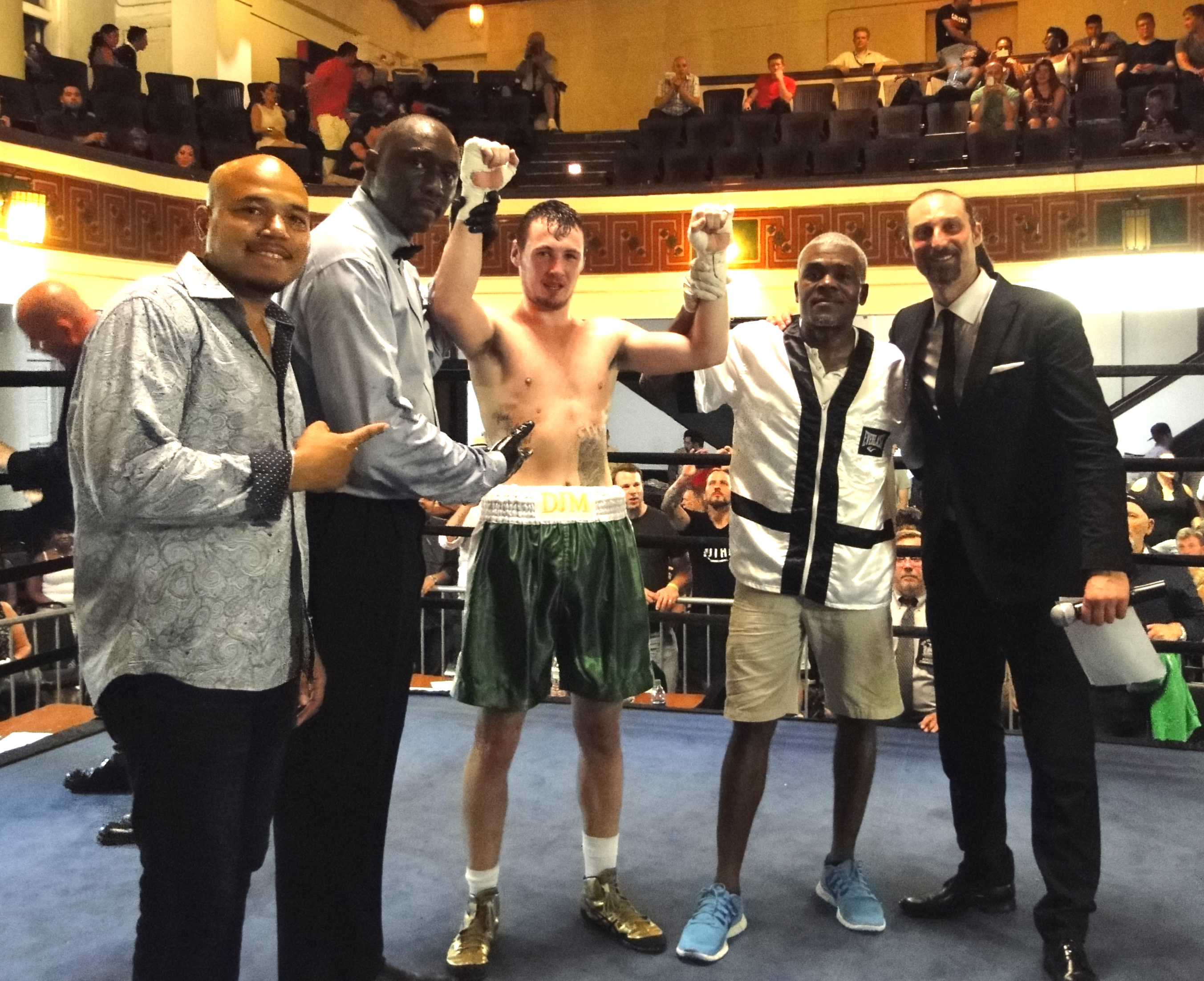 Darren Mangan UD Kashif Muhammad (40-36×3)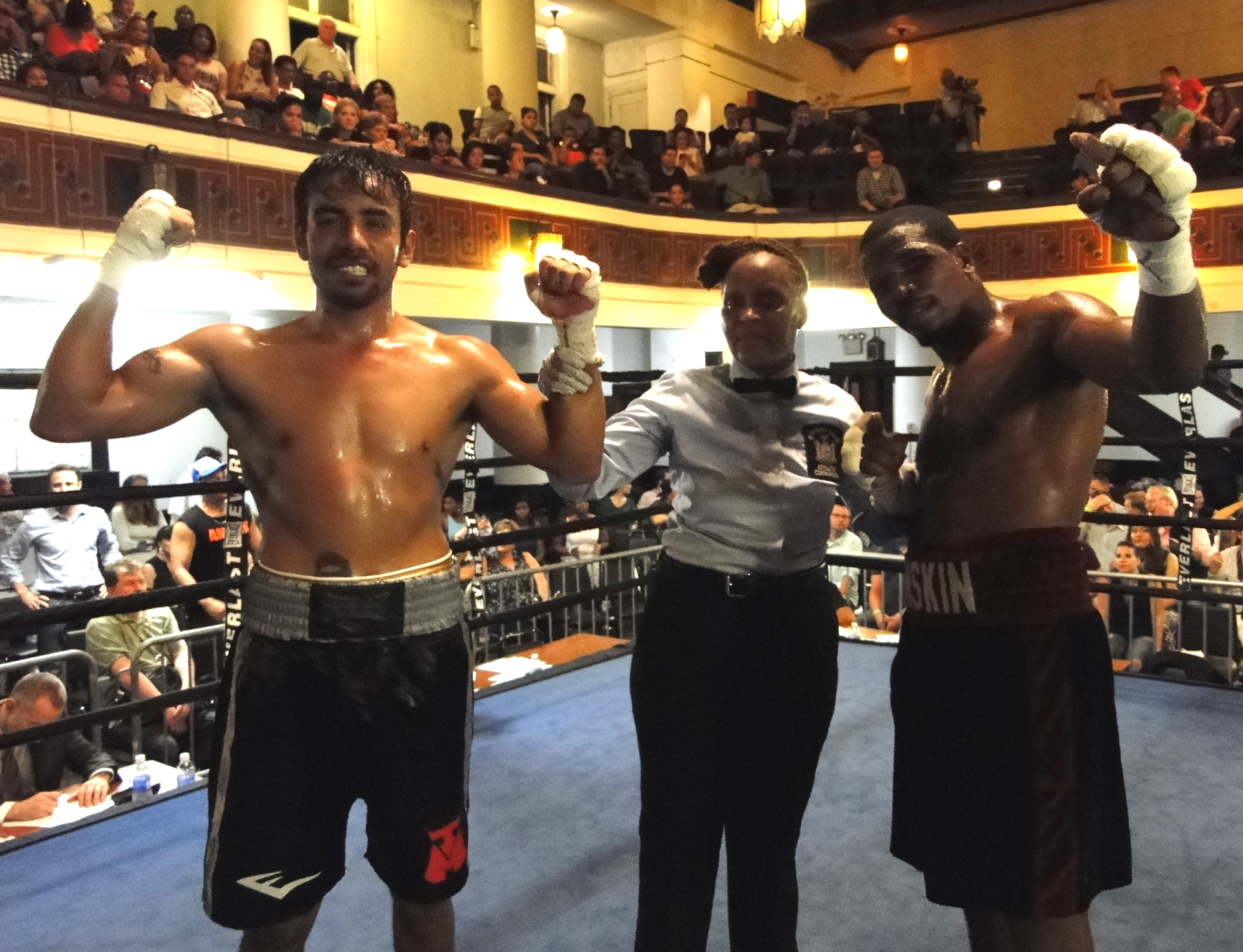 Ian James (R) UD Italy Martinez (58-56×2, 57-57)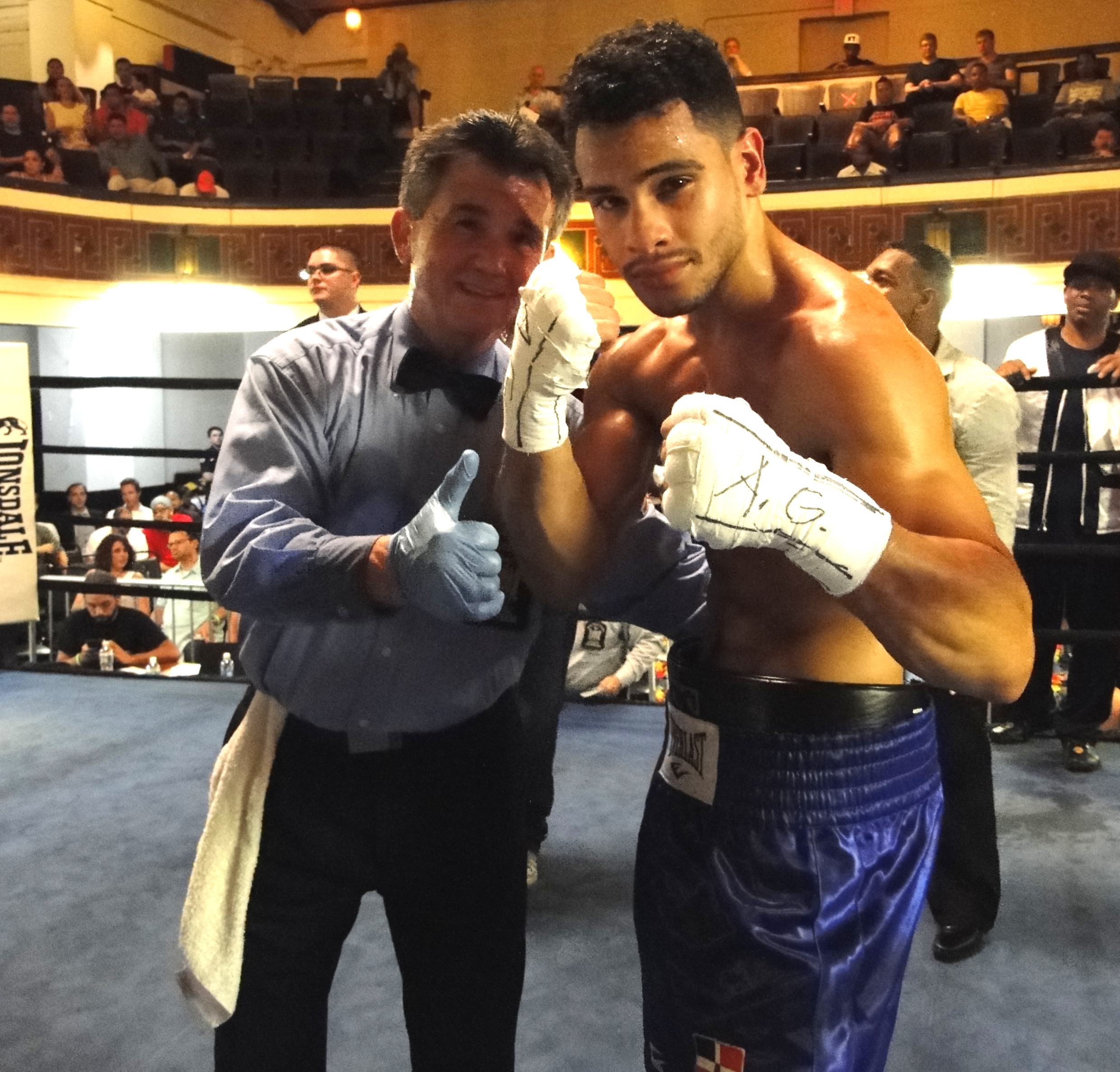 Frank Castillo UD Jonathan Jeter (40-36, 39-37×2)
Max Tassy KO-1 Bilal Ali Salaam, Jr.