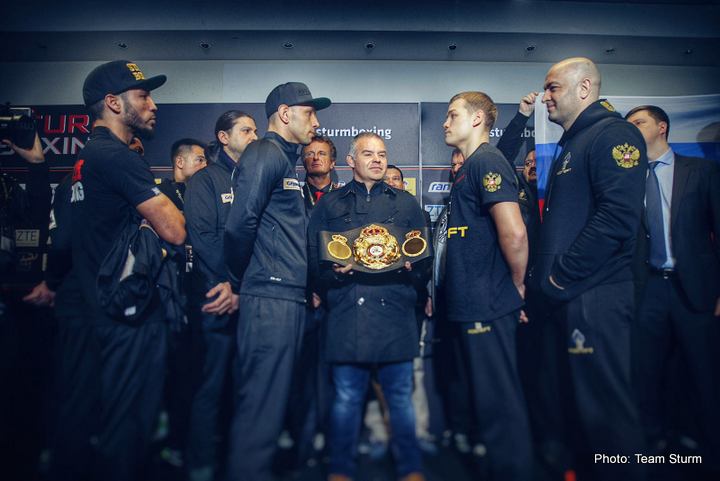 The Weights are in for Saturdays card at Koenig Pilsner Arena, Oberhausen, Germany. The Promoter is Sturm Box-Promotion and the fight will be televised by Sat1 (Germany) and BoxNation (UK)
WBA Super , Supermiddleweight Title
Sturm-75.8 Kilos (167 1/4) and Chudinov-76.2 kilos (168)
The 37-year-old former IBF/WBA/WBO middleweight champion Felix Sturm (39-5-3, 18 KOs) will be getting a rematch against WBA Super World super middleweight champion Fedor Chudinov (14-0, 10 KOs) on February 20 at the Koenig Pilsener Arena, Oberhausen, Nordrhein-Westfalen, Germany.
The 4 time World Middleweight Champion wants to make history. He wants to be the first German Boxer to become world champion for a fifth time.
###
WBA Super Middleweight World Champion Fedor Chudinov 14-0 (10 KOs) of Russia is set to make the second defense of his title on February 20 in Oberhausen, Germany against multiple-time, former Middleweight World Champion (WBO, WBA & IBF) Felix Sturm 39-5-3 (18 KOs).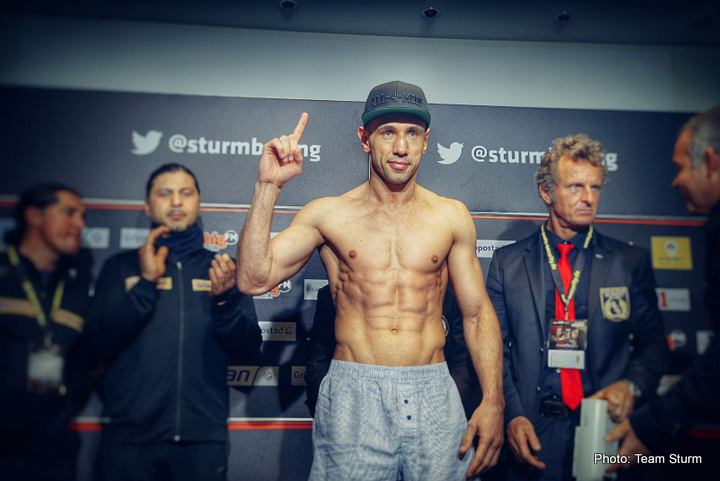 Felix Sturm is optimistic this time," I made a lot of mistakes in the first fight, I could only show 20% of myself, but this time I'm ready, all or nothing, I'll prove I'm still one of the best in the World."
Felix Sturm wants a win to rewrite history and become a 5-Time World Champion, that would be a further expansion, of his record right now as a 4-Time World Champion in Germany.
Many Celebrities from Germany and Europe said they want to be ringside for this fight when history is in the making courtesy of Felix Sturm.