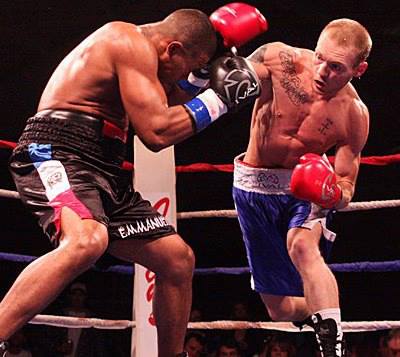 Fredericton (May 29, 2013) – Undefeated Fredericton light middleweight Brandon "L-Jack" Brewer (7-0-1, 3KO) is training relentlessly for his upcoming fight with Francis Lafreniere (3-3-2, 2KO), scheduled for June 15 at the Moncton Lions Club in Moncton, New Brunswick. The New Brunswick prospect just returned from a successful sparring tour of Halifax, Nova Scotia, where the pro scene lent their support to their fellow Atlantic Canadian. "Training camp in Halifax was great. I got some good sessions in at Bob Tapper's Twin Cities Boxing Club and Tyson Cave's gym. I got some mitts in with one of the best coaches in Halifax, James Dowe, and some good advice from Tyson Cave," explained Brewer.
"I got some good rough and tough sparring at Tyson Cave's gym as well. My boxing coaches Aubrey MacLeod and Phil Baraly are very happy with me taking the trip to Halifax and admire that I'm doing everything possible to improve my game, so that I can secure my victory for June 15. The best Brandon Brewer will be out to see everyone the night of June 15 in Moncton, New Brunswick. I can't wait!"
Brandon Brewer-Francis Lafreniere is being promoted by Last Round Boxer Promotions and will be eight rounds for the vacant National Boxing Authority (NBA) Eastern Canadian middleweight title. In 2012, these two warriors fought to a majority draw, earning the Canadian Boxiana "People's Choice" award for Canadian fight of the year. Fans should expect nothing less than a 2013 fight of the year candidate in this exciting rematch! Tickets are currently available from Brandon Brewer directly and Baraly's Boxing Club in Moncton.