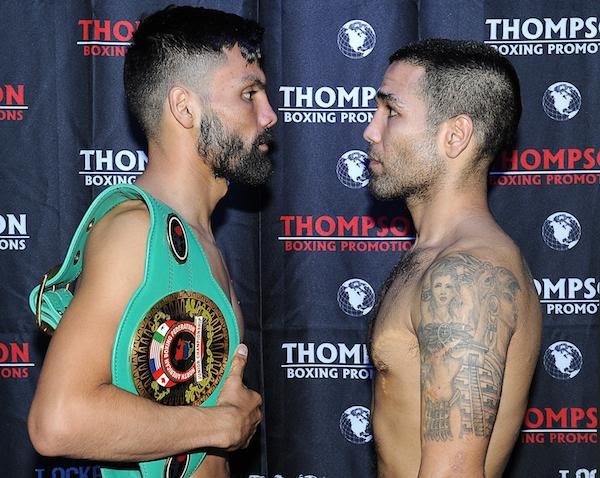 Erick Ituarte (19-1-1, 3 KOs) cleared Thursday's weigh in by checking in at 125.9 lbs., but challenger Jose Ramirez (27-6-2, 16 KOs) failed to make the featherweight limit by weighing 128.9 lbs.
As a result, Ituarte cannot lose his Junior NABF championship should he suffer a defeat at the hands of Ramirez. The "Path to Glory" main event is set for 8-rounds and takes place from the Doubletree Hotel in Ontario, Calif.
In the 6-round co-feature, elite prospect Ruben Villa (9-0, 4 KOs) made weight at 128 lbs., as did late replacement Juan Sandoval (7-20-1, 4 KOs) at 129.1 lbs.
General admission ($40) and ringside ($100) tickets will be available for purchase on the day of the event (Friday) beginning at 5:30 p.m. local time from the will call booth at the Doubletree Ontario.
WEIGHTS
Erick Ituarte, 125.9 lbs. vs. Jose Ramirez, 128.9 lbs. (8-rounds)
Ruben Villa, 128 lbs. vs. Juan Sandoval, 129.1 lbs. (6-rounds)
Isaac Zarate, 122 lbs. vs. Christian Ayala, 122 lbs. (8-rounds)
Saul Sanchez, 118.8 lbs. vs. Pedro Melo, 118.6 lbs. (6-rounds)
Mario Hernandez, 117.9 lbs. vs. Jorge Careaga, 116.3 lbs. (4-rounds)
Ruben Torres, 132 lbs. vs. Anthony de Jesus Ruiz, 131.3 lbs. (4-rounds)
Zhora Hamazaryan, 134.1 lbs. vs. Sergio Ramirez, 136 lbs. (6-rounds)
All fights will be live streamed on TB Presents: Path to Glory via our Facebook page and ThompsonBoxing.com.
The livestream starts at 8:00 p.m. PT / 11:00 p.m. ET with Beto Duran as the blow-by-blow announcer and Steve Kim providing expert color commentary.
Doors open at 6:30 p.m. local time with the first bout at approximately 8:00 p.m. The Doubletree Hotel is located at 222 N. Vineyard Ave. in Ontario, CA 91764 and can be reached at 909-937-0900.