Share the post "Don George Congratulates His Friend and Former Opponent, Adonis Stevenson"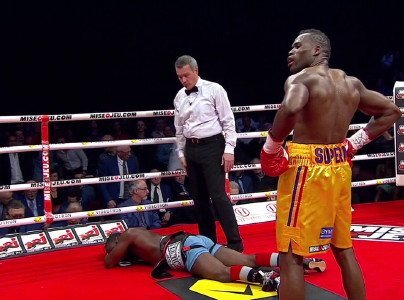 Chicago-based middleweight contender Donovan "Da Bomb" George wishes to congratulate his friend and former opponent Adonis Stevenson for his WBC Light Heavyweight title-winning KO1 over Chad Dawson last Saturday.
George and Stevenson became friends while sparring at Detroit's Kronk Gym, after the two met in a fight in October 2012 (won by Stevenson after 12 tough rounds).
"I'm very happy for Adonis," said George (24-3-2, 21 KOs), who is currently in heavy preparations for his upcoming ESPN Friday Night Fights-televised 10-round co-main event against Caleb Truax on Friday, June 21 in Minneapolis, Minnesota.
After absorbing Stevenson's best shots, George says he wasn't surprised by Dawson's spectacular exit just 1:16 in the first round at the Bell Center in Montreal.
"He hits like a heavyweight. I was hurt for a month after our 12-round war. There aren't many fighters who can take his punches and stay upright."
George's promoter, Leon Margules of Warriors Boxing, says the Dawson fight not only made a statement about Stevenson and his abilities, but about Donovan George as well.
"This is only going to be his third fight at the weight class, but Donovan is a natural middleweight, always has been" said Margules, "and he took Stevenson's power for 12 tough rounds and kept coming. Stevenson just crushed one of the world's best 175-lb fighters with that power. So what does that say about the toughness of Don George? Here's a middleweight who went to war and took everything a beast like Stevenson could throw and barely blinked. It says a lot about what Donovan brings to the table, especially now that he's at middleweight and fighting much smaller guys. Not only is his punching power incredible for a middleweight, his chin is as well."
George says that with every fight, he's growing more and more comfortable shedding the extra eight pounds to make middleweight and is ready for anyone in the division, including Julio Cesar Chavez Jr.
"I'm unstoppable at this weight. Chavez Jr., let's do this any time. Even at a catchweight if you want. Bring it on. If I can go 12 rounds with the light heavyweight champion of the world, one of the hardest punchers in boxing, I'm going to walk right through any middleweight."
For his next fight, George says he will try and walk in his friend and now-world champion's footsteps. "Just like Adonis did, I'm going to make a major statement on the 21st. I will be going for the spectacular knockout."
###
George vs. Truax will be held on Friday, June 21, at the Minneapolis Convention Center and televised live on ESPN Friday Night Fights. It will be presented by Seconds Out Promotions and Warriors Boxing.
Tickets to Friday Night Fights at the Convention Center start at $35 and can be purchased through www.sofights.com.
In addition to George vs. Truax, seven more fights are scheduled in support of the 12-round main event featuring Cuba's IBF #2-rated Rances "Kid Blast" Barthelemy (18-0, 11 KO) taking on Thailand's IBF #5-rated Fahsai "Mountain Boy" Sakkreerin (39-3-1, 21 KO).
An eight-round crosstown battle will highlight the night's undercard, as St Paul's Jeremy "Lights Out" McLaurin (10-5, 5 KOs) will face St Paul's Tony "2Sharp" Lee (7-1, 3 KOs) for the vacant Minnesota State Lightweight Championship.
Local bragging rights will be on the line for these two local scrappers, so expect fireworks. McLaurin has been in with the better opposition in his career, while Lee has fewer losses.
Also scheduled is an eight-round junior middleweight scrap between "Sir" Charles Meier (7-2, 3 KOs) of Coon Rapids, MN and Tyler Hultin (5-1-2, 3 KOs) of Fergus Falls, MN and a four-round junior middleweight contest between Gavin Quinn (1-0) of Circle Pines, MN and Kenneth Glenn (2-0, 1 KOs) of Minneapolis.
Several fighters will make their professional boxing debuts that night, including a four-round junior middleweight match-up of pro debuters between LeWayne Hardiman of Las Vegas and Dustin Petron of Rosemount, MN; a four-round heavyweight bout featuring the pro debut of Pat Quinn from St Paul, MN against John Schimon (0-1) of Minneapolis; and a four-round lightweight tilt between Milwaukee's pro debuting Adrian Martinez and Kurtis Erhorn (0-1) of Grand Rapids, MN.
Share the post "Don George Congratulates His Friend and Former Opponent, Adonis Stevenson"