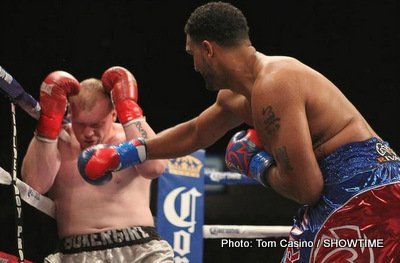 It couldn't have been a better professional debut for Olympic Super Heavyweight, as he shined in front of millions of viewers on ShoBox, the Next Generation. Dominic "Trouble" Breazeale didn't waste anytime in making short work of his opponent Curtis Tate, knocking him out in the first round.
Once the opening bell rang, Breazeale used his jab to feel Tate out and a
minute later hit him with a left jab, then followed with a monstrous right that sent Tate stumbling to the canvas. Veteran referee Pat Russell nearly halted the bout but allowed Tate to continue. Breazeale capitalized on his opportunity and crushed Tate with several more blows that led Tate crashing to the canvas for a second time. Russel halted the bout at 1:06 in the first round.
When Breazeale was asked about his thoughts on his performance, he indicated that, "I went in to the ring prepared and confident and the results showed that. I established a good strong jab early in the round and once I hit him a with a right I knew the show was over. I'm looking forward to my next fight and I will be in the gym on Monday with my trainer John Bray."
Breazeale looked outstanding in his debut and his trainer predicted that he would shine. When asked about his pupil's performance, Bray noted that, "I was happy with Dominic's performance and he showed composure and is now sitting down on his punches. His jab set up the one-two combination that ended the fight. This is just the first step and the beginning of big things to come for Dominic Breazeale."