Dina Thorslund (13-0, 6 KOs) and April Adams (11-1-1, 4 KOs) both made weight ahead of Saturday's WBO Female World Super Bantamweight title showdown at the Forum Horsens in Denmark.
Thorslund defended the WBO World title against Germany's Alesia Graf in January 2019 in Struer, Denmark and is now facing her mandatory challenger, April 'Armageddon' Adams from Brisbane, Australia.
The undefeated 25-year-old Dane has predicted a KO victory, while Adams believes she has what it takes to bring the WBO belt back to Australia.
WBO Female World Super Bantamweight Championship – 10 Rounds
Dina Thorslund: 55,2 kg
April Adams: 54,9 kg
Official undercard weights:
Heavyweight – 8 Rounds
Kem Ljungquist: 106,3 kg
Gabriel Enguema: 107,6 kg
Super Featherweight – 6 Rounds
Frederik Hede Jensen: 58,8 kg
Ruben Garcia: 58,9 kg
Cruiserweight – 10 Rounds
Kai Robin Havnaa: 90,1 kg
Levani Lukhutashvili: 88,3 kg
Middleweight – 6 Rounds
Landry Kore: 74,1 kg
Tomas Bezvoda: 74 kg
Super Bantamweight – 4 Rounds
Michael Nielsen: 54,9 kg
Stefan Sashev: 55,6 kg
Super Middleweight – 8 Rounds
Haris Dzindo: 77,2 kg
Istvan Zeller: TBC
Lightweight – 4 Rounds
Amer Rasinlic: 80 kg
Przemyslaw Binienda: 81 kg
Lightweight – 6 Rounds
Joanna Ekedahl: 62,7 kg
Jelena Janicijevic: 61 kg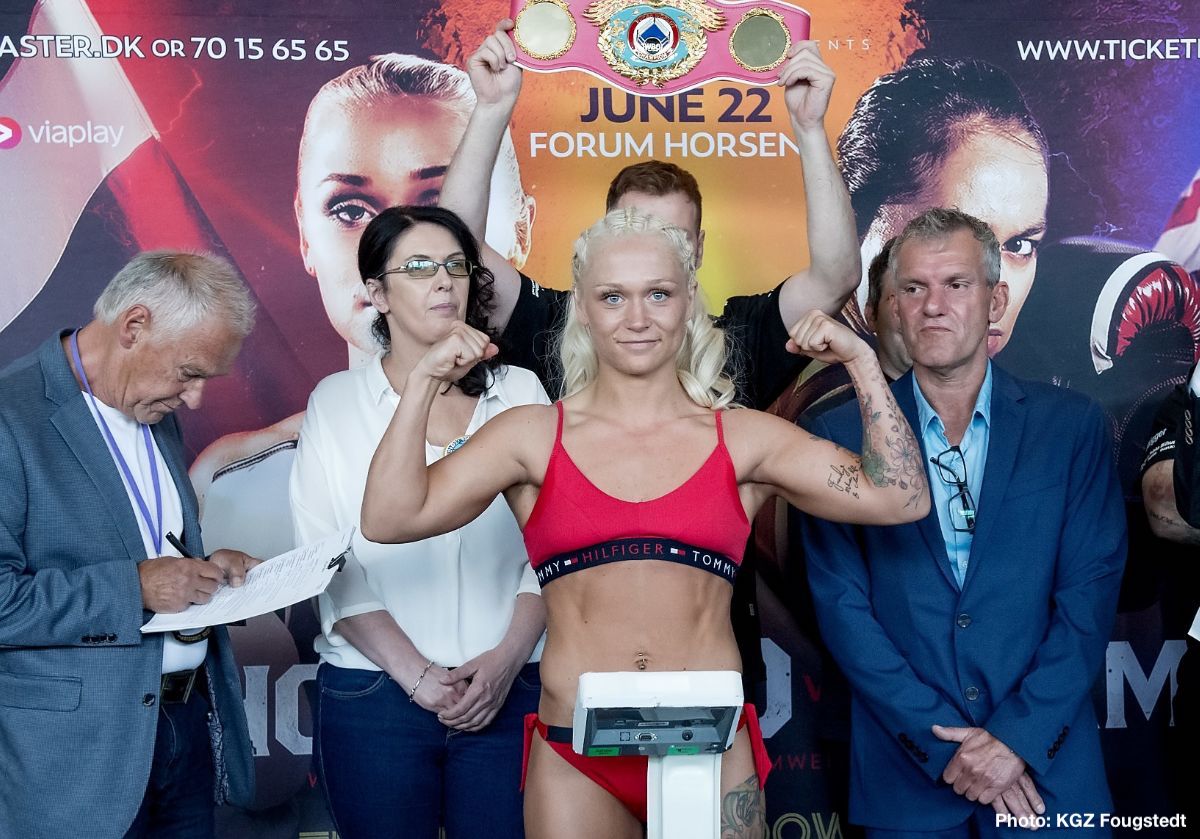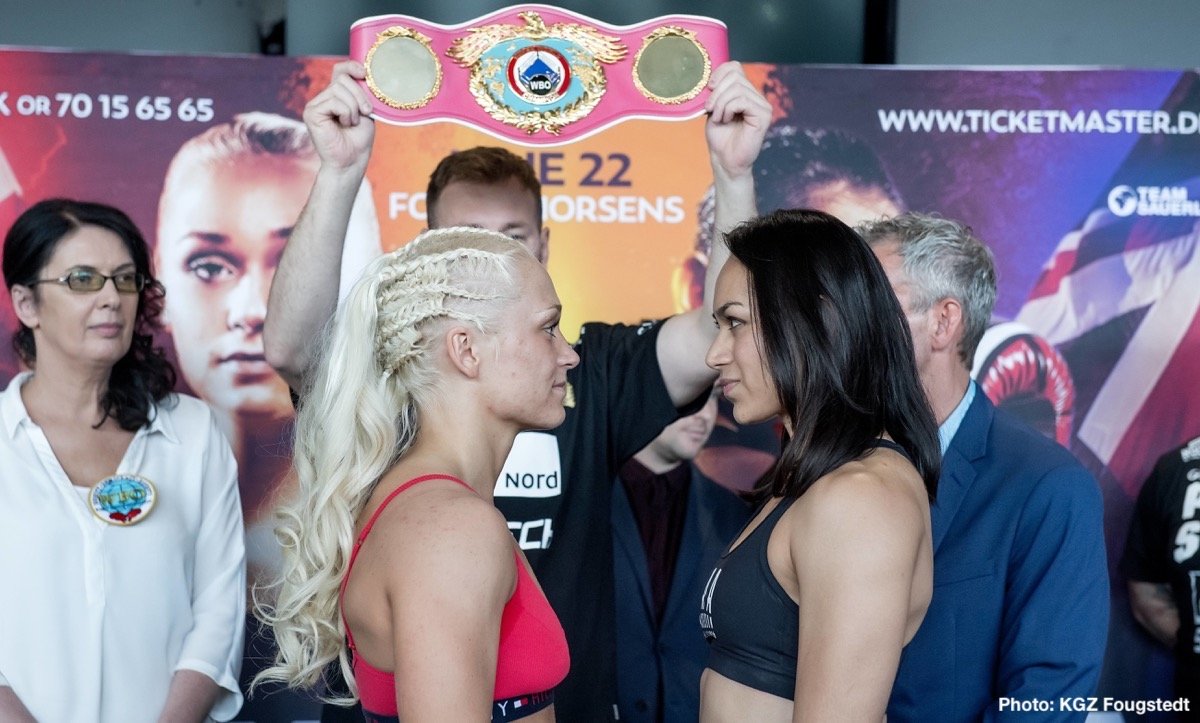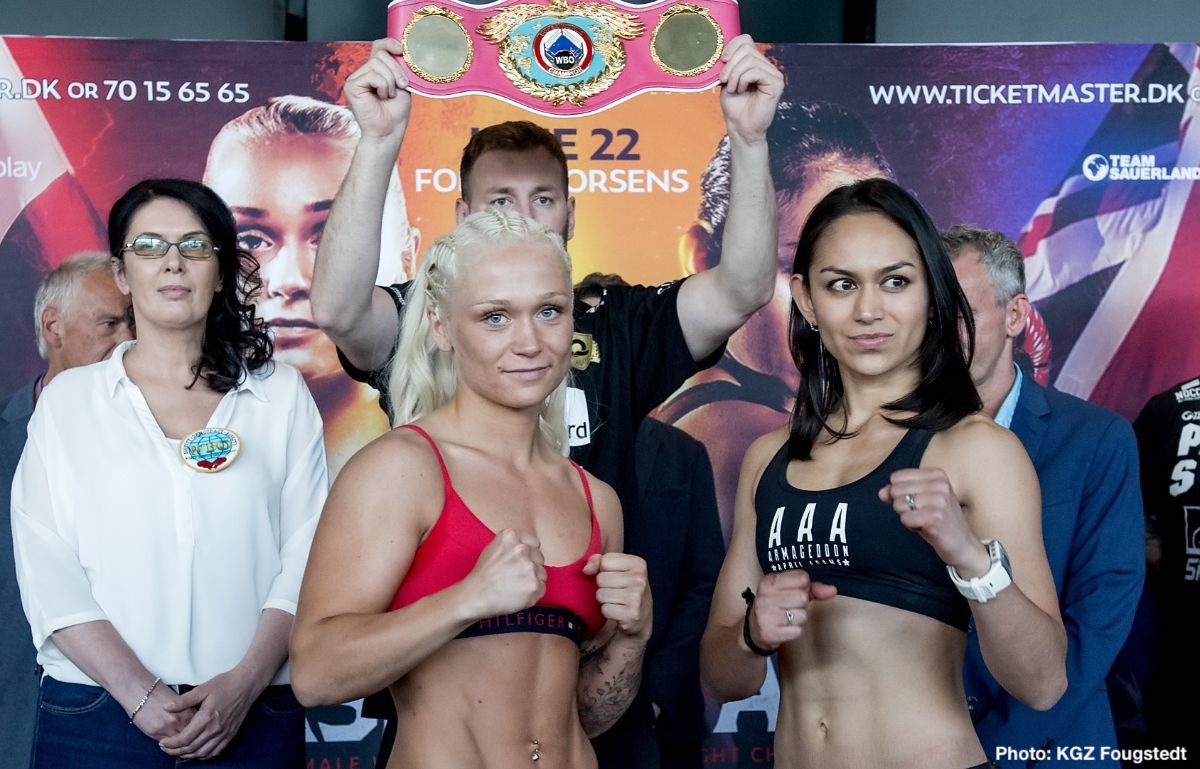 Thorslund-Adams tops a stacked card at the Forum Horsens, which also features Kem Ljungquist, Kai Robin Havnaa, Frederik Hede Jensen, Landry Kore, Haris Dzindo, Amer Rasinlic, Michael Nielsen and Joanna Ekedahl.
Dina Thorslund's (13-0, 6 KOs) preparations are well underway for her WBO Female World Super Bantamweight title defence against mandatory challenger April Adams (11-1-1, 4 KOs) on June 22 at the Forum Horsens in Denmark.
The Danish boxing queen is back for a second defence of her WBO crown following a unanimous points win over Germany's Alesia Graf on January 19, and the 25 year-old from Struer is fully focused on retaining her title.
"My training is going exactly to plan," she says. "I train twice a day, six times a week. My daily workouts consist of running and boxing training combined with strength and endurance work, and I can feel myself improving every day."
Ahead of her clash with Australia's 'Armageddon' Adams, Thorslund has been sparring with Horsens boxer Michael Nielsen, the current 56kg Danish amateur champion, who makes his professional debut on her undercard.
"Sparring is definitely the type of training that I love and enjoy the most, and it has gone very well with Michael as he is also preparing to fight on June 22.
"I believe I will be in my best shape ever when I step into the ring, and I'm really looking forward to a great fight at the Forum Horsens because I know April Adams will be coming one per cent prepared and in great shape also.
"This is her chance of a lifetime. Fighting for my World title. That's the case with all my opponents now. They all want my belt. But I'm going to kick ass more than ever this time. I want to send Adams back 'Down Under' with a bang!"
"I'm looking forward to fighting in Horsens," said Thorslund. "I know it's a city with lots of boxing history, so I'm sure people are going to ready for some world class boxing on June 22. There will be a lot of fans travelling from my home town Struer to support me, and together with the local fans, I'm sure they're going to create an amazing atmosphere.
"Adams is a strong boxer, who's in good shape, so I think it will be a very physical battle. She's tough as nails, but not tougher than me. I will be 100% prepared for this fight, and will show the best version of me in front of the fans at the Forum Horsens. I will show why I'm World Champion, and Adams isn't."
Adams has earned her shot at the WBO crown with a impressive run of seven straight victories, and travels to Denmark full of confidence as she looks to dethrone Thorslund and realise her ambition of becoming World Champion.
"This is an opportunity that every fighter aspires towards yet very few get," said Adams. "It has been a goal of mine from before I even started boxing. I have always wanted to be World Champion, and I feel very privileged to get the chance to see that goal unfold.
"I think Thorslund is a very strong fighter. She is a World Champion for a reason, but I back myself. I back the sacrifices I've made and the hard work I have put in. I owe it to my team and supporters, who have been behind me on this journey, to win this fight, and on June 22, the belt will have a new home."
"We're delighted to be bringing World Championship boxing back to Horsens," said promoter Nisse Sauerland. "On June 22, fans can look forward to a spectacular night of boxing headlined by the WBO Female World Super Bantamweight title showdown between Dina Thorslund and April Adams.
"Dina will need to be at her best to defend her title as she continues to build her reputation as one of the most feared female boxers on the planet. Adams is a serious contender, who having earned her shot at the World glory, will do everything in her power to bring the belt back to Australia.
"As always, we will have an action packed undercard supporting our main event, which will be announced in the coming weeks, featuring the very best of Danish boxing including local talent from Horsens."
ADAMS 'ALL IN' FOR WORLD TITLE CHALLENGE
April Adams (11-1-1, 4 KOs) says she is ready to earn her spot at the top of the super bantamweight division by defeating Dina Thorslund (13-0, 6 KOs) for the WBO World title on June 22 at the Forum Horsens in Denmark.
The Queensland fighter has worked her way into a mandatory position with a string of impressive wins, which have seen her claim both the Australian and WBO Asia Pacific 122 lbs straps on route to her first World title challenge.
Leaving nothing to chance, the 31 year-old has been sparring a bare knuckle champion along with top amateurs, and has promised to go 'all in' as she insists she will do everything in her power to take home the WBO belt.
"I feel like my training is right on track and I'm exactly where I need to be at this point in my fight camp. I'm feeling strong," says Adams.
"I've not been doing anything different for this fight, only making sure I am the strongest and fittest I can be. I've been training twice a day working technique, explosive strength and endurance.
"I've also been doing a lot of sparring rounds with Bare Knuckle World Champ (and former UFC fighter) Bec Rawlings and Olympic boxer Bianca Elmir.
"Of course, I believe this will be my toughest fight. Dina currently holds the World title for good reason. It wouldn't be a World title fight if it wasn't going to be a real test. You have to earn that top spot and I'm ready for it.
"We've been looking at any footage of Dina available to see any flaws we can capitalise on. Dina does what she does very well, which makes up for most weaknesses, and she knows how to fight.
"A World title shot is a professional fighter's dream. It gives meaning to all the sacrifices you had made along the way. I'm all in for this fight!"
Adam's World title challenge has been billed 'Thunder From Down Under' and the Australian boxer believes the fight will live up to its name.
"Absolutely, this fight is going to live up to the tagline," she says. "It's up to Dina to see if she can weather the storm!"
Kem Ljungquist (8-0, 5 KOs) says he wants to show that he is 'the future of heavyweight boxing in Denmark' as the undefeated prospect returns for his ninth professional contest on June 22 at the Forum Horsens.
The 28 year-old recorded a unanimous points victory over Dominik Musil in his last outing on May 4 at the Fraport Arena in Frankfurt, an important win for Ljungquist, who went the eight round distance for the first time in his career.
"I was happy with my performance and pleased I won," he said. "The victory wasn't in doubt before the fight, but it was my first eight-rounder. Up until that point, I hadn't fought more than six rounds, so it was a good experience for me.
"Of course, it's nice to win by stoppage but it's also important to know you can go the rounds, and now I know I'm comfortable going eight rounds."
Ljungquist is now looking forward to the tougher fights that lie ahead and is eager to continue his development to prove he is a man for the future.
"I feel that I'm improving with every fight and that's what it's all about," he says. "I've had eight fights now and I'm very happy with how it's been going so far.
"I want to take a step up in every fight. I want to be the best and that's why I need to keep climbing the ladder. I trust my promoter Team Sauerland and I know they will continue to make the right choice of opponent for me.
"I'm looking forward to fighting in Horsens. I love boxing at home where I have the fans backing me up. It gives me a lot of motivation. I want to win and I want to do my best to show that I'm the future of heavyweight boxing in Denmark."
Frederik Hede Jensen (4-1, 2 KOs) has signed a contract extension with Team Sauerland and will return to the ring on June 22 at the Forum Horsens.
"It really means a lot to me to be a part of Team Sauerland," said the Danish featherweight. "I feel very happy and proud, and I look forward to continuing to work with them. Together, I am sure we will be able to achieve great things.
"I want to keep up my development of becoming a world-class boxer and hopefully get some good fights in the book. One of my major goals is to get a title fight with one of the bigger boxing federations, and I am sure Team Sauerland will come up with a master plan to bring me closer to this dream."
The 22 year-old from Grindsted will be back in action on June 22 on the undercard of Dina Thorslund's WBO Female World Super Bantamweight title fight against April Adams at the Forum Horsens.
"The fight in Horsens will be my sixth as a professional," he says. "Horsens is a great city with a good location central in Jutland. I hope to see a lot of people there, coming to support me and the team. I always look forward to stepping into the ring. I have been training harder since my last fight and will keep pushing myself in training. The fans can expect an excited fighter who will deliver a good fight and take the supporters on a fantastic journey on the June 22."
With a new contract in place, Hede Jensen is hoping a victory in Horsens can lead to a hometown title fight, having got a taste of boxing in front of his local fans with a third-round TKO win over Ilia Beruashvili in his last bout in March.
"I really liked the atmosphere and would be very honored to once again come back to where it all started," he said. "I feel very grateful for the local community and the support from all around. I would be even more excited to bring a bigger event 'back home', and if I am lucky it could be for a youth title."
Promoter Nisse Sauerland says: "Frederik is one of Danish boxing's brightest prospects. We look forward to working with him over the coming years and helping him reach his potential. He will be a great addition to our card on June 22 in Horsens, and we believe he has a big future ahead of him."
An opponent for Hede Jensen will be confirmed shortly. He joins Danish heavyweight hope Kem Ljungquist and Horsens-boxers Amer Rasinlic and Michael Nielsen on the undercard of Dina Thorslund's World title defence.
Horsens boxers Amer Rasinlic and Michael Nielsen will make their professional debuts on June 22 on the undercard of Dina Thorslund's WBO Female World Super Bantamweight title defence against April Adams at the Forum Horsens.
"I am looking forward to getting the chance to box as a professional," says light heavyweight Rasinlic. "Team Sauerland are one of the largest promotional companies in the world so this is a big opportunity for me, and to do it on the undercard of Dina Thorslund's World title fight makes it even better!
"I know many people will come and watch me fight. I have many friends who love to watch boxing, and when I box in Horsens, I tend to get really good support. My family will certainly come too as it is a great thing for them also. Being allowed to enter the Forum Horsens for my debut is a dream come true!"
Nielsen, a former break-dancer, claimed gold in the 56 kg category at the 2018 Danish Elite Championships, and like his BK Vitus amateur teammate, is excited to be making his professional debut at the Forum Horsens.
"I want to show that it's never too late to go for a dream," he says. "I became Danish Elite Champion in 2018 in just my seventh fight and after only two years of training. I've trained hard to achieve my goals, and others can too.
"I feel honoured to have the opportunity to make my professional debut for one of the biggest promoters in the world, and at my home ground in Horsens. I am grateful to have this chance and will take it with both hands.
"I know that there will be a lot of support for me in Horsens. I have lived here since I came back from the Philippines in 1994. At home in Horsens, I will do everything I can to win. With so many spectators at my back, I must not lose!"
Tickets for Thunder From Down Under: Dina Thorslund vs. April Adams for the WBO Female World Super Bantamweight Championship are available online via www.ticketmaster.dk or by calling (+45) 70 15 65 65.