Share the post "Deion Jumah to fight Svacina in Kolding, Denmark on October 19"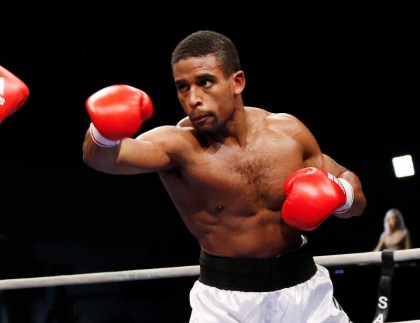 Deion Jumah (2-0, 1 KO) will return to the ring on October 19 during Team Sauerland´s Nordic Fight Night in Kolding, Denmark. At the TRE-FOR Arena, the 24-year-old, a former two-time ABA Champion, will take on Jiri Svacina (12-10, 1 KO) from the Czech Republic. "It´s nice to fight someone with a winning record," Jumah said. "That´s a big step up for me and I am excited about it. On top of that, it will be my first six-rounder, so I am really looking forward to it."
Jumah has joined forced with Adam Booth, who will be in his corner in Kolding. "Deion's work ethic is incredible," Booth said. "If he keeps his mind totally focused, he definitely has a champion´s potential!"
Jumah is thrilled to be working with a renowned coach like Booth. "The work with Adam has been interesting to say the least," he stated. "It has been an intense learning experience and I am learning new things every day."
The cruiserweight prospect was originally slated to fight on the Haye-Fury undercard which was eventually cancelled. "The advantage of being with Team Sauerland is that they have shows all around Europe, so they could quickly get the fight on," Jumah said.
"I had to slow down my training a little bit. I had been training for the Haye-Fury card for twelve weeks, so I took a few days off. I´ve trained hard this week, will ease off next week and then I´ll be ready to go.
"I always look for the stoppage in my fights. When there is an opening, I will go for it and my opponent will go down."
Said promoter Nisse Sauerland: "Deion is an exciting prospect. He´s fighting an experienced opponent with a winning record, but we fully believe in his potential and hope for an impressive performance on October 19."
does. I just have to box and force him to adapt to my style."
Tickets for the Nordic Fight Night on October 19 are available at www.billetten.dk. They can also be purchased directly at TRE-FOR Arena by phone (76 32 60 00) and email ([email protected]).
Share the post "Deion Jumah to fight Svacina in Kolding, Denmark on October 19"