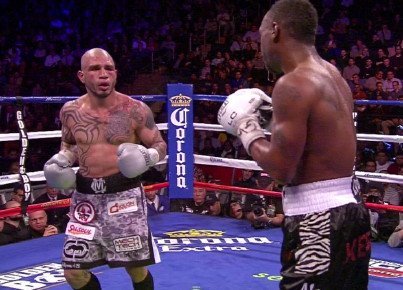 NEW YORK (Dec. 4, 2012)-Saturday night's SHOWTIME CHAMPIONSHIP BOXING telecast of Miguel Cotto vs. Austin Trout on SHOWTIME® earned record viewership for boxing on the premium network in two categories. The three-fight telecast drew an average audience of 1.047 million viewers, the highest since 2004 when Nielsen began to separately measure premium television multiplex channels. The main event, Cotto vs. Trout, peaked at nearly 1.4 million viewers, the highest peak on record since 2009 when data on viewership for individual bouts first became available.
The first replay of Saturday's record-setting, three-fight telecast will air tonight, Tuesday, Dec. 4 at 10 p.m. ET/PT on SHOWTIME EXTREME and is available at SHOWTIME ON DEMAND.
In a dramatic contest that featured swings in momentum for both men, Austin Trout defeated Miguel Cotto via unanimous decision in front of 13,000+ at New York's Madison Square Garden on December 1. Cotto, the very popular Puerto Rican star, came into the fight with a more accomplished resume than Trout. Cotto was 7-0 at MSG, 37-3, with 30 KOs overall and entering his 21st consecutive world title fight. Trout had never fought at the famed New York arena and entered the ring undefeated in his relatively obscure career at 25-0. Trout scored what many consider a significant upset to retain his WBA Super Welterweight World Championship and hand the legendary Cotto his first loss at Madison Square Garden.
Epilogue, the second of two episodes of ALL ACCESS: Cotto vs. Trout premieres Saturday, Dec. 15 at 10 p.m. ET/PT on SHOWTIME, immediately prior to the SHOWTIME CHAMPIONSHIP BOXING telecast featuring Amir Khan and Carlos Molina. Epilogue takes viewers behind the scenes of the Cotto vs. Trout fight week build-up and offers a rare glimpse into the raw emotion and drama during Saturday's world championship event and its aftermath.
Cotto vs. Trout at Madison Square Garden was promoted by Miguel Cotto Promotions and Golden Boy Promotions in association with Greg Cohen Promotions.
20+ hours of Pacquiao-Marquez 4 programming on FIGHT NOW TV
HOBOKEN, New Jersey (Dec. 4, 2012) — FIGHT NOW TV — America's only 24-hour combat sports and entertainment channel – today announced its expansive coverage of Pacquiao vs. Marquez 4, taking place this Saturday (Dec. 8 ) in Las Vegas, Nevada.
FIGHT NOW TV's coverage and wrap-around shows are a perfect example of its slogan – The source for combat sports – as the station provides more than 20 hours of live coverage and analysis, also airing the preliminary fights, leading into the mega Pay-Per-View event.
Here is a look at what's on FIGHT NOW TV this week:
WEDNESDAY, DEC. 5
3:30 p.m. ET LIVE – Pacquiao vs. Márquez 4 Final Press Conference
10 p.m. ET Paqcuaio vs. Márquez 1 "Relive"
THURSDAY, DEC. 6
3:00 p.m. ET Live – Pacquiao vs. Márquez 4 Media Tour
10 p.m. ET Pacquiao vs. Márquez 2 "Relive"
FRIDAY, DEC. 7
5:30 p.m. ET LIVE- Pacquiao vs. Márquez 4 Official Weigh-In
6:30 p.m. ET Live- Call-in show with host Billy C talking all things Pacquiao vs. Márquez 4
10 p.m. ET Paqcuaio vs. Márquez 3 "Relive"
SATURDAY, DEC. DEC. 8
9 a.m. ET FIGHT WEEK 60 debut *FIGHT NOW TV Original
10 a.m. ET 24/7 episode. 1
10:30 a.m. ET 24/7 episode 2
11 a.m. ET FIGHT WEEK 60
12 p.m. ET "The Story" Pacquiao-Marquez
12:30 p.m. ET Pacquiao Marquez "Greatest Hits"
1 p.m. Pacquiao vs. Marquez 1
2 p.m. Fight Week 60
3 p.m. Pacquiao vs. Marquez 2
4 p.m. Fight Week 60
5 p.m. Pacquiao vs. Marquez 3
6 p.m. Fight Week 60
7 p.m. Preliminary bouts Live until 8:30 p.m. ET
8:30 p.m. ET Official HBO Countdown Show
1 a.m. ET Billy C Live post show Pacquiao-Marquez 4
"You know it's something special when two competitors of Pacquiao and Marquez stature fight three times and then elect to do it again," said Mike Garrow GM and co-founder of FIGHT NOW TV. "We are very excited to showcase the history these two men have created all week long on our channel as we provide more coverage than any other sports channel outlet, leading up to this epic fourth and likely final battle between these two future Hall of Fame fighters, Manny Pacquiao and Juan Manuel Márquez."
FIGHT NOW TV would like to thank: HBO Pay-Per-View®, Top Rank®, in association with MP Promotions, Zanfer Promotions, Márquez Boxing and MGM Grand Hotel & Casino.
FIGHT NOW TV is available in the Cablevision Gold Pack!
About FIGHT NOW TV: With offices in New Jersey, Las Vegas and Toronto, FIGHT NOW TV is a cross-platform media company that creates and distributes content through its television, video on demand, and online outlets.
Founded by Channel Zero, Inc and media entrepreneur Mike Garrow and launched earlier this year, FIGHT NOW TV is the first 24-hour-a-day, seven-day-a-week combat sports channel, bringing the best battles, fiercest fights and stunning knockouts to America. FIGHT NOW TV caters to fight fans of every genre, giving them a front row seat to compelling coverage of MMA, boxing, wrestling/grappling, Muay Thai, kickboxing and other combat sports. FIGHT NOW is the place for the best analysis, live and current events, documentaries and news coverage of the biggest PPV events and match-ups from around the globe.
FIGHT NOW TV has also enlisted one of the fight game's biggest names to join its camp, former UFC champion and MMA legend Randy Couture, who serves as both spokesperson and analyst for the channel.
FIGHT NOW TV, It's ON! Call Your Television Provider To Order!
For more information about FIGHT NOW TV go on line at www.fightnow.com, or follow on Twitter@fightnowtv and Facebook.com/fightnowtv.