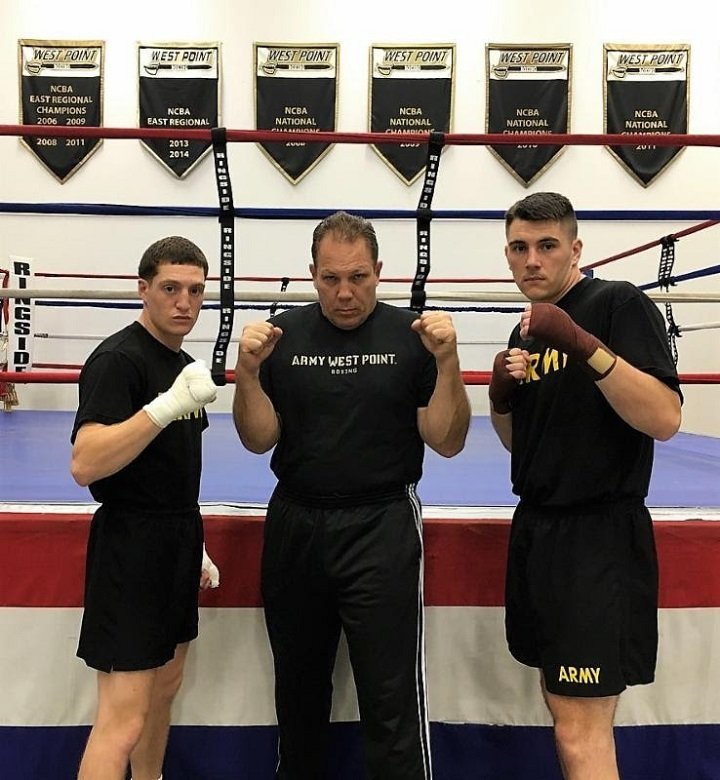 The National Collegiate Boxing Association (NCBA), in association with USA Boxing has expanded its boxing clubs over the last decade to thirty-two colleges and universities across the United States, which includes the four military academies. One of the numerous collegiate boxing events that are held throughout their season (August to April) will take place on Saturday, November 11th at the Maurer Auditorium Town Hall in Winchester, Massachusetts.
This soon to be sold-out event "Collegiate Fight Night" will showcase ten-amateur bouts that feature the Cadets of the United States Military Academy at West Point squaring off against a New England all-star caliber team comprised of boxers from the Coast Guard Academy, University of Connecticut, University of Massachusetts, Trinity College, and Harvard University. This is the third time that Winchester has hosted a collegiate boxing event in the last couple of years.
"What makes collegiate boxing great is that while the vast majority of these fighters will never box professionally, they learn several invaluable skills that will help them succeed in life," said Al Valenti, USA Boxing Special Projects Consultant/Coordinator, who organized and managed this collegiate event and several others throughout the country, including the 2012 NCBA National Championship. "Boxing helps these student-athletes develop better character and disciple skills, enhances their mental toughness and leadership abilities, and allows them to strive for excellence while they stay cool under pressure."
Two local West Point sophomore cadets, Luca LoConte Botis (18-7) and Jack Ward (0-0), who hail from Winchester, will headline this event, in separate bouts. Botis takes on Joseph Orosco (10-8) from Trinity College in a middleweight matchup while Ward squares off against Jesus Fiquiere from the University of Connecticut, who will also be making his amateur debut, in a heavyweight showdown. Both West Point boxers are hardworking, respectful, athletically-inclined men who are the leaders of their boxing club, boast an impressive 4.0 grade point average, and aspire to be Infantry Officers upon graduation.
"Botis started boxing at a young age and captured top honors in the New England Junior Olympics. He trained at Peter Welch's gym in South Boston and with the Rivera brothers and [two-time heavyweight world champion John Ruiz's former trainer] Norma Stone at the Somerville Boxing Club. He graduated from Winchester High School in 2015," said Valenti, who is also a USA boxing coordinator working with boxing officials in Salt Lake City, Utah to prepare the United States for the 2018 National Tournament.
"Ward's family is from Winchester and he was recruited to play football out of Salisbury High School; however, he joined the West Point boxing (not football) team."
LoConte Botis will compete in the Western New England Golden Gloves Tournament in Springfield, Massachusetts from January 5 – 28, 2018. If he prevails in this tournament, he will advance to the New England Tournament of Champions in Lowell, Massachusetts.
West Point and the other military academies, especially Air Force, are some of the best boxing clubs in the country. They have won thirty-one of the forty championships that have taken place since 1976, when the NCBA was formed after boxing was dropped by the NCAA, and eight of the last ten. The military academies have been extremely successful because they require all students to take nineteen boxing lessons and they participate in physical workouts every day, in addition to their boxing training. They have also been around longer than most of the other boxing clubs.
This talent discrepancy gap is getting smaller since other collegiate boxing clubs have added more experienced fighters to their rosters and more schools (like UConn and Trinity) included boxing to their sports programs, which makes for a more competitive and entertaining field. This year, the collegiate regional tournaments take place on March 15 – 18 and the National Championship is from April 5 – 7.
"Colleges and universities are seeing a growth of collegiate boxing clubs because more student-athletes are realizing that it is a great way to stay in shape and it is a lot more fun than running and lifting," said Valenti. "Their growth has also benefited from more gyms and other fitness clubs incorporating boxing into their workouts routines, so children at a younger age are getting exposed to it and want to try it out."
Collegiate boxers wear headgear and twelve-ounce gloves, regardless of what weight class they box in. Each collegiate coach is USA Boxing certified. Fighters are separated from those who have boxed more than ten amateur bouts when they entered college (Open Class) from those who have not (Novice Class) and within that separation, they are matched based upon their weight and experience. Boxers fight three, two-minute rounds with one minute breaks in between. Bouts are decided based on a ten-point system, which is similar to professional boxing, except that it does not award any additional points for a knockdown.
"Fight fans will enjoy themselves on November 11th because all of these bouts will be action-packed and extremely competitive, so they will certainly get their money's worth," said Valenti. "The tickets are also reasonably priced between twenty and forty dollars and all the proceeds go to a good cause because it will be reinvested into the collegiate boxing clubs."
Individuals can order tickets for this event online at seacoastticket.com or call (1800) 382-5242, but do so soon because tickets are selling quickly. For more information on "Collegiate Fight Night" and other upcoming collegiate bouts and tournaments, visit ncbaboxing,.org and usaboxing.org, follow them on Twitter and Instagram @NCBA and @USABoxing, and friend them on Facebook/NCBA, /USABoxing.