Lausanne, Switzerland, 04 December 2012 – The German Eagles will be riding high after their last fixture when they battled back from 2-1 down to win against a tough Ukraine Otamans side. This Friday 7 December (20:00 local time), the German outfit will once again seek to make home advantage count in Group A when they host an intriguing USA Knockouts line-up at the EWS Arena in Göppingen. The hosts will be banking on the quality of Veaceslav Gojan, Serge Michel and 2011 AIBA World Championships bronze medallist Erik Pfeifer to make the difference on the night.
In the night's opening contest, Bantamweights (50-54kg) Gojan of German Eagles and the Knockouts' American World Series of Boxing (WSB) debutant Shawn Simpson will do battle. After his scintillating performance in week one, when he defeated former teammate Vincenzo Picardi, the experienced 29-year-old orthodox Moldovan Gojan should have the measure of his opponent.
Next up will be the Lightweight (57-61kg) showdown between promising German talent Kastriot Sopa and orthodox Texan Eric 'Fearless' Fowler. Sopa has won several National Youth Championships and many within the Eagles' squad expect him to come of age this season. The USA Knockouts' Fowler is now in his third WSB season, with nine bouts to his name, so will represent a stern challenge for the 20-year-old German.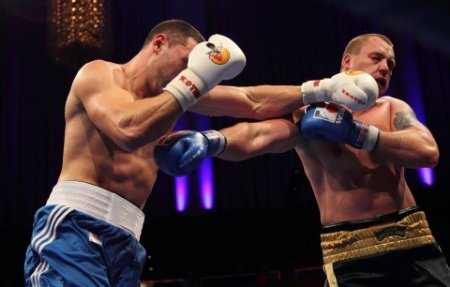 Fowler was bullish about his fight, declaring, "I feel great, been training really hard over the past few weeks. Went back to my hometown of Houston, Texas, and got back to the basics, which included great sparring. Every fighter within the WSB is a great opponent, so facing Kastriot Sopa is just another day at the office for me. I feel strong going into this fight, a lot better than the first week and hope to put on a great show for everyone, including the US Military that are stationed out in Germany".
22-year-old Xhek Paskali is another promising German coming through the ranks but in his first WSB outing in week two, the Middleweight (68-73kg) struggled to contain his rival. This time around, he will hope to have learnt a great deal from his first foray in the competition when he is pitted against the Knockouts' William Williams. The American was hailed as the next big thing when he made his breakthrough three years ago but his career has not yet taken off. This contest will be an intriguing one with it being vital for both boxers to make their mark.
Serge Michel, who defeated 2011 WSB Light Heavyweight (80-85kg) Champion Abdelhafid Benchabla in his first appearance for the Eagles, will be charged with taking down the threat posed by one of the competition's heavy-hitters, Swedish southpaw Kennedy Katende. The 24-year-old German will be looking to use the element of surprise against his savvy opponent, with the objective being to claim another famous scalp. The unpredictable Katende is the outstanding boxer in the Knockouts' squad and he will want to lead his troops by example.
Box office Heavyweight (91+kg) Pfeifer will then bring the show to a close when he locks horns with the visitors' tall Hungarian 23-year-old Istvan Bernath. The German orthodox fighter delighted the crowds when he last took to the ring with a classy TKO victory, and now the fans at the EWS Arena will be hoping for more of the same. Bernath however is a strong fighter who can beat anyone on his day.
London 2012 Olympian Pfeifer told us, "I watched a few of Bernath's fights online and I was impressed. It also gave me the opportunity to devise my tactical plan for the bout. I am feeling in great shape and the video analysis also helped me focus, I feel well prepared for this season". On the opposing team, he added, "The USA Knockouts have travelled with a strong team but we do not fear them, in fact we are relishing this encounter".
Tickets are still available for this event and with the German Eagles always certain to put on a great show; this is one that should not be missed. To purchase seats, click HERE.
###
Table-topping showdown as Kazakhstan host Lionhearts
Lausanne, Switzerland, 04 December 2012 – This mouth-watering World Series of Boxing (WSB) match promises to be one quality affair with two of this early season's outstanding teams going head-to-head. Astana Arlans Kazakhstan will be battling a tough British Lionhearts outfit at the Almaty Sports Palace this Saturday 8 December (20:30 local time) with the winner guaranteed to sit pretty at the top of Group B. Kazakhstan will be relying on the speed of Yerzhan Mussafirov, the element of surprise from Ainar Karlson and the power of Filip Hrgovic to counter the threat posed by the visitors.
Kazakhstan's Miras Zhakupov looked like an accomplished fighter in his first WSB outing in week one. However the explosive Brit Gamal Yafai will represent a much tougher challenge for the Bantamweight (50-54kg) orthodox 23-year-old. Yafai has real pedigree, having collected a bronze medal at the 2010 European Championships, and his style is sure to get the crowds up on their feet right from the off.
The Lionhearts' London 2012 Olympian Josh Taylor, the first ever Scot to compete in WSB, will then be making his debut against the competition's inaugural season's top ranked Lightweight (57-61kg) Mussafirov. 2010 Commonwealth Games bronze medallist Taylor will have a huge height and reach advantage over his rival and will hope to carry on the form he has shown throughout 2012 against the experienced Mussafirov. The 27-year-old Kazak has lost his way since reaching the top of the charts in season one and will hope to recapture that spark in front of his own fans.
Taylor stated, "It will be great to box in WSB for the first time. I know the competition will suit my style and I cannot wait to face my opponent. The aim is for the team to maintain the level of performance we have shown in the previous two matches. We have had a great start to life in WSB and we will be looking for another win in Kazakhstan".
The Middleweight (68-73kg) contest will see the host's Israeli hardman Konstantin Snigur pitted against another emerging talent from Scotland, Aston Brown. This one will be experience versus youth with 29-year-old Snigur facing the young Lionhearts debutant. It promises to be a real clash of styles with the Scottish boxer also having a huge height advantage over his opponent in this one.
24-year-old Estonian Karlson will be another making his maiden WSB appearance as the Kazak team's Light Heavyweight (80-85kg) faces experienced Swede Babacar Kamara. This one will be tight with both boxers keen on getting their careers in the competition off to a good start. Karlson has the reach but Kamara is a savvy operator so it will be tough to call.
Reigning WSB Heavyweight (91+kg) Individual Champion Hrgovic is fast becoming one of the star attraction of WSB and the Astana Arlans Kazakhstan giant will want to continue showing the world he truly is a great in the making. The Croat faces a real test of his credentials though when he meets one of the African continent's top boxers in Mohamed Arjaoui of Morocco. Both fighters know the competition well and with both being notorious heavy-hitters, the spectators will surely be relishing this bout.
Hrgovic told us, "I have been training hard for this one. I have seen several of Arjaoui fights andI can say he is an excellent fighter but I know I am in better shape than he is. We are confident that our team will put on a great show for the crowds and claim the win". On the opposition, he was very positive, stating, "The Lionhearts have some fantastic boxers and it will be very interesting to face them. I am positive that the victory will be ours".
The packed arena will ensure a sensational atmosphere for this match and with top spot in Group at stake, the boxers are bound to be throwing caution to the wind and go all out for the win.
###
Smith-O'Meara on December 15th in London
Promoter Frank Warren's end of year extravaganza at the ExCeL London on December 15th was further bolstered last weekend with the announcement that Liverpool's unbeaten Liam 'Beefy' Smith and West Drayton's Steve O'Meara are to collide for the vacant Commonwealth light-middle title – bringing it to a staggering SIX title fights on the night. Already several respected judges are highlighting it as the potential Fight of the Night.
Watch the whole bill live and exclusive in the UK on BoxNation, Channel of Champions, Sky Ch.437/Virgin Ch.546. Join at www.boxnation.com
Though O'Meara stopped just two of his first pro opponents, his three most recent scalps crumbled inside five rounds combined, including a couple of one round blow-outs in Southern Area title fights.
Jim McDonnell has coached the 28 year old father of two throughout his entire 18 fight pro career. Here, in his own words, the former European featherweight king and two time world title challenger discusses O'Meara's dramatic development and explains why he is so confident that his man shall prevail over Smith.
"I've been working with Stevo from Day Scratch, before he even turned professional.
When Simon O'Donnell first brought him to my gym, Stevo had no amateur pedigree, just a bit of unlicensed stuff. Physically he was The Weakest Link, easily the weakest pro I've ever worked with. His ground work was abysmal and I thought he was going to get really chewed up in the pros.
But, in almost five years, he's only lost two fights, both controversially. Boxing News had him up when he was supposed to have been outpointed over six rounds by Joey Selkirk up in Liverpool. I also had him up. He definitely won it nicely but it was against a Scouser, in Liverpool, with a Scouse referee. Other than that, Steve's only other loss was a split decision over three rounds to Brett Flournoy in Prizefighter. Steve ain't a three round fighter.
Lately 'The Quiet Man' has really come through and made himself known. I've had him spar with James DeGale, Carl Froch, Darren Barker, Nathan Cleverly and even Floyd Mayweather. He surrounds himself with excellence. He's a very late developer and the best is yet to come. There's not a light-middleweight in the world I'd not put him in with. If I managed a different light-middle, I'd be swerving Steve O'Meara like the plague.
When Stevo wins the Commonwealth title on December 15th and he will, it'll be my proudest achievement and greatest triumph as a coach. He came to me with no amateur CV and was technically basic. Once a kid wins a title they flourish. He'll improve 20% and be unstoppable. Then let the show begin!
The transformation has occurred largely due to three things; his determination, his physical strength and the timing of his punches.
For a start, he really lives the life. There's no alcohol intake. Even as a novice pro, he used to make a round trip of 70-80 miles a day to train with me. He's got young children and, trust me, they're his everything. But for this, he's put his family on hold, hooked himself up in a hotel nearby and is training like a lunatic, three sessions a day. I physically have to stop him.
Nobody deserves their opportunity more than Stevo does. He's such a good guy, a great friend to James (DeGale); often helps him out at very short notice with sparring even though he doesn't live local.
From being the weakest at my gym, he's now pound for pound the strongest. Physically he's a proper force at 154 (lbs). He does a lot of rope climbing and he's got this Russian strength and conditioning coach called Serge. Together they do a lot of MMA work and grappling. He's throwing fit 17 stone guys all over the place. Now he's sparring 12 rounds straight off and he looks the real deal.
But the reason that he's started knocking everybody out lately isn't so much his strength as his timing. Before, he was looking for the knockout too much. Now he's relaxing more and his timing on the floor-to-ceiling ball is unbelievable. Floyd Mayweather doesn't time a right hand any better than Steve O'Meara. He's knocked three out consecutive plus several others at the gym. Make a mistake against him and you're going to pay. Now he's going to start destroying kids at top level.
His mental strength is phenomenal. He's really in the zone right now and just won't be denied. If you played in a football team, Steve O'Meara is the man you'd want to drive it. He's one tough son of a gun. He's got an iron will to go with that iron right hand!
People just don't realise how good he is. He looks like a model, hardly ever has a mark on him because he's got great all round defence. He's learnt his art. As Floyd Mayweather told him: 'Any fool can get hit!'
People say that this is a risky fight but, if I'd not taken it, I doubt Stevo would have spoken to me again for the rest of our lives! Anyway, when you've handled yourself with the type of kids he has in sparring, you've not got to worry about the Liam Smith's of this world.
That said, we're certainly not underestimating Liam, he's a hell of a good fighter, a former senior ABA champion and a very proud Scouser from a proper fighting clan. He's strong, has good skills, both offensive and defensive. He's also got deceptively long arms plus he's a thinker. We know he'll turn up in good condition and with plenty of fire in his belly. He'll be really up for it too.
It's because of the respect we have for him that, that Stevo's left no stone unturned in the gym and will ensure he's 110% on the night. That's why we've been sparring bigger, heavier world champions. It's gonna be a great fight for the British public.
But Stevo wins because he refuses to lose. He works alongside winners every day and it rubs off on him. I've seen him work flat out with Floyd Mayweather in the gym and he took care of himself. After that, Liam Smith is a day off for Steve O'Meara!"
WBO World Lightweight Champoin Ricky Burns v Jose Ocampo headlines a massive six-title card that features George Groves defending his Commonwealth Super-Middleweight title against Glen Johnson in the chief support; plus Commonwealth Middleweight Champion Billy Joe Saunders defends his title against Nick Blackwell with the vacant British title also on the line; unbeaten Bradley Skeete challenges Southern Area Welterweight Champion Chas Symonds for his title and WBO International Cruiserweight Champion Tony Conquest defends against Neil Dawson.