Share the post "George Groves on Behind The Ropes, Sky Sports 1HD tonight at 7pm"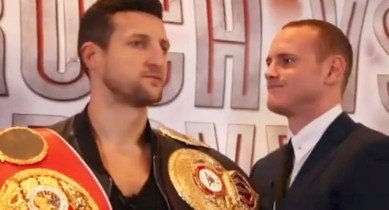 George Groves says that new trainer Paddy Fitzpatrick will bring the best out of him against Carl Froch as he takes the Sky Sports viewers into his training camp in George Groves – Behind the Ropes, tonight at 7pm on Sky Sports 1.
The challenger for Froch's WBA and IBF World Super Middleweight titles split with long-time trainer Adam Booth ahead of Saturday's clash at the sold-out Phones 4u Arena in Manchester, live on Sky Sports Box Office, and the Londoner explains the reasons behind the decision in the show.
"Adam was my trainer and manager from the start of my career to where I am now and I've had a good career," said Groves. "I've had some up and downs and I've won titles but who knows what else I could have done elsewhere.
"I believe that all talented fighters need a trainer, need a good manager to keep them on the straight and narrow, that's why I don't have, that's why I am not preparing for this fight on my own. I have still gone out and got the best team to work with so they can get the best out of you.
"On the flip side it doesn't matter how much of a good trainer or manager you have got, you have to be a talented fighter, or you have to have talented fighters to be a successful trainer and I think that's an important fact to remember.
"When it comes down to it and when that first bell goes you climb through the ropes and you are all on your own and that's why a lot of people can't be a boxer and that's why a lot can't make it at the highest end because it is a lonely place. It's a frightening place and if you're not prepared mentally and physically and again that comes down to an individual.
"You have to do that yourself the trainer can't get up and do sprints for you, he can't get in the gym and spar for you, it's up to you to get in there and do it. So you know when you get through the ropes it's just you, you're ready. It is nice having someone in your corner who you trust and who you respect but sometimes you don't have that and when you don't it's time to move on.
"Anyone who knows Paddy Fitzpatrick would describe him as a cool guy. He's chilled, relaxed, I don't think I have ever seen him animated or angry, then again I wouldn't want to cross him at the same time because he does have a fuse if it ever gets blown.
"Paddy has calmness and an intellect that appeals to me because when he speaks he speaks very clearly. There is no waffle, there is no circus, there is no ego and I think that's hard to come by in boxing. It comes down to his boxing know how, he is fierce, he explains stuff very clinically and it always makes sense. I think we're pretty much on the same wavelength when it comes to how I would approach most fights but I have seen him in the gym with other fighters and seen how he changes and adapts his training style to suit them.
"Again – he puts the fighter first, he understands how certain things have to be in the fighters favour and because of that I can get the best out of him and I feel he can definitely get the best out of me."
On the fight Groves believes he will be the first man to stop Froch, and said that he has plenty of tricks up his sleeve to make it happen.
"I know I will win this fight regardless," said Groves. "There are many fights that I know I am going to win. Like James DeGale. I know what Carl's strengths are and I know what his weaknesses are. There are many different ways that I would beat Carl and not just in general but on the night I will take it away from him in many, many different ways.
"Just like every fight I will go out and control the pace of the fight, I will control the distance during the fight and I will be hitting him frequently, accurately, powerfully and I am not sure what will break first his heart or his head but one will before the end of the fight."
On their infamous sparring sessions, Groves candidly sets the record straight, and pokes fun at Froch's training logs.
"I don't keep a diary – I thought they were fourteen year old girls to write about boyfriends and homework?" said Groves. "We went out to Sheffield one week and he caught me with a right hand over the top, I was being lazy on the ropes, my knee touched down, I stood straight back up, carried on the round, carried on the rest of the spar. Two days later I came to his gym in Nottingham, sparred him took him apart.
"I got out of the ring and sat there staring at his trainer bemused. I think he was looking for a bit of confidence sparring and he didn't get it that day, and then he went on and lost to Mikkel Kessler.
"I never read too much into sparring, because I don't spar that great. If I'd dropped Carl Froch I never would have mentioned it, I wouldn't have got up and said 'yeah, let me send a text to my mum, let me write it in my diary at home'. Because what does it matter in sparring? It means nothing. I'm only going half-speed most of the time, if he does rely on that sparring he is in trouble, I'm a little better now and I'll be a little bit better on Saturday night as well."
George Groves – Behind the Ropes will air on Sky Sports 1 at 7pm tonight.
Carl Froch on Behind The Ropes, Sky Sports 1HD at 7pm
Carl Froch says building a future for his kids is his main motivation for his fight with George Groves, as he lifts the lid on his big fight build-up tonight on Carl Froch – Behind The Ropes, Sky Sports 1HD at 7pm.
Froch gave the Sky Sports cameras exclusive access to his training camp and family life as he was deep in his training camp for his WBA and IBF World Super Middleweight title defence against Groves at the sold-out Phones 4u Arena in Manchester, live on Sky Sports Box Office – and he reveals the driving force behind his success.
"There are many different things that motivate me, I've got two kids, I love them so much, I can't wait until the day I retire so I can spend more time with them because at the minute, I'm in a short term career," said Froch. "What's another year or two to secure not only my own but my kids future and my legacy doing a sport I love?"
He talks about George Groves attitude in the build-up to the fight has also given him the incentive he needs to prevail on Saturday night.
"The guy is fighting for his first World title and is just doing typically what British fighters have done before I fought them," said Froch. "He is trying to give himself some sort of confidence and self-belief by downplaying what I have done but it is a bit of a backward way of doing it because when you're up against somebody like me who has earned respect off the boxing fraternity and been involved in back to back world title fights and achieved what I have achieved, you'd think he would use his brain and be a little bit more respectful.
"I'm very experienced at top level the fact that I don't really like Groves isn't going to affect my performance. All he's done by being horrible in the build-up to this fight he's just motivated me. He's given me the motivation I need. If he would have been quite humble and appreciative of his shot because he's not number one with the IBF he's number five so he's been granted a position, you know gifted a position of authority in the sense he's allowed to challenge for the IBF world title, one of the belts that I hold, so he could have been a little bit more you know appreciative about it.
"But the way I've prepared, the way I've been motivated – thank you very much George for the motivation you've given me over the last three months – I'm going to go I there and absolutely outclass Groves as far as I'm concerned. This is obviously me talking before the fight, this is how I feel. I'm going to go in there and absolutely outclass him and do a job on him it's as simple as that."
The show is very family orientated where we spend time with the people closest to Carl, his mum Carol and partner Rachael and we check out Carl's skills on the snooker table with his best friends and his two brothers Lee and Wayne.
We also had privileged access to Carl's sparring with IBF Middleweight champion Darren Barker and Carl dedicates his overwhelming success to trainer Robert McCracken.
"A fighter trainer relationship is the most important thing in professional boxing," said Froch. "Rob brings the best out of me in training, in sparring and on fight night. I couldn't do what I do without him.
"I've said time and time again without Rob McCracken there's no way I would have performed at the level I've performed at and had the success I've had with Rob McCracken. No way at all. It would have been impossible."
Share the post "George Groves on Behind The Ropes, Sky Sports 1HD tonight at 7pm"