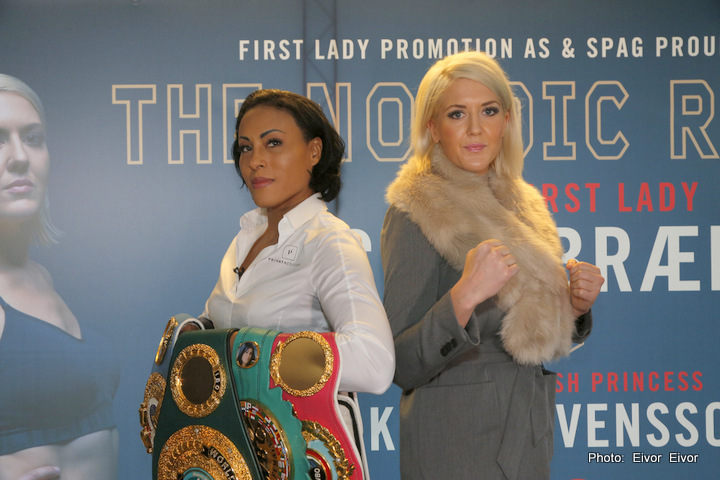 "The First Lady" Cecilia Brækhus is returning to the ring on January 28th 2017 to a Scandinavian mega-fight against "The Swedish Princess", Klara Svensson.
The two rivals are ranked as number 1 and 2 in the welterweight-division.
Photo: Eivor Eriksen/Fotofolk.no
The five-time world champion Cecilia Brækhus (WBA, WBC, WBO, IBF and IBO) is putting all her five titles on stake as she takes on the strong and high-skilled technical swede.
The fight was announced at a press conference in Oslo, Norway, today, just twom onths after Brækhus impressed with a second-round stoppage of "The female Mike Tyson" Anne Sophie Mathis.
More than 20 procent of Norways population was glued to the tv-screens, as nearly 11.000 spectators filled the arena Oslo Spektrum.
Now Brækhus is aiming for a new KO-victory:
– My last fight ended quite quickly. I left the arena without bruises or any injuries at all, and could og straight back to training with Johnathon Banks (Kronk Gym). The goal for this fight is the same as last time. I am going to be better than Svensson in everything. I will win, and I will end this fight long before the 10th round, says Brækhus.
"The Swedish Princess" Klara Svensson has bee naiming for Brækhus since she beat her country woman Mikaela Lauren in a tough 10-round interim-fight in September.
– I share Cecilias attitude, because I have the same goal as her. I have been dreaming of this opportunity, and I am very happy that this fight came now. I have what it takes to beat Cecilia, and I am looking forward to face her in the ring, says Svensson.