Share the post "Braekhus renews contract with Team Sauerland; faces Mia St. John on April 13th"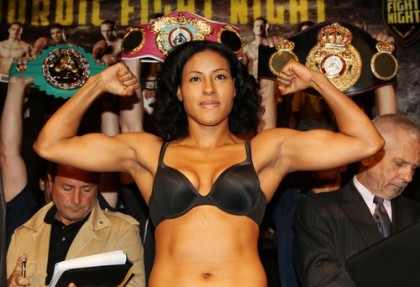 Team Sauerland is delighted to announce that WBA, WBC & WBO Female Welterweight Champion Cecilia Braekhus (21-0, 5 KOs) has signed a contract extension with Europe´s leading boxing promoter. "We look forward to continuing our very successful relationship with the best female boxer in the world," Nisse Sauerland said. "Cecilia – the first lady ever to fight for Team Sauerland – has lived up to our expectations. We knew she was special when we signed her, and she has always delivered. Her talent, determination and skills have lifted her all the way from an unknown undercard fighter to a three-time world champion with a rock-star-like popularity in Norway. Together with her coaches Ulli Wegner and Georg Bramowski, the sky is the limit for Cecilia. There are a lot of big fights to be made!"
Braekhus will return to the ring in Frederikshavn on April 13, taking on Mia St. John (47-12-2, 18 KOs). The First Lady only has the best of memories of Arena Nord, which was packed with Norwegian fans in September 2012 when she clinched a dramatic points victory over French power puncher Anne-Sophie Mathis in her biggest fight to date. "I am thrilled to extend my contract with Team Sauerland and to continue our cooperation with Viasat," Braekhus said. "I will forever be grateful for Team Sauerland´s confidence and support. In the ring, it´s just me and my opponent, but outside the ring, it´s a team effort. We have accomplished quite a lot already but there are even greater things ahead."
Braekhus is happy to return to Frederikshavn. "I am glad that April 13 has been confirmed," she stated. "There were so many Norwegian fans ringside last time. Their support gave me the extra lift I needed to beat Mathis. Now I will need their support against St. John. I´ve seen her on tape, she´s a tough girl and very experienced, but I will definitely continue my winning streak in 2013!"
Said St. John: "I am very excited to have this opportunity to fight one of the world's best fighters. I know exactly what I am up against, but the great thing about boxing is that you never know what will happen. I have one shot and I'm expecting an upset in boxing on April 13th!"
Tickets for the event at Arena Nord are available at arenanord.dk. The fight between Rudy Markussen and Luke Blackledge has also been moved to April 13.
Share the post "Braekhus renews contract with Team Sauerland; faces Mia St. John on April 13th"