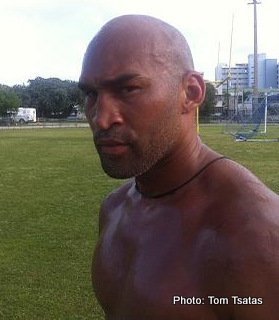 Chicago Promoter Bobby Hitz refuses to take "no" for an answer regarding Fres Oquendo's WBA heavyweight title shot against the Russian WBA Heavyweight Champion Alexander Povetkin.
 
"Yesterday, we put out a press release telling the truth, and today they are calling, begging us to tell a lie.  But I'm not afraid to tell the world what is really going on," said Hitz.  "We were offered a heavyweight title fight against Povetkin a couple of weeks ago and we accepted Povetkin's lowball offer because we know that Fres can knockout Povetkin.  And it is absolutely true that Povetkin's handlers informed us that they were going in a different direction, because after studying Fres they realized that Fres was too fast, too slick and too big a risk for Povetkin.  Povetkin's handlers told us themselves that they want an 'easy' opponent which is why they are now considering the unknown Polish fighter Andrzej Wawrzyk who has fought nobody."
"After we put out our release, I got a call from a major boxing website saying that they were concerned that Povetkin's promoter, Sauerland, would take action against them so they would not run the story.  But truth is an absolute defense, so they can say or deny all they want, but here in the U.S., we have freedom of the press and I intend to exercise my God-given right," Hitz continued.
 
"Today, I got a call from one of my associates that Povetkin's handlers had called, begging me to shut up, that no decision had been made yet," said Hitz. 
"Well I am not shutting up because a decision was already made.  We were offered the fight, we accepted the fight, we had Fres sign a bout agreement for the fight and now they are chickening out because they realize they made a mistake in choosing Fres and have admitted to us they want an 'easy' opponent."
 
"I'm told that Roy Jones, Jr. is very popular and highly respected in Russia," Hitz continued.  "Well Roy Jones and I are the co-promoters of Oquendo, and we both guarantee that Povetkin vs. Oquendo will be a great fight.  So we are calling upon all the boxing fans in Russia to rise up and stop this injustice and make Povetkin and his handlers live up to their word so they get a real fight, not a Polish joke."