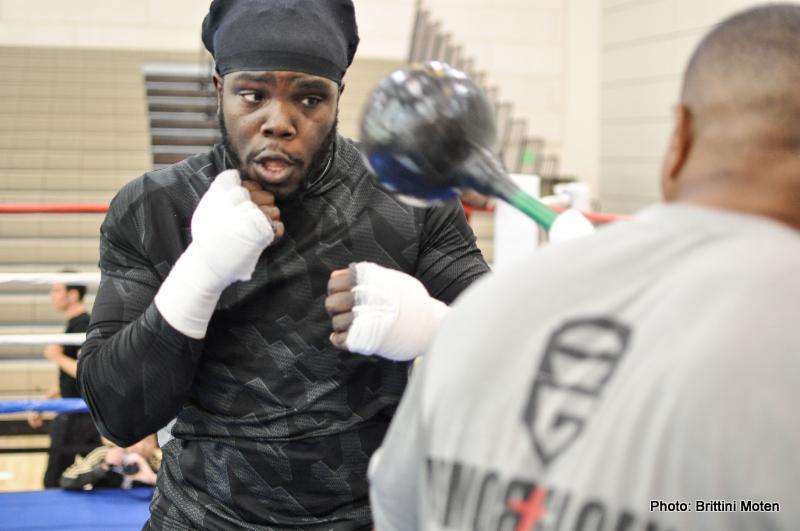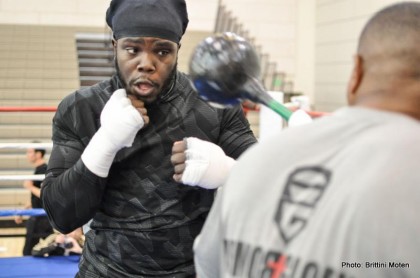 ESPN3 Live Coverage of Weigh-in and Press Conference
ESPN and ESPN Deportes Studio Shows On-Site
Interviews with Arreola and Stiverne on ESPN
Special Hour-long Golpe a Golpe Preceding the Fights
ESPN's coverage surrounding ESPN and ESPN Deportes' telecasts of the Saturday, May 10, 12-round World Boxing Council (WBC) World Heavyweight Championship fight between top-rated contenders Bermane "B. Ware" Stiverne (23-1-1, 20 KOs) and Chris "The Nightmare" Arreola (36-3, 31 KOs) will include the Thursday, May 8, press conference and the Friday, May 9 weigh-in, both live on ESPN3. ESPN blow-by-blow commentator Joe Tessitore will emcee the weigh-in. In addition, ESPN's live telecast of the fight on Saturday will include interviews featuring Arreola and Stiverne. ESPN Deportes' Golpe a Golpe will present a special live pre-fight show on Saturday, May 10 and ESPN.com will have the latest news and information leading up to and after the fight.
The fight, which was previously announced in March, will air live from the USC Galen Center at 8 p.m. ET on ESPN and ESPN Deportes' Noche de Combates. Both shows will be presented by Corona Extra and will also be available on computers, smartphones, tablets, Apple TV, Xbox and Roku via WatchESPN. The card is co-promoted by Don King Productions and Goossen Tutor Promotions.
https://www.youtube.com/watch?v=W9CslIRRZ7c
ESPN will also carry the fight exclusively in Latin America, the Caribbean, Brazil, and Canada (via TSN/RDS). In addition, ESPN will televise the fight in Australia and New Zealand.
Commentators: Tessitore will be ringside with Teddy Atlas describing the action for ESPN, while studio host Todd Grisham (@GrishamESPN) will present the latest boxing news and highlights on site. Pablo Viruega and David Faitelson will call the fights ringside for ESPN Deportes' Noche de Combates (Fight Night), while Leopoldo González and Claudia Trejos will anchor the on-site studio with analysis from Hall of Fame referee and ESPN boxing analyst Joe Cortez. Bilingual reporter Bernardo Osuna (@osunaespn) will present live interviews and reports for both networks.
ESPN3 Live Coverage of Press Conference and Weigh-in: Coverage of the Thursday, May 8, press conference (2:30 p.m.) and the Friday, May 9, weigh-in (6 p.m.) live on computers, smartphones, tablets, Amazon Fire TV, Apple TV, Xbox and Roku via WatchESPN.
Arreola and Stiverne Interviews on ESPN: Saturday's show on ESPN will include Atlas' recent conversation with Arreola as he prepares for his rematch with Stiverne. View the conversation here. The show will also include an interview with Stiverne as he prepares for the fight. View the interview here.
ESPN Deportes' Golpe a Golpe: A special pre-fight show (Saturday, May 10, 7 p.m., ESPN Deportes) will be anchored by Jorge Eduardo Sánchez, in Mexico, and will include the latest news and analysis from ESPN's L.A. commentary team of Trejos, Gonzalez, Osuna, Viruega, Faitelson and Cortez. Golpe a Golpe will also have coverage from Friday's weigh-in on Saturday, May 10 at 4 p.m.
ESPN.com: Comprehensive coverage including pre- and post-fight stories from ESPN boxing writer Dan Rafael. ESPN.com will also include previews and breakdowns from Making the Rounds, ESPN.com's original boxing show.
Fight Details:
Main Event: Stiverne, a Florida resident of Haitian descent, first met California-based, Mexican-American Arreola last April for the right to challenge then-Heavyweight titleholder Vitali Klitschko for the WBC belt. Stiverne scored a 12-round unanimous decision win earning the right to face Klitschko. After Klitschko vacated his title in December to focus on his political career in Ukraine, Stiverne and Arreola were chosen to fill the vacant title. The two will not only battle for the vacant WBC World Heavyweight title, but also to become the first boxers of Haitian or Mexican descent to hold a Heavyweight title.
Co-Feature: Friday's eight-round co-feature will pit undefeated Junior Welterweight Amir "Young Master" Imam (13-0, 12 KOs), against Yordenis "The Black Prince" Ugás (15-2, 7 KOs).