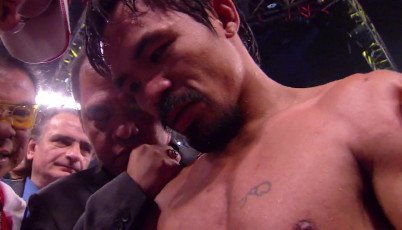 By Rob Smith: Manny Pacquiao is expected to reveal who his next opponent will be this week for his December 8th fight in Las Vegas. However, Pacquiao is still weighing the options of fighting his promoter Bob Arum's two choices for him in Timothy Bradley and Juan Manuel Marquez, and he's having problems trying to decision which one to take of the two. With a potential big money fight against Floyd Mayweather Jr. right over the horizon for Pacquiao in early 2013, he risks an awful lot if he selects Marquez and fails to look against him like he did in three previous controversial fights.
Pacquiao can't afford to stink out the joint in getting out-boxed a fourth time by the now 39-year-old Marquez, because this would really hurt Pacquiao's chances when he gets to the bargaining able with Mayweather. As it is it's going to be awfully tough for Pacquiao to justify that he deserves a 50-50 deal with Mayweather when Pacquiao has recently been beaten by Tim Bradley and looked awful against in a questionable decision last November. More than a few boxing fans felt that Pacquiao should have lost that fight as well as his previous one against Marquez in 2008. Mayweather had little problem in his one and only fight against Marquez in 2009, beating him by a lopsided 12 round unanimous decision that was ridiculously easy for Mayweather.
According to the Los Angeles Times, Arum is saying that Pacquiao and his selected opponent will be having a press conference on September 18th to start promoting their December 8th fight.
Arum still doesn't know who Pacquiao will be fighting on that date, saying to the LA Times "Manny is being mature in his decision. He's taking his time, really thinking about it. Before, it was a spur of the moment. How he's considering all of it."
You can't really blame Pacquiao for taking his time. The choices for him are both potentially dangerous for him, because Bradley already beat him even though he was fighting with two bad feet. Marquez has dominated Pacquiao in three previous fights, and looks to be fighting at a higher level than him right now. The chances are good that Pacquiao will struggle against both of them and if he does win, it'll likely be another questionable decision that will upset a lot of boxing fans who may see it as a bogus decision. Going from another decision into trying to make a fight with Mayweather will leave Pacquiao in bad shape. His promoter Arum can ask for a 50-50 deal, but the chances of that happening will be pretty much zero. Pacquiao will then likely be doomed to fighting his promoter Arum's Top Rank stable fighters for the remainder of what's left of his career.