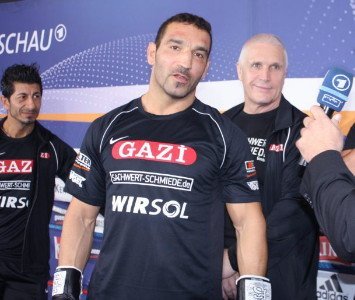 (Picture: Gerry Weber World) The wait is almost over. Marco Huck will defend his World Boxing Organization (WBO) Cruiserweight title on Saturday for the tenth time. He will take on former WBA Champion Firat Arslan at the Gerry Weber Stadium in Halle/Westphalia, Germany. Ahead of the fight, both protagonist took part in today's public workout staged at the Business Club of the local Football team Arminia Bielefeld.
First to show-off his skills was the challenger. Although Arslan is already 42-years of age, the former world champion himself believes that he is in the best shape of his long lasting career. But surprisingly he was not really willing to let the masses as well as his opponent have a sneak peak of his tough training regime. "The fans will be able to see what I can do come Saturday night", promised the challenger. "I came here to win the world championship." His coach Dieter Wittmann was also optimistic. "Firat is about 30 percent better than I have ever seen him."
But in order to take the WBO Belt he will need these 30 percent. His opponent of the night, the Champion himself, is aiming to keep his winning streak at the Gerry Weber Stadion alive. Twice before in his career Huck stepped into the arena in Halle/Westfalen and left it as the winner. And he was eager to show, that he is still as good as he was back in 2009 when he first won the WBO Crown at the very same stadium. He once again is counting on the support of the home fans. "It is always a pleasure to travel to Halle/Westphalia. It is here where I first became a world champion and now I
have the chance to defend my title for the tenth time. Coach Ulli Wegner, who has been working with Huck for most of his career, is sure that his prodigy has what it takes to be victorious against Arslan. "The development of Marco has been immense. I am totally confident that he will leave the ring as the WBO Super Champion."
But before the clash between these two explosive boxers, Huck and his coach will be attending the German Cup game between Arminia Bielefeld and Bayer Leverkusen. After some of the Bielefeld players visited Huck at today's workout session, it is obvious who the champion will be rooting for.
Tickets for the fight on November 3 can be purchased on www.eventim.de and www.gerryweber-world.de.
"STERLING NIGHT OF FIGHTS" SATURDAY, NOVEMBER 17TH
LAS VEGAS, NV (October 30, 2012) Sterling Promotions, led by longtime Las Vegas based boxing promoter Sterling McPherson presents "Sterling Night of Fights" on Saturday, NOVEMBER 17 in the climate-controlled "E CENTER" at the world-famous Edgewater Casino Resort in Laughlin, Nevada.
"We're very excited to work with the Edgewater Casino Resort team on this terrific event and look forward to a long and fortuitous relationship with them by providing the best in world class professional boxing" said McPherson, also announcing that this event will be broadcast LIVE on ESPN International.
Advance tickets priced at $75, $50, $25 and $15 may be purchased through the Edgewater Casino website at ESPN International Boxing Tickets
Headlining the debut "Sterling Night of Fights" will be a sensational ten round lightweight clash between Nigerian master Robert "Super" Osiobe, 13-5-0 (6KO's) and "Son Of A Champion" Pipino Cuevas Jr., 16-8-0 (14KO's) of Mexico City, MX.
A native of Nigeria, now based in the fight capital of the world, Las Vegas, Nevada, Osiobe is coming off his career best victory, winning a hard fought ten round battle over Jose Hernandez on AUGUST 18 in Tacoma, WA.
Son of former world champion Pipino Cuevas Sr., the heavy-handed Cuevas Jr. has been a professional for seven years. Both of his starts in 2012 have ended in early stoppages, most recently knocking out Jose Luis Lopez on MAY 13 in the second round in Hidalgo, Texas.
Featured in the co-main event is outstanding Youngstown, Ohio lightweight prospect Chris Hazimihalis, hailing from the same city as numerous former world champions including Ray "Boom Boom" Mancini and Kelly "The Ghost" Pavlik.
With an undefeated record of 9-0-0 with seven stoppages, Hazimihalis will face off against an opponent to be announced in a scheduled eight rounder.
In a six round junior welterweight battle, cross-town Las Vegas rivals, unbeaten knockout artist Luis "El Animal" Cerda, 6-0-0 (6KO's) and Cameron Krael, 2-3-2 will face off.
Originally from Santiago De Chile, Chile, the 21-year-old Cerda will be making his highly anticipated US debut following a fourth round knockout of Claudio Leindro on JANUARY 27 in Chile.
Just 20-years-old, Krael is returning to action following a hard fought decision loss to Robert Osiobe on JULY 14 in Las Vegas.
In a special feature attraction women's bout, Las Vegas' attractive newcomer Marcela Cornejo, 1-0-0 (1KO), will enter the ring in a scheduled four rounder against pro debuting Kandyce Williams of Palmdale, CA.
Heavyweights will be represented at "Sterling Night of Fights" in a scheduled six round tilt as undefeated prospect Duane Mobley, 6-0-0 (4KO's) of Upper Marlboro, MD clashes with Phoenix, Arizona's Chad Davis, 4-10-0.
In a four round super middleweight battle Las Vegas' Ronald Gavril, 3-0-0 (2KO's) will look to stay undefeated in a four rounder against Billy Schmidt, 1-2-2, of Glendale, Arizona.
Super featherweight newcomers will clash in a four round tilt as Phoenix, Arizona's Keenan Carbajal and Ismael Navarette of Riverside, CA, make their pro debuts.
The Edgewater Casino Resort is located at 2020 S. Casino Drive in Laughlin, Nevada. For more information, please visit their website at www.edgewater-casino.com