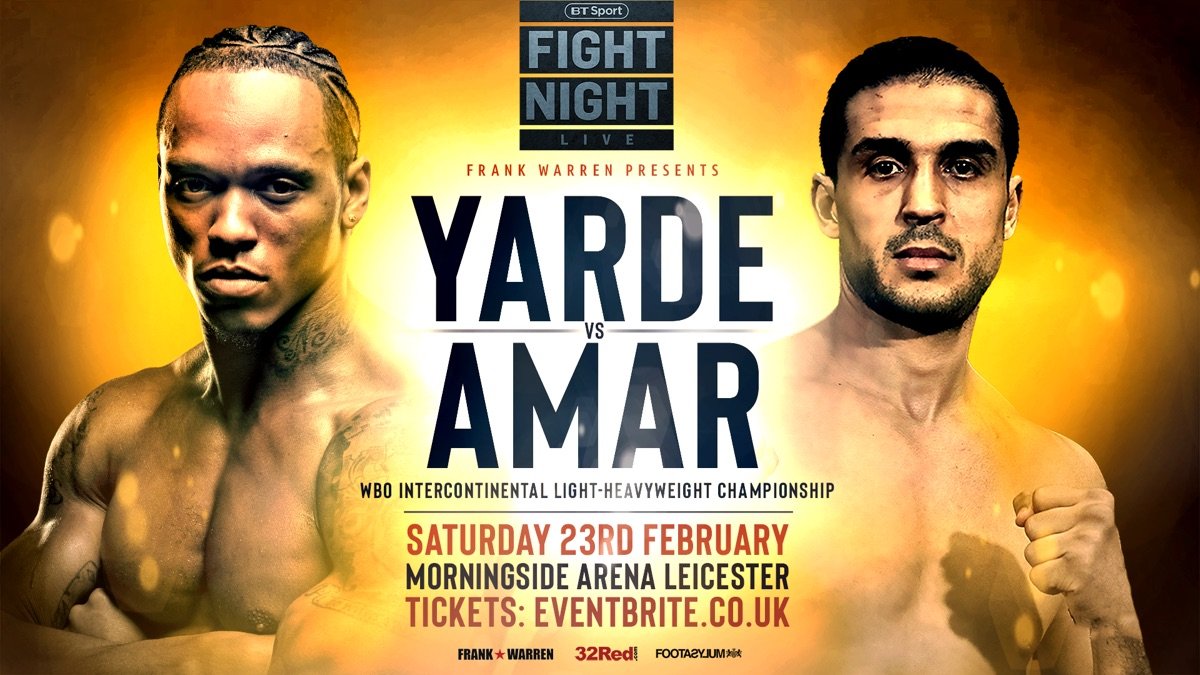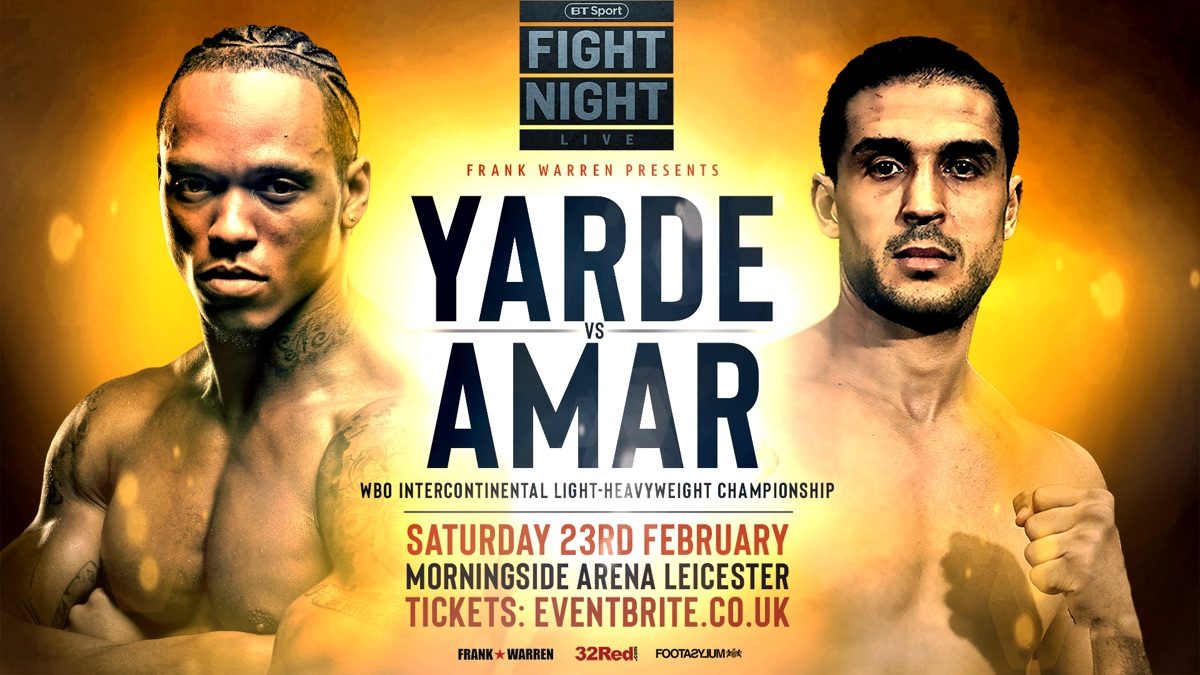 ANTHONY YARDE BELIEVES he is rapidly closing in on a shot at a light heavyweight world title.
The charismatic 27-year-old, who carries explosive speed and power, faces his latest and most challenging audition yet against former European champion Mehdi Amar at the Morningside Arena in Leicester on February 23, live on BT Sport.
An impressive victory over an opponent who has suffered only one early finish – in his fourth fight due to injury – and was only defeated on points by the formidable now world champion Oleksandr Gvozdyk last year, will likely lead the WBO towards mandating the 17-0 Yarde to challenge the winner of this weekend's rematch between Eleider Alvarez and Sergey Kovalev.
Yarde, who has been happy to bide his time up to now, suspects himself that his moment of world title truth is looming closer.
"I have said to myself when the time comes I have got to be ready," said the WBO Intercontinental champion. "Sometimes they say it is energy, that you can feel things and I can feel it getting closer so I am pushing myself to the limit, literally, in trying to become a better fighter.
"I am trying to digest information in the best way I can, I am trying to become a better technical fighter who is more explosive, more powerful, more relaxed. Every aspect I am trying to work on.
"I said it right from the start of my career, I am not really training for now, I am training for the future."
Yarde, along with his trainer-manager Tunde Ajayi, undertook a scouting mission back in August for the original Kovalev-Alvarez encounter in Atlantic City and witnessed first-hand the toppling of the Russian known as Krusher.
He views targeting the winner of the sequel as a logical sequence of events.
"Most definitely," added the strapping six footer. "These are the world champions and I've always said it doesn't matter who the champion is, I have just got to be ready for when I get to that stage. I am very nearly at that stage now, I am ranked No.1 by the WBO and No.8 in the world by BoxRec, so that is a very big position – top ten in the world after 17 fights.
"So it shows I am doing something right and I've just got to keep working hard."
So will Yarde, who doesn't study boxing religiously, be tuning into BoxNation to see if Kovalev can recapture former glory against Alvarez?
"I might watch Alvarez-Kovalev, but I won't be watching it to see what they are doing because I try not to watch my opponents to see what they are doing well.
"If you consistently watch a possible opponent you start to worry about what they do well. I just need to worry about what I do. I've seen Kovalev fight a few times – before I was even a professional – so I know what he is about and I know he is slowing down, although he has still got the power, obviously.
"But until I am booked to fight these guys I don't need to pay them any attention."
Tickets are available from £40 are on sale NOW via Eventbrite
###
Quotes from today's press conference for Frank Warren's big card at Leicester's Morningside Arena on Saturday February 23, live on BT Sport. British super-featherweight champion Sam Bowen (14-0) heads the card against an opponent to be announced after Ronnie Clark pulled out.
Anthony Yarde (17-0) defends his WBO intercontinental light-heavyweight title against Mehdi Amar (35-6-2).
Super-featherweight Lyon Woodstock (11-1) and super-lightweight Sam Maxwell (10-0) are also in action, while there is a Leicester derby between CJ Challenger (9-0) and Kyle Haywood (8-0) with the Midlands Area super-welterweight title on the line.
FRANK WARREN
"Yet again Clark pulled out. It is ridiculous and I don't know why he wanted the fight in the first place. We want Sam Bowen to defend his British title if anyone has the balls to step up, but he will be fighting. Sam is talented, does the job in style, dedicated and the chances will come.
If Lyon can get on track we could make him against Sam Bowen later this year. If Anthony can stop Amar that will be a statement. This year is about making it happen. These are the sort of fights he wants. I could have made him a world title fight last year, but it is not about fighting for it but winning and defending it. He is getting there. Sam Maxwell has been patient and this year is going to be his year. If he hasn't got a meaningful title around his waist by the end of the year I'll be very surprised. A fight against Ohara Davies shouldn't be hard to make."
SAM BOWEN
"It was disappointing when we found on Wednesday that Ronnie was out because our styles made a great fight, but potentially we have bigger and better opportunities. When I won the British title I was buzzing, and it allows me to have big, big fights. I am in the sport to provide for my family and getting big fights will let me do that. "
ANTHONY YARDE
"It is a line you hear, but whoever you put in front of me I have a job and that is to win the best way I can and that is a knockout. I am not world champion yet, and I try not to focus on the competition. I focus on where I am mentally and physically. I try not to get caught up in the hype because hype doesn't last."
LYON WOODSTOCK
"People assumed the loss to Archie Sharp would hit me. To me what I learnt and took away was massive. I wasn't feeling sorry for myself and I wanted to know what was next. I am doing okay and in under two years made steps some haven't. I will do what is needed to become a world champion. I won't be defined by the Sharp loss. There is not one person who is in my sights and whoever it takes to bowl over to get there I will. I wont fixate on one person. I'm targeting no one but if he (Sam Bowen) is in the way so be it."
SAM MAXWELL
"I have had ten fights and Frank had told me to be patient, but now I am being stepped up. I just want to challenge people like Ohara Davies. I have been ready to step up for a while."
KYLE HAYWOOD
"What a fight this will be. It is a fight that has always been on the cards and it's not who is the best in Leicester, but in the Midlands. We have boxed on same cards as amateur and supported each other, but we knew we have been on the same path. I'm so excited. This is everything. There is no animosity, but we both think we can win."
CJ CHALLENGER
"It is a great fight, Two undefeated boxers putting it on the line and all the Leicester boxing community should be excited. Too many boxers are frightened by losing their 0. Kyle is a good operator, but on the night I will pull it out of the bag."
Headlining the show at the Morningside Arena is British super featherweight champion Sam Bowen and is joined by light heavyweight Anthony Yarde as he takes on former European champion Mehdi Amar in the evening's co-headline fight.
Local fighters CJ Challenger and Kyle Haywood do battle for the vacant Midlands Area super welterweight title. Nathan Gorman, Sam Maxwell, Lyon Woodstock, Willy Hutchinson, Ryan Garner, Tommy Fury, Ryan Hatton and Mark Chamberlain also feature on the card.
###
ANTHONY YARDE WILL face his toughest assignment to date when he takes on former European champion Mehdi Amar at the Morningside Arena in Leicester on February 23, live on BT Sport.
The 35-6-2 Frenchman, who hails from Marseille, has previously won the EBU light heavyweight belt, defeating Serhiy Demchenko before surrendering the title on German soil on points to former world super middleweight champion Robert Stieglitz.
Amar, who has been stopped only once in 2012, moved on to challenge for the WBC Interim world light heavyweight title against the formidable Ukrainian Oleksandr Gvozdyk – recent conqueror of Adonis Stevenson with a perfect 16-0 record – in March of 2018 at Madison Square Garden.
Amar was defeated over the 12 round distance but proved his credentials in operating at the highest level in an ultra-competitive weight division.
The 36-year-old, who made his debut in late 2007, is a vastly experienced campaigner with 267 rounds under his belt across his 43 professional fights.
Yarde, by comparison, has clocked up just 46 rounds in his 17 fights so far, winning the Southern Area, WBO European and WBO Intercontinental titles along the way, preparing for future fights that will rubber stamp his star quality.
The 27-year-old's bludgeoning power and blistering speed has seen to it that only one – in his second fight as a pro – of his opponents has heard the final bell, resulting in him being ranked No.1 contender in the WBO rankings.
"I am aiming for big things this year and it starts here," stated Yarde. "Amar possesses all the experience and know-how of operating at a high level, winning European titles and fighting some of the best in the division.
"He proved his durability and toughness by going the full 12 rounds with Gvozdyk and the only other two people to do that did it in six round fights.
"It is the perfect test for me at this stage of my own development and I am looking forward to making a big statement in Leicester."
Yarde's clash with Amar at the Morningside Arena shares top billing with the British super featherweight title showdown between the champion Sam 'Bullet' Bowen from Ibstock in Leicestershire and Ronnie 'The Shark' Clark from Dundee. Local fighters CJ Challenger and Kyle Haywood do battle for the vacant Midlands Area super welterweight title, with Nathan Gorman, Lyon Woodstock, Ryan Garner, Willie Hutchinson, Tommy Fury, Ryan Hatton and Mark Chamberlain also featuring on the card.
Tickets priced at £40, £60, £100 & £150 are available and on sale NOW via Eventbrite.