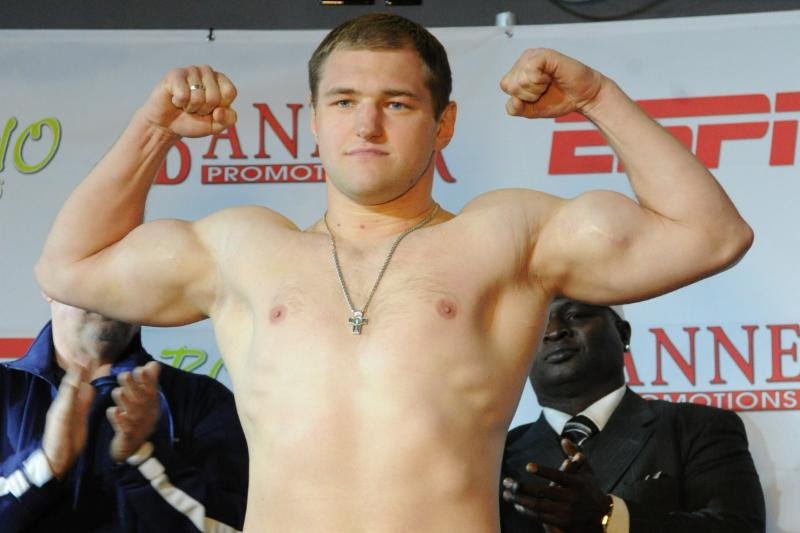 After a 10-round unanimous decision over tough Joey Dawejko this past Saturday in Ekaterinburg, Russia, 2015 Boxcino Heavyweight champion Andrey Fedosov is back on track in his effort to fight for the heavyweight championship of the world.
Fedosov, who made his first start in his home country in over 10 years, defeated the former world amateur champion by shutout scores of 100-90 on two scorecards, and 98-92 on a the third card.
Fedosov registered his 2nd win in less than four months.
With the win, the 32 year-old Fedosov improved to 31-3 with 25 knockouts, and now will will look for marquee bouts against the best in the division.
"I am very excited about the future," said Fedosov. "I have a brand new team with Journeyman Management with Andrew Zak and Alex Vaysfeld. We are looking to go to the top. I am already back in the gym training for the next fight, and I am willing to fight anyone."
"We are very proud of Andrey for his win on Saturday. We are looking towards the future with big fights," said Manager, Andrew Zak.
"Andrey is definitely one of the best heavyweights in the world, and to beat a tough competitor like Dawejko shows that he is now ready to take on the elite of the heavyweight division. I will sit down with my partner Bobby Hitz and Andrey's manager, Andrew Zak, and seek out the best and biggest fights for him," said Arthur Pelullo , President of Banner Promotions.
"It was a great win against a very capable and durable heavyweight. If you are not on top of your game, Dawejko can beat anyone out there. We look forward to bigger opportunities for Andrey," said Bobby Hitz of Hitz Boxing.
BADOU JACK'S "RIPPER NUTRITION" LANDS MULTIMILLION-DOLLAR ASIAN DISTRIBUTION DEAL
Two-division world boxing champion Badou Jack's burgeoning nutrition line Ripper Nutrition has announced a multi-year multimillion-dollar deal across Asia with Hong Kong-based ERS Ventures (HK) Ltd., a company specializing in marketing and distributing consumer products globally, for his line of premium pre-workout OXY RIPPER and post-workout AMINO RIPPER sports supplements.
Jack, who is one of the most accomplished fighters in the Mayweather Promotions stable, is a two-division world champion having held the WBC Super Middleweight Title and WBA Light Heavyweight Title. Outside of the ring, the continued growth of Ripper Nutrition is an important aspect of Jack's success as he continues to promote health and fitness worldwide.
"My team and I are very excited to partner with ERS Ventures and introduce Ripper Nutrition to the Asian market," said Jack, who is the co-owner of Ripper Nutrition. "We are proud to offer the most advanced and cleanest supplements ever formulated and taking the Ripper Nutrition brand global is something that we wanted to do from day one. I strive to be an international ambassador for the sport of boxing through my projects outside of the ring and this deal is another huge step in that direction."
OXY RIPPER and AMINO RIPPER are the first sports supplements to combine the highest quality Branched-Chain Amino Acids (BCAA) with the revolutionary plant based peptide LUNASIN, a powerful antioxidant that clinical studies have shown to reduce inflammation, support heart health, and boost your immune system. LUNASIN is the first peptide that has been discovered to positively affect gene expressions and has a multitude of large-scale scientific studies done to prove its positive effects.
"Having launched Ripper Nutrition just a few months ago, this deal speaks volumes about the progression of our company, the science behind our products and the future of Ripper Nutrition," said Amer Abdallah, co-founder of Ripper Nutrition. "We have some more major announcements coming soon and this is just the beginning."
Under the terms of the agreement, ERS Ventures (HK) Ltd. will be the exclusive distributor in Asia for Ripper Nutrition LLC., OXY RIPPER and AMINO RIPPER sports supplements.
"We're very excited to be working with Badou Jack 'The Ripper' and his team in representing and distributing Ripper Nutrition Sports Supplements in Asia," said Robert Schwartz, President of ERS Ventures (JK) Ltd. "Badou is a world champion and having his name on these supplements allows us to share his incredible back story of how Ripper Nutrition started. We also share his passion to introduce to the world an effective and incredibly powerful American made premium sports supplement."