Amado 'EL MALVADO' Fernando Vargas of Las Vegas, NV, son of the legendary three-time junior middleweight world champion Fernando Vargas Sr., will be the second son of the Legend to make his highly anticipated professional boxing debut this Friday, January 29 against Martin Sanchez, (2-4-1), in Hermosillo, Mexico, it was announced today by his father.
The four-round featherweight bout is featured on the BXSTRS Productions' card and will be broadcast on ESPN Knockout in a 'behind closed doors' setting due to the pandemic. Amado is the second of Fernando Vargas Sr's sons to turn professional with Fernando Vargas Jr. making his triumphant debut last month.
Following an amateur career compiling a record of 42-7, the 20-year-old Amado is excited to fight in the professional ranks. He will be trained by his father out of his Las Vegas, NV based gym, the Fernando Vargas Fighting Foundation. Although playing football in his younger years, Amado took up boxing in his mid-teens and was ranked as high as #5 in the 114-pound weight class by Team USA.
Said Amado, "I feel great, definitely excited to display my talents on ESPN Knockout. It's an honor to continue the legacy that my father has left. Now it's my turn to show the world that these Vargas boys can really fight."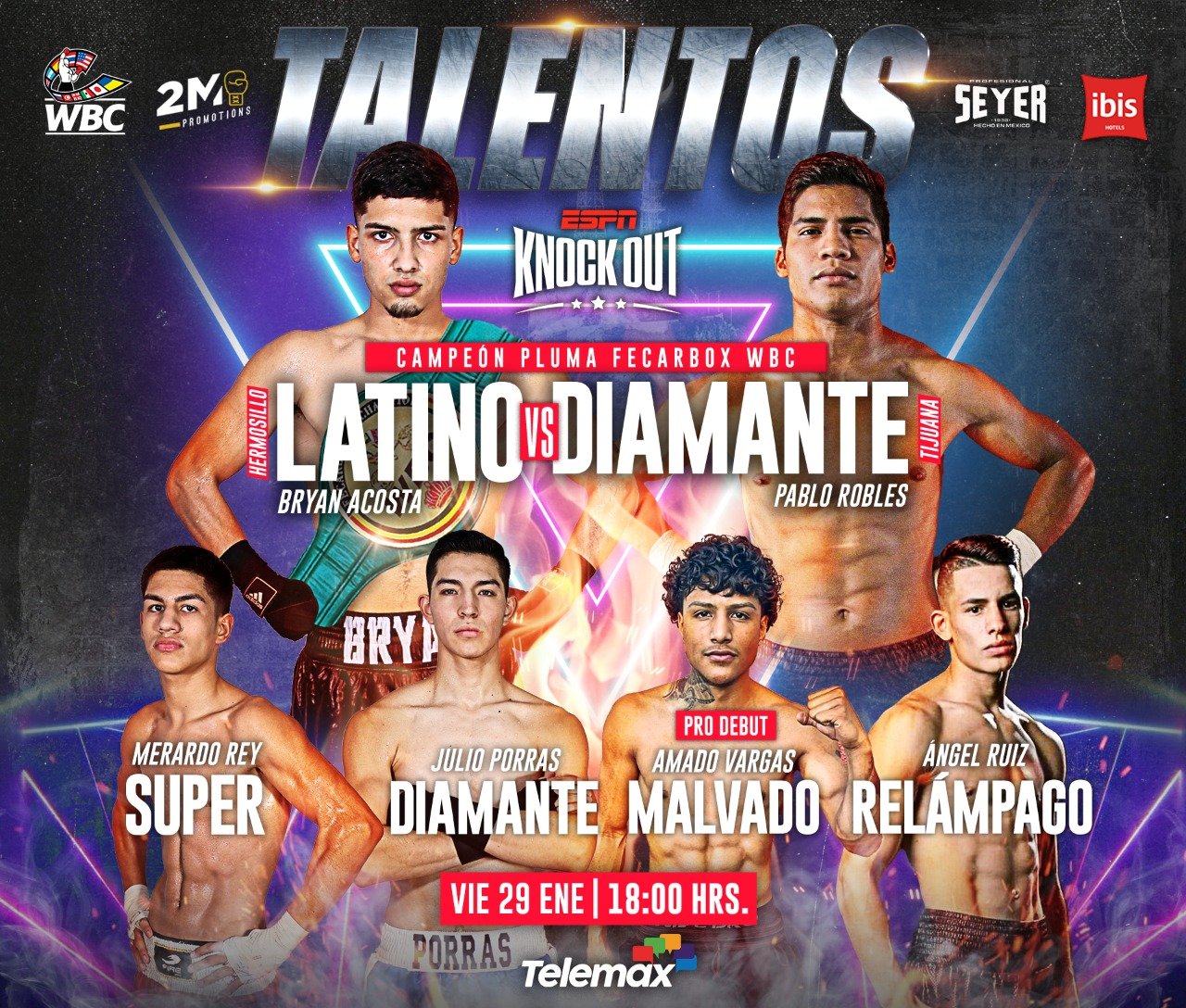 Stated Vargas Sr., "I'm thrilled to have Amado follow the footsteps of Fernando Jr. in turning professional. Like his other two brothers, Amado takes boxing very seriously and has dreams of becoming a world champion but he understands the work and discipline that is involved." Vargas' third son, 16-year-old Emiliano is also an accomplished amateur boxer.
Continued advisor Tom Loeffler, "Once again, I'm very happy we were able to put this fight together on ESPN Knockout. Thanks very much to BXSTRS Productions for giving Amado this opportunity. As with Fernando Jr, I'm looking forward to seeing Amado in the ring, as he continues bringing in the next generation of the Vargas family into the boxing ring."
Photos/Team Vargas
GCP Signs Undefeated Lightweight Wilfredo Flores to a Promotional Contract
Greg Cohen of Greg Cohen Promotions proudly announces the signing of undefeated lightweight Wilfredo "El Bravo" Flores (8-0, 4 KOs) to a promotional contract.
"I feel confident," said Flores of the signing. "I'm hoping to get things moving and make a huge impact this year. I always knew I had the talent and dedication, but I haven't been happy with my career progress. I've been a professional for over five years and I'm only 8-0. I just needed the right push to make a mark in the lightweight division and now that I'm with GCP, I'm ready to take over."
Born in Ponce, Puerto Rico and raised in Dunkirk, New York, Flores is the son of the late professional fighter Abimelic "El Bravo" Vega, who faced a long list of prospects and contenders before his untimely death in 2000 when Flores was just 10 years old.
The younger Flores started training at age three by following his father to the gym and, by the time he was five, would often be invited to show off his burgeoning skills by shadowboxing for the enjoyment of fans at his older brother's amateur fights.
Flores went on to have over 100 fights, losing just 12 and winning several regional tournaments including the Silver Gloves Junior Golden Gloves and Brampton Cup. However, stricken by grief after his father's passing, Flores took an extended break from boxing to play NCAA Division III college basketball for Medaille College and Fredonia State and then find work, before returning to the gym with Buffalo-based PAL trainer Hector Alejandro at the insistence of his fiancé. Flores now works with trainer Juan De Leon.
"My father's passing took a toll on me, so I quit for a long time. But then I was working full-time and it was very stressful. I knew something was missing. I met my fiancé, and she brought the spark back for me. She said, 'You're wasting your talent,' so I quit my job and went back. From there I turned pro and now I'm undefeated and signed to GCP."
An ambidextrous natural southpaw who can switch stances effortlessly, Flores is a technical boxer with accurate, deceptively fast hands that give him an explosiveness opponents find overwhelming.
"Boxing led me to happiness," continued Flores, "I'm a family man and I live by the motto 'work hard, stay disciplined and do what you love.' My goals in life are to be a great husband, future father and world champ. With Greg Cohen Promotions, I'm looking forward to finally achieving my goals."
Cohen says he'll get to work immediately on moving Flores up the talent-heavy lightweight division.
"Wilfredo is a hidden gem at 135 pounds," said Cohen. "He has tremendous talent and skill and just needs the right fights to get him where he belongs in the rankings. We are going to be taking an aggressive fight-schedule approach with him to cover a lot of career ground in a short time. A year or two from now, Wilfredo Flores will be a player in a division already packed with many of the best fighters in boxing."