Share the post "Adrien Broner – Antonio DeMarco on HBO this Saturday; Shadow Box Film Festival"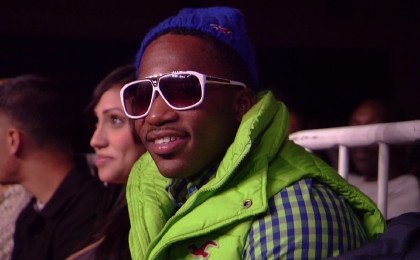 Atlantic City, NJ (Nov. 12) – Golden Boy Promotions will not only bring a night of entertainment relief to Atlantic City when they present the Adrien "The Problem" Broner vs. Antonio DeMarco World Boxing Council (WBC) Lightweight World Championship at Boardwalk Hall in Atlantic City, New Jersey, they will also bring monetary relief to those effected by Hurricane Sandy by making a donation to the Boys and Girls Club of Atlantic City whose main and satellite buildings suffered extensive damage in the storm. Caesars Atlantic City and Golden Boy President Oscar De La Hoya will match those funds in a collective effort to reach a vital part of the community.
Golden Boy will donate two dollars for every ticket sold and $1,000 per knockout registered during the event with De La Hoya and Caesars Atlantic City matching and adding to the much-needed donation. Several of the area Boys and Girls Clubs were heavily damaged during the storm, forcing the closure of the facilities that directly impact underserved youth and their family members in the area.
In addition to the monetary pledges, Golden Boy Promotions will donate tickets to the Boys and Girls Club of Atlantic City and fighters Adrien Broner and Seth Mitchell will visit one of the clubs on Wednesday during fight week.
"We are hoping that the Broner vs. DeMarco fight will afford people the opportunity to forget their worries for an evening and enjoy this great night of boxing," said Richard Schaefer, Chief Executive Officer of Golden Boy Promotions. "At the same time we understand the severity of the situation and would be remiss not to make a donation to help those directly effected by this terrible storm. With Oscar and Caesars Atlantic City providing matching donations, we feel very positive that our collective donation will help to make a difference."
"The people of Atlantic City are in need now and I am happy to join in the effort and make my own contribution order to help some of the people affected by Hurricane Sandy," said Oscar De La Hoya, President of Golden Boy Promotions. "A world of good can happen when everyone comes together to give back to people who are in need."
"Sandy not only breached the walls of the Boys & Girls Club, but the lives of each and every member here in Atlantic City," said John Smith, Senior Vice President and General Manager of Harrah's Resort. "So it's with great honor that I announce this donation to an organization that embodies the never-give-up attitude of New Jersey. We will not sit idly by and allow anything to compromise these impressionable youths."
ABOUT "BRONER VS. DEMARCO":
Broner vs. DeMarco, a 12-round fight between Adrien "The Problem" Broner and Antonio DeMarco for DeMarco's WBC Lightweight World Championship will take place Saturday, November 17 at Boardwalk Hall in Atlantic City, New Jersey. The event is promoted by Golden Boy Promotions and R & R Promotions in association with Gary Shaw Productions, sponsored by Corona, AT&T and Caesars Atlantic City and will be televised live on HBO World Championship Boxing beginning at 10:00 p.m. ET/PT. The co-main event will be a 12-round heavyweight clash between Seth Mitchell and Johnathon Banks for Mitchell's NABO title and the vacant WBC International Heavyweight title.
Tickets priced at $200, $100, $50 and $25, plus applicable taxes and service charges, are available for purchase at the Boardwalk Hall box office, by calling Ticketmaster at (800) 736-1420 or online at www.ticketmaster.com.
The Shadow Box Film Festival
Nov. 12, 2012 – Boxing has always made for great drama. There are few moments in sport as exciting as the culmination of a great fight. Victory or defeat is decided by one final round. The crowd rising, the tension building, the fighters tapping sources of pride and energy they didn't know existed. It's the stuff that legends are made of.
The movie industry has been borrowing from that legend for decades. Now there is a place where both worlds collide. The Shadow Box Film Festival will provide a venue for the presentation of boxing films geared to the passionate fans of both art forms.
"We are very excited to launch the inaugural Shadow Box Film Festival in New York City," said Festival Director David Schuster. "We are thankful that the School of Visual Arts has agreed to host the event in their fine theatre. Some of the greatest films in history have been about boxing and we think our lineup of films will contribute to that fine tradition."
The festival will take place over two days – Nov. 30-Dec. 1 – at the SVA Theatre at 333 West 23rd Street in Manhattan. We are excited to announce the New York City premiere of such fine films as:
"The Good Son," a documentary about the ill-fated 1982 title fight between Ray Mancini and Duk-koo Kim.
"Buffalo Girls," a documentary about two eight-year-old girls who engage in Muay Thai boxing in rural Thailand to help support their families.
"Jeffrey," a moving short film about the inspirational life of former pro boxer and current trainer Jeff Leggett.
"I think the public will love the films this festival is offering," said former heavyweight champion Michael Bentt, who also played Sonny Liston in the 2001 film, "Ali." "Between "The Good Son," "Buffalo Girls," and "Jeffrey" the entire spectrum of emotion is covered. You have tragedy, triumph and perseverance. It's all here at this festival."
The festival will showcase 30 boxing films, including 11 features. The films for this festival were shot in nine countries — Cuba, Thailand, Germany, United States, Canada, Spain, Germany, Argentina and England.
There will also be a special showcase for Oscar-winning director Leon Gast. On Saturday. Dec. 1, Mr. Gast will screen a highlight reel of his work. This will include a preview of his upcoming documentary on Manny Pacquiao. The screening will be followed by a QnA with Mr. Gast. At the conclusion of the QnA, the critically acclaimed film, "Buffalo Girls," will screen.
For tickets: Online: http://www.brownpapertickets.com/event/294687
Or call: 1-800-838-3006
"I am very proud of the stellar advisory board that has been assembled for the festival," said Schuster. "Our group includes World Champions, actors and members of the boxing media. We know that the fans of both film and boxing will appreciate the presence of these unique individuals, who are the heart and soul of the sweet science."
The Shadow Boxing Film Festival Advisory Board consist of:
* Honorary chairman Mark McPherson, former world-ranked junior middleweight contender
* Festival Director, David Schuster, boxing event producer
* Michael Bentt, former WBO heavyweight champion
* Mark Breland, former Olympic gold medalist and WBA welterweight champion
* Bobby Cassidy Jr., sports journalist, Newsday
* Chris Cassidy, Director of Photography of the critically acclaimed documentary, Side By Side.
* Aaron Cohen, Emmy-winning writer for HBO's 24/7 franchise
* Kevin Connolly, star of "Entourage"
* John Duddy, former IBA middleweight champion
* Steve Farhood, boxing analyst, SHOWTIME
* Leon Gast, Oscar-winning director, "When We Were Kings."
*Chris Kenneally, writer and director of documentaries "Side By Side" and "Crazy Legs Conti: Zen and the Art of Competitive Eating"
* Holt McCallany, star of "Lights Out"
* Seamus McDonagh, former heavyweight contender
* Bob Mladinich, author and boxing writer
* Scott Pardo, screenwriter, "Duran: Hands of Stone."
* Tony Rhodes, Executive Vice President, School of Visual Arts
WHAT: The Shadow Box Film Festival
WHERE: SVA Theatre, 333 West 23rd Street (8th and 9th Avenues)
WHEN: Friday, November 30 and Saturday, December 1, 2012
WEB: www.boxingfilmfest.com
EMAIL: [email protected]" target="_blank">[email protected]
FACEBOOK: facebook.com/ShadowBoxFilmFestival
TWITTER: @boxingfestival
Share the post "Adrien Broner – Antonio DeMarco on HBO this Saturday; Shadow Box Film Festival"