Share the post "Do or die for Arthur Abraham against De Carolis on October 26"
The tension is rising! There are only three days to go until Arthur Abraham (37-4, 28 KOs) can prove that he is rightfully the mandatory challenger to WBO Super Middleweight World Champion Robert Stieglitz. On October 26 at the EWE ARENA in Oldenburg, Germany the WBO Intercontinental Titlist will meet world-ranked Giovanni De Carolis (20-4, 10 KOs). And only a win can keep his dreams of a third fight against Stieglitz alive.
"I know what's on the line," assured the 33-year-old Abraham at today's press conference at the Acara Hotel in Oldenburg. Asked about his ten-year-tenure as a professional boxer with coach Ulli Wegner, the former two-weight division world champion replied jokingly: "As you can see, I have no thick hair anymore. I lost nearly all of it!" But he believes that during those years the rough tone of his cornerman has helped him to be successful. "Look Arthur," 71-year-old Wegner added. "This Saturday night I will be in your corner and not with Karo Murat in Atlantic City. That's what our relationship means to me!"
Said Kalle Sauerland: "Only a victory counts and I believe that Arthur is going to deliver it on October 26. It's do or die – a wins means another crack at a world title, a loss would be catastrophic.
However, Italian De Carolis wants to spoil those plans. The 29-year-old boasted a lot of confidence today: "I'm well prepared. After having studied Abraham's last fights, my coach and I have worked out a game plan to beat him."
Tickets for the big fight night at the EWE ARENA Oldenburg, which also sees Jack Culcay, Robert Woge and Marcos Nader fighting in title bouts, can be purchased at www.eventim.de and www.boxen.com.
Abraham, De Carolis showcase skills at open workout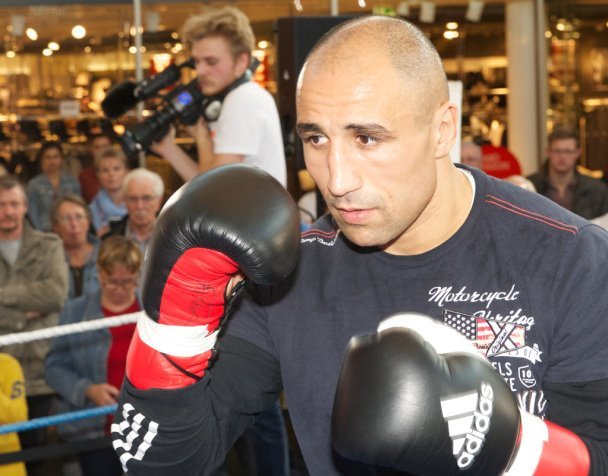 Arthur Abraham (37-4, 28 KOs) feels comfortable before his upcoming fight on October 26! At today's public workout at the Famila Einkaufsland, the biggest mall in Oldenburg, the former world champion and opponent Giovanni De Carolis (20-4, 10 KOs) showed that there will be a fight at hand this upcoming Saturday.
"It's good to be back in Oldenburg", said WBO Intercontinental Champion Abraham, who will not only risk his belt but also his mandatory spot to WBO Super Middleweight World Champion Robert Stieglitz. "I had my initial world title defense at middleweight at the EWE ARENA in 2006. The people here are always excited about a good fight, which I want to offer them this weekend." With those fond memories on his mind, Abraham fired-off some quality combinations to the pads of his coach Ulli Wegner.
The people in attendance could also witness an intense workout by De Carolis. The man from Rome, Italy, who will enjoy a height advantage of nine centimeters towards Abraham, surely did not hold back today. With that kind of self-confidence, he might very well be a threat to Abraham, who wants to continue his unbeaten streak in Oldenburg.