Ruslan Chagaev dethrones Nikolai Valuev
Photo by David Martin Warr

By Geoffrey Ciani: When the final bell rang after Saturday night's WBA heavyweight championship bout between Nicolay Valuev and Ruslan Chagaev, I was most surprised to see the celebration taking place in Chagaev's corner. There were congratulatory hugs, celebratory high-fives, and an overwhelming sense of joy and merriment—as if there was no doubt Chagaev would be crowned the new champion. In fact, team Chagaev was acting like one might expect after the decision was formally announced.

It was startling to see the confidence of team Chagaev. After all, this is boxing — a sport notorious for its controversial decisions. Furthermore, this wasn't exactly a fight wherein one fighter completely dominated the other. On the contrary, this was a very close bout which could have gone either way. In fact, I scored it 114-114—a draw.

And, when the first card was read (114-114), I was fairly certain the final outcome would be a draw. After the second scorecard, which read 115-113 in favor of Chagaev, I was even more convinced it would be ruled a draw. Then came the third score—117-111 in favor of Chagaev—and we had a new champion!

All in all the fight wound up being much more entertaining than I'd anticipated with each fighter having his moments. Chagaev took most of the early rounds, utilizing quicker hands and sneaky counter-punching techniques; Valuev took most of the later rounds, making the best of his enormous size and long reach. The clash of styles made for a very unique bout.

Chagaev fought a very smart fight while utilizing the advantages he had in order to neutralize Valuev's tremendous size. He did this by moving around and circling Valuev, forcing the giant pugilist to contend with a moving target. He also made great use of upper body movement making himself an even harder target for Valuev to locate. All of this movement posed problems for Valuev and allowed Chagaev many countering opportunities.

Time and time again, Chagaev would avoid the thunderous slow blows from his opponent only to sneak in a quick left hand on the giant's chin. Valuev was troubled by the speed, he was troubled by the movement, and he seemed troubled by the punches that continuously caught him flush. Not only was Chagaev hitting Valuev whenever he decided to throw his left upstairs, but he was also sneaking in the occasional right and a couple of shots to the body whenever the opportunity permitted. This trend persisted throughout most of the first half of the fight.

The second half of the fight told a different story. Down the stretch, Valuev began finding his target more and more frequently. Despite being hit with numerous shots to head and body, Valuev didn't slow down the way one might expect. Instead, he seemed to pick the pace up and began landing more shots of his own. Amazingly as it is, Chagaev is the one who began slowing down, and as a result, Valuev's long straight punches began landing with regularity. The main difference in the second half of the fight was that Chagaev stopped moving the way he was earlier in the bout when he was more successful; this gave Valuev a stationary target to tee off on.

In the end, the judges favored Chagaev's counter-punching over Valuev's lumbering style. This is a bit surprising, as rightfully or not, judges tend to favor the man moving forward. This time, however, they favored the slick counterpunching put on display by Chagaev. Although I scored the bout a draw and thought Valuev did enough to hold onto his title, I thought a close decision either way would have been fair and warranted.

It will be interesting to see how Valuev rebounds and where Chagaev goes from here.
---
Chagaev Beats Nikolai Valuev
Nikolai Valuev has vowed to bounce back stronger than ever after losing his WBA heavyweight belt to Ruslan Chagaev. The mandatory challenger handed the Russian Giant his first defeat in 48 contests when he clinched a close majority decision in Stuttgart on Saturday night. He was ahead 115-113 and 117-111 on two scorecards while the third judge called the bout a 114-114 draw. "It certainly was an exciting encounter and a great night of boxing - except for the outcome," manager Wilfried Sauerland stated. "It was very close."

Valuev (46-1, 34 KOs) was off to the better start and kept marching forward throughout the twelve rounds, working cleverly behind his left jab. However, it was Chagaev who landed the clearer punches. The crowd roared every time he got through with his southpaw left - even though it did little to impress the Russian Giant, who proved his great chin. Chagaev dominated the middle of the fight before Valuev upped pressure towards the end, firing in a few good combinations himself.

The pattern remained the same, with Chagaev relying on his speed and counter-punches and Valuev controlling the center of the ring. "I committed too many mistakes," he admitted. "I did not throw enough punches and also had trouble finding my feet. I am respectful of my opponent and have to admit that the decision was okay. The better fighter won."

Valuev remained optimistic he will put himself back in line for a world title shot soon. "There is no reason for me to put myself into a coffin. I will keep boxing and will be good enough to move back up the rankings in the WBA and get a new title shot soon. I hope Ruslan will stay champion long enough for me to get a second chance. I would be happy to box him again."

Valuev´s co-promoter Don King also was confident that the champion will bounce back. "I am very proud of Nikolai," said King. "It was a great fight. Niko will come back and attack again. Today it was a David versus Goliath battle and the winners are the boxing and the people."

Meanwhile, Wilfried Sauerland praised the development of his fighter. "Those who have followed Nikolai´s career could see that he has again shown great improvement today. He will keep working on his game and I think in at least one year he will be the WBA´s top challenger again."

On the undercard, Oleg Platov retained his IBF Intercontinental heavyweight belt with a tenth-round KO victory over Colin Wilson. René Dettweiler also saw off Ivica Perkovic
(DQ 8), while Francesco Pianeta outpointed Paolo Ferrara and Yoan Pablo Hernandez defeated Hector Alfredo Avila on points. Michel Trabant also beat Albert Starikov.
---
Valuev Loses Title on Questionable Decision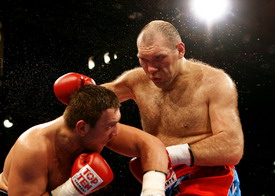 By Miguel Velasco, Photos by David Martin Warr, DKP
Nikolay Valuev (46-1, 34 KO's) was given what I consider to be a raw decision tonight in Germany, losing by 12-round majority decision to challenger Ruslan Chagaev (23-0-1, 17 KO's), in a fight that Valuev appeared to easily dominate for the entire boxing bout. Aside from a few slow rounds at the beginning of the fight, when Valuev appeared to be getting warmed up, he turned it up a notch starting in the 3rd round, and controlled the action with his jab/right cross combination, easily outworking the shorter Chagaev the rest of the way. The judges, however, saw it different, awarding the majority decision to Chagaev by the scores 114-114, 117-111, and 115-113.

I personally had Valuev winning nine rounds to three, and cruising to an easy decision over the short Uzbek fighter, giving him a boxing lesson in the use of the jab in the process. In the first four rounds, Chagaev, rarely landed at all, and the few that he did land, were more of a desparate type. He was often wild with his punches, looking like a cross between Axel Schultz and Arthur Abraham, though not as skilled as either of them. As for his power, he really showed next to zero against Valuev, particularly in the early rounds when he was mostly moving from side to side along the ropes and trying to stay away from Valuev. Chagaev basically stayed completely away from Valuev for the first four rounds, which is why I gave the those rounds to Valuev.

In round five, Chagaev landed well, catching Valuev with a number of left hands, a lot of them coming consecutively. To me, it looked like Valuev was taking this round off, perhaps figuring that he had won the first four and that he could afford to ease off his smaller opponent. I gave this round to Chagaev, the first round that he did enough to win it on my scorecards.

In the 6th round, Valuev came out strong and landed a four right hands in the first minute, many of them catching Chagaev clean as he attempted to charge in on the inside and snapping his head back violently. As the round was nearing an end, Chagaev head butted Valuev on one of his many charging attacks. However, no cuts or blood resulted. Valuev finished the round with a right to the head and a hook to the midsection as the bell sounded. A clear round for Valuev.


In the 7th round, Chagaev connected well on the inside, beating Valuev to the punch repeatedly. With his shorter arms, Chagaev had the clear advantage when they got in close, and unfortunately for Valuev, he let Chagaev get inside way too often in this round. I gave this round to Chagaev.

In rounds 8-11, it was all Valuev with him retaking control of the fight and outworking Chagaev, mainly using his jab, mixed with an occasional right hand. Chagaev didn't help himself in these rounds due to his constant circling and staying near the ropes, where his posture was mostly that of a defensive fighter. He was able to land every now and then, but he wasn't taking the fight to Valuev, like challengers are supposed to and he was being badly outworked by Valuev in each of these rounds.

In the 12th round, Valuev looked and fought like he was completely exhausted, missing many of his punches and lumbering around in a kind of listless manner. Seeing how tired Valuev was, Chagaev was able to come forward for the first time in the fight and assume the offensive role. He landed a number of excellent left hands during this round, though nothing that I would consider a really powerful shot by any means. In the last 30 seconds, Valuev seemed to get some of his stamina back, as he was able to tag Chagaev with three rights with the clock running down, each of which snapped Chagaev's head back badly. However, Chagaev did enough in the round to win it due to his early work with his left hand.

There you have it, nine rounds to three for Valuev. I gave Chagaev the 5th, 7th and 12th rounds. In the other rounds, Chagaev was badly outworked and his constant running took away any chance he would have to win the fight. However, the German crowd was clearly for Chagaev, and it showed from the very start, as they screamed any time he threw a punch, and would be oddly silent whenever Valuev landed, which was often. I must say, I've never seen a challenger win a fight doing so little, like I did with Chagaev. It was as if the roles were upside down, with Chagaev the champion and poor Valuev the challenger, trying to press the attack on the reluctant champion. It was pitiful, just pitiful, almost a carbon copy of two other bad decisions I've seen coming from Germany in recent times with the Abraham-Miranda and the Maske-Hill fight, only this was even worse considering the lopsided scores that were awarded to Chagaev.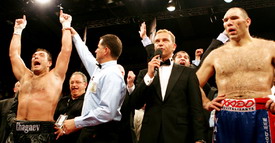 When I heard those scores, I knew that Valuev never really had a chance to begin with and nothing short of a knockout would have won it on this night. Just disgusting. I can't say much for Chagaev, not after this. Though, in fairness to him, I didn't think much of his skills before this fight, having seen him fight on several occasions against Sprott, John Ruiz and Rob Calloway. He mostly looks to be a journeyman type fighter to me, with little size, skills, power or hand speed. His nickname, "The White Tyson," I've always thought was made in jest, a joke on him, perhaps, one that he was slow to realize.

What's next for Chagaev? Well, I seriously doubt he'll be giving Valuev a rematch, probably knowing that he'd have a tough time getting lucky two times in a row with the judges' scoring. Seriously, I see him fighting mainly in Germany, being spoon fed easy opposition as long as possible, knowing that if Chagaev is matched up with a tough opponent in the top 10, someone like Rahman, Travis Walker, or Dimitrenko, he'd lose badly. Against someone like Wladimir Klitschko, forget it, Chagaev with his slow punches, short size and weak power, he'd be quickly obliterated in the first three rounds of the fight. So you can forget a unification bout because it isn't going to happen, especially with Wladimir Klitschko. That's my prediction. Naturally, they'll keep Chagaev matched up soft, allowing him to fight the bottom feeders in the division, that way he won't get his precious title taken from him immediately.