Peter Pummels Maskaev to TKO in Six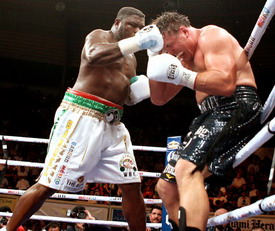 By Frank Gonzalez Jr, photo by David Martin Warr/DKP: Saturday night at the Plaza de Toros in Cancun Mexico, WBC Heavyweight Champion Oleg Maskaev (34-6, 26 KO's) lost his title to the younger Sam Peter (30-1, 23 KO's) after Peter delivered a series of power punches in the sixth round that forced Maskaev to cover up, get rocked a few times and ultimately be saved by the referee, who stepped between them and stopped the contest.

Sam Peter's aggressiveness was the difference in this fight. Maskaev lost the first round by not punching enough. He did better in the second as he jabbed well and connected with a few scoring blows. Peter landed the bigger punches but Maskaev was starting to realize that by using simple boxing techniques, he could catch Peter with a big right hand somehow. It didn't happen. Peter won the second by doing more damage.

Maskaev had a better showing round three and four as he used his jab proficiently and managed to crack Peter with a left hook and a few other power shots. Peter hit Maskaev a few times behind the head and did so again in the fourth round. Maskaev complained on a few occasions to no avail. Maskaev was making a big mistake looking to the ref while Peter was winding up to crack him again. Maskaev landed the cleaner punches during the late exchanges of the fourth.

In the fifth round, Peter cracked Maskaev with three consecutive shots. Maskaev scored with a nice right cross. Peter landed a right of his own. Again, Peter cracked Maskaev three times in a row. In the sixth, Peter hit Maskaev behind the head and got a warning. Both landed in spots until Peter caught him with a combination of shots forcing Maskaev backwards and covering up. Peter kept on punching, landed many and Maskaev didn't respond with anything back, so the ref rightly stopped it at 2:56. Maskaev didn't protest the stoppage and Peter celebrated his TKO 6 Victory.

* *

Maskaev got his WBC belt by beating Hasim Rahman in August of 2006 by KO 12. But Rahman didn't exactly earn that title—he inherited it when Vitali Klitschko decided to retire earlier that same year. In spite of his vigorous training sessions in preparation for this fight, Maskaev had some ring rust. He hadn't fought since December of 2006. Peter has been the busiest HW out there. Peter deserves credit for the forceful way he beat Maskaev, who is a smart, quality boxer with good power, although he's a bit on the slow side. Maskaev will be 40 years old this time next year. It's likely that he'll retire soon. He had a good run and hopefully made enough money to enjoy the rest of his life.

I hear a lot of people say that the alphabet soups and their belts don't mean much. That is truth. The values of all these titles are watered down by the fact that there are so many of them. It's obvious there is no legitimate rankings system, or how in the world does Vitali Klitschko come back after a couple of years away and get a shot at a title immediately? I am sure that a tip top shape Vitali would beat the lot of HW's out there today, including his little brother if he were so inclined to fight him. (I am not advocating that he does) But what's right is right. The guy who fights Wladimir Klitschko next should be Peter, or Chagaev, both of whom deserve that much.

Wladimir has the IBF, IBO and WBO titles. Peter now has the WBC title. Ruslan Chagaev owns the WBA title. So, you don't have a World Champion, you have three guys with belts. There are not a lot of quality names gracing the ranks of the HW division, so it's pretty obvious that the top guys should all just fight each other and settle things once and for all.

Unfortunately, Wladimir's brother Vitali is being considered to be the opponent of the winner of Maskaev vs. Peter. It sure smells bad when a guy is out of the ring for a couple of years, then comes back and suddenly, like magic, he's the top contender. If Vitali comes in good shape, I can't see Peter beating Vitali, but you never know and that's why they fight the fights.

This is not fair to Wladimir because we all know the brothers have vowed they'd never fight each other. Hopefully Vitali stays out of the ring until his brother gets the opportunity to consolidate the titles. As usual, the sanctioning bodies are not interested in having a Unified Champion.

There are but two logical fights at HW; and that is Wladimir Klitschko vs. Sam Peter II or W. Klitschko vs. Ruslan Chagaev. Wladimir owes the fans a good outing after his less than entertaining win over Sultan Ibragimov sullied his marketability a bit.

If I ruled the world, Wladimir would face Chagaev in July and if he beat Chagaev, he'd face Peter in November. Can you imagine a champion fighting three times in one year? The ghosts of boxing's past laugh in the background.

Can you imagine Chagaev beating Wladimir?

Against Wladimir, the possibility exists that Peter can win by KO because of his power and tenacity. In their fight back in 2005, Klitschko went down a couple of times from Peter punches. But Klitschko managed to out-box Peter and turned his face into pulp from all those clean jabs he landed. It's more likely that Klitschko's boxing skills wins him the fight by decision.

Klitschko is more a pragmatist in the ring these days. While he could probably knock Peter out if he got so inclined, its more likely he'd be satisfied to win safely by decision. If Jameel McCline could get so close to knocking Peter out, why not Wladimir, who has bigger power in both hands. Peter has a few glaring flaws. He's often wide with his punches, his defense is questionable and McCline showed that he doesn't take well to being clocked by power punchers. Who does? But it is a reality at HW, where one punch can end a fight at any time.
---
Peter - Maskaev Post Fight Quotes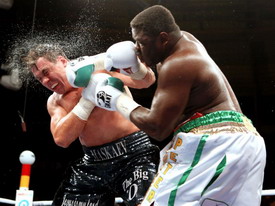 photo by David Martin Warr/DKP - Samuel Peter: "I hit him [Maskaev] with one and I him with another. Then I crack him up. My jab was good and then I him in the head and break off his head. I knew he was strong so I was careful. I feel great. I could fight again tomorrow. I'm ready for anyone."

Oleg Maskaev: "He [Peter] didn't knock me out. He shook me and knocked me back and the referee did the right thing. He was hitting me with two many punches. I hurt him a few times, yes, but I wasn't able to finish him.

"I can't blame anybody. It was my fault. My trainers did a good job and I failed tonight.

"I will be back. My team and I will talk and if they want to make a few more fights we can do it.."

Nate Campbell: "I knew he couldn't take it. I knew I was the bigger puncher. I could out-box him or out-punch him. My team and I said all along we saw a lot of hype with Juan Diaz but we didn't see the substance. I said I was going to take him out into the deep water and drown him and that's what I did.

I better have won. I won the last five or six rounds. I won this for Don King. I will never disrespect him the way Juan Diaz did. There's a tattoo on my back that simply says, 'fighter' and that's what I am and what I proved tonight.
---
The Ongoing Heavyweight Mess
Matthew Hurley: After dismantling the always shaky, and probably shot, Oleg Maskaev in six rounds, newly crowned WBC belt holder Samuel Peter breathlessly proclaimed himself ready for any heavyweight out there. With Don King's flag waving histrionics peeking over his broad shoulders providing the requisite touch of lunacy, the 'Nigerian Nightmare' repeated the world "tomorrow" like a mantra when asked if he was ready to fight WBC 'Champion Emeritus' Vitali Klitschko.

The very idea that Vitali, a fighter who hasn't fought since 2004 and can't even make it through breakfast without injuring himself is Peter's mandatory defense is further proof that sanctioning bodies will always remain the biggest thorn in the side of boxing. Should this fight actually be signed Las Vegas will lay odds as to how long it will take Vitali to blow out his knee or injure his back in training camp, further wasting everybody's time.

On top of that his brother, IBF and WBO titleholder Wladimir is intent on unifying the belts but remains forever deferential to his older sibling. Both Klitschkos have said it's been their dream to hold the heavyweight titles in a brotherly embrace and that they will never fight each other. It now seems obvious that Wladimir is hopeful that Vitali will stay on the sidelines and allow him to achieve his goal of becoming the unified champion. He said as much to his trainer Emanuel Steward.

Steward, worked the HBO telecast for Peter-Maskaev, couldn't keep the smile off his face when questioned by Jim Lampley and Max Kellerman about a rematch between his fighter and Peter. With tongue planted firmly in cheek Steward claimed to be very impressed with Peter's development as a fighter in the past few years. However, the smile on his face told the real story. He sees nothing in Peter that would indicate Wladimir would have as rough a time with him as he did back in 2005.

In that fight Klitschko hit the deck three times but convincingly won every round in which he wasn't picking himself up from off the canvas. His spills to the mat also came courtesy of punches to the back of the head, an ongoing tendency Peter continued in the Maskaev fight. But during the broadcast Steward actually waved off those indiscretions as a result of Peter's lack of technical skills and his penchant for wide swinging punches. What he saw from ringside Saturday night is a fighter whose conditioning remains suspect and still fights more like a raw prospect than a heavyweight champion. Such is the current state of the division, however, that Peter actually now is a title holder and because of the idiocy of the WBC may be forced to make his first defense against Vitali Klitschko, a fighter who remains the embalmed corpse this sanctioning body keeps propping up every six months to keep the division in a state of confusion.

Wladimir Klitschko will continue to maintain that he wants nothing more than to give the fans what they want, a unified champion, and Samuel Peter, despite his limitations, is a fighter willing to step into the ring with anyone. Those admirable qualities aside, the division will remain at the mercy of the sanctioning bodies. Steward himself, who wants nothing more than to see one heavyweight champion, said as much at a press conference announcing Wladimir's unification bout with Sultan Ibragimov.

"It's all well and good," he said glumly. "We may actually see a unified champion. But once the sanctioning bodies demand mandatory defenses the belts will get splintered again. We'll be lucky if it lasts six months."

It's an unfortunate truth in boxing, particularly in the heavyweight division, but Steward is correct. Hopefully by that time one fighter will be able to transcend the belts rendering them meaningless.
---
Peter, Peter Maskaev Beater; Sam Peter Thumps Oleg Maskaev
By: Phil Santos - Overhandright.com: The outcome was apparent early as the heavy handed Sam Peter slammed the older, slower Oleg Maskaev. Peter appeared the hungrier fighter with more to prove as he stopped the WBC champion by TKO in the 6th round. Peter had finally obtained the legitimate championship status that he so desperately desired. Maskaev did little more than hang in and last for 6 rounds as Peter did the majority of the effective scoring, especially when in came to landing power shots..

The "Nigerian Nightmare" ended Maskaev's night with a hard right hand which lead to a brutal flurry causing referee Guadalupe Garcia to call the action to a halt.

The win means big fights in the near future for the newly crowned World Champion and some added excitement in the often times dull Heavyweight division. An eagerly anticipated rematch between Samuel Peter and Wladimir Klitschko would be huge for the sport and would garner a fair amount of attention as a Heavyweight unification bout.

Peter now owns wins over James Toney(2), Jameel McCline and Oleg Maskaev with his lone defeat coming at the hands of the man considered the preeminent Heavyweight in the world in Klitschko. Peter just may possess the power and style to rejuvenate interest in the Heavyweight division.