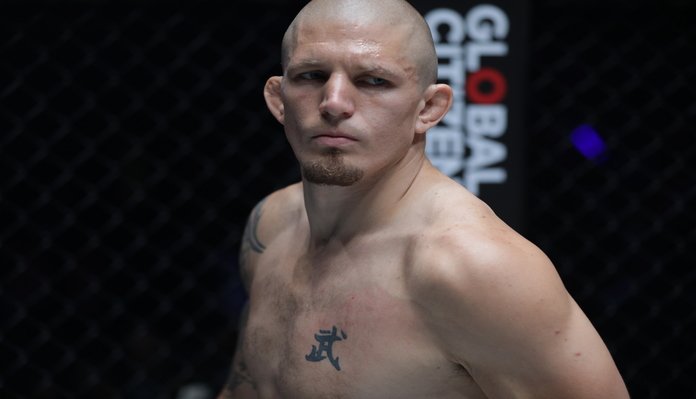 Zebaztian "The Bandit" Kadestam has seen many different battles in his seven years as a professional mixed martial artist. But for the Swedish standout, his loss against former ONE Welterweight World Champion Ben Askren last year has had the most impact in his career.
More than a year ago, Askren dominated Kadestam en route to a second-round TKO victory. It was a humbling experience for Kadestam, but despite the loss, "The Bandit" acknowledged the lessons learned from the setback, which he said should prove essential in his career moving forward.
"This defeat was the best learning experience of my career because during my whole camp I was learning so much to prepare for Ben's wrestling. It meant I developed as a martial artist just through the process of doing my training camp," Kadestam told onefc.com back in July.
"In the bout, I could see what he was trying to do, and his answers to what I was trying to do. Every 10 seconds, there was something he was doing that I could learn from. He was one step ahead of me in the whole bout, and I learned so much from experiencing that.
"I think my wrestling game has improved and changed completely as a result of that bout, and I am seeing it in my training. I get to a position and think: 'How did I get to this position?' It is from my experience of competing against Ben.
"Obviously, I was angry and disappointed immediately after the loss, but it was a learning experience, and it has actually made me a lot better. Martial arts is a journey, so you have to appreciate the ups and downs."
Kadestam went on to put together a stunning performance against Malaysia's Agilan Thani, whom he finished in the third round with a scintillating striking sequence.
On Saturday, 17 November, Kadestam has yet another chance to apply the lessons he learned from facing Askren as he heads toward his second chance of becoming a World Champion. Kadestam is scheduled to lock horns with undefeated American Tyler McGuire for the vacant ONE Welterweight World Title in the main event of ONE: WARRIOR'S DREAM at the Stadium Istora in Jakarta, Indonesia.
This time, Kadestam believes that he can handle the situation much better.
"I've been training for these kinds of guys for so long, so I'm starting to get the hang of it. I've been training hard, and I feel good, so I feel confident for this fight," Kadestam ended.
###
The largest global sports media property in Asian history, ONE Championship™ (ONE), recently held the ONE: WARRIOR'S DREAM Official Face-Off and Open Workout last Wednesday, 14 November at the Jakarta Muay Thai & MMA Gym in Jakarta. In attendance were main event competitors Zebaztian "The Bandit" Kadestam of Sweden and undefeated Tyler McGuire of the United States. Both Kadestam and McGuire will be competing for the vacant ONE Welterweight World Championship.
Ticket information for ONE: WARRIOR'S DREAM is available at www.onefc.com.
Also in attendance at the Open Workout were ONE Championship athletes Nieky Holzken, Cosmo Alexandre, Priscilla Hertati Lumban Gaol, and Angelie Sabanal.
Zebaztian Kadestam, ONE Athlete, stated: "I feel extremely confident heading into this next bout. I have learned many lessons from my experience in competing for the title against Ben Askren a year ago. Now, I have come out as a much improved martial artist. There are a lot of things that I can still improve on, and I'm getting better everyday. I've been training hard, and I feel good, so I feel confident in this fight. Tyler McGuire is a strong guy with good stamina. The first couple of rounds is going to be tough, so I have to be careful. He's going to try to take me down, but I've prepared my defense well. Then it's just a matter of going out there and having fun. I'm used to things being rough and tough. I've never had an easy fight in my whole career."
Tyler McGuire, ONE Athlete, stated: "To receive the opportunity to win a World Title in ONE Championship is an absolute honor. It means you are among the world's best. I have prepared very hard for this fight, and now I want to showcase the results of my hard work. Zebaztian Kadestam is a real tough guy, and I know he's going to come to fight. That's exactly what I want and I don't expect anything less. I know he thinks I can't hurt him with my striking, but my striking is underrated. Let's see. I consider myself a complete martial artist. Of course, my main arsenal is still my ground game, and if there is an opportunity to take him down, I'll maximize it. But if we are going to stand up and trade, then I'm prepared for that."
Former PXC Welterweight Champion Zebaztian "The Bandit" Kadestam started training in Muay Thai when he was 12 years old and later embarked on a highly successful professional career in the sport. Soon, he explored other disciplines, as he trained at the Pancrase Gym in Stockholm, and also traveled to the Philippines to sharpen his skills at the Legacy Gym in Boracay under famed martial artist Ole Laursen. Though he was unsuccessful in a bid for the welterweight title against former champion Ben Askren, Kadestam does own two high-profile victories over top contenders Luis Santos and Agilan Thani. His latest performance against Thani saw Kadestam exhibit his incredible striking skills to finish the young Malaysian by TKO. Up next, Kadestam takes on Tyler McGuire for the vacant ONE Welterweight World Championship.
Undefeated American mixed martial artist Tyler McGuire of Washington, USA, is a submission specialist who trains out of Sik-Jitsu Fighting Systems in Spokane. With an unblemished 11-0 professional record, the 32-year-old owns seven victories by way of submission. Known for his ability to display creative grappling techniques, McGuire finds himself travelling halfway across the globe to Asia, where he plans to showcase his skills on the global stage of martial arts competition. In his most recent outing, McGuire took on the dangerous Luis Santos in a tough three-round battle to win via unanimous decision. The performance was impressive enough to earn McGuire a title shot, as he takes on Zebaztian Kadestam in Jakarta for the vacant ONE Welterweight World Championship.