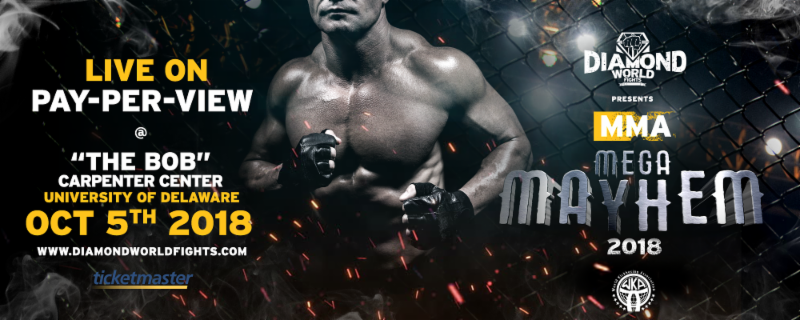 Diamond World Fights launches tonight (Friday) with its inaugural mixed-martial-arts event, "MMA MEGA MAYHEM 2018", live-streamed on Pay Per View from the Bob Carpenter Center at the University of Delaware.
"MMA MEGA MAYHEM 2018" will be live streamed, starting at 8 p.m. ET / 5 p.m. PT, via Cleeng and FITE.TV for $19.99.
United Fight Alliance (UFA) will be there to catch all the action with Emmy Award winning television host and commentator, Jordan "Jay" Adams, who will be calling all the action.
"We are building a quality brand that promotes the athleticism of combat sports," Diamond World Fights CEO and promoter Gail Stallings Minor said. "We are content on growing strong, skilled, disciplined athletes who are the best in the art of the sport. We believe the more skilled you are in the craft and the prepared you are in fitness makes for the strongest combatant."
The main event pits battle-tested Michael "Thunderhorse" Youngblood (200-40-3), fighting out of Atlanta, against Arizona veteran Shannon "The Cannon" Ritch (124-94-2), for the vacant WKA USA National Heavyweight Championship. Ritch has fought in top organizations like PRIDE and K-1, while Youngblood is a Greco-Roman wrestling champion.
In the co-featured event, former Bellator fighter Michael "The Greek Assassin" Bronzoulis (18-10-1), of Houston, meets Californian Marcus "The Gladiator" Gaines (15-28-1) for the vacant WKA USA Regional Middleweight Championship.
In a special female match, Flint, MI flyweight Sheena "Puma Starr" Brandenburg (0-2-0) faces Jackie "Chadenburg" Vandenburg (0-2-0). Georgia lightweight Jon Cobb (4-1-0) squares off versus Steve McCabe (7-21-0), a former UFC fighter from Philadelphia, plus featherweight Brandon "Black Panther" Davis (9-5-0) meets Michigan's pro-debuting Matt "Lighting" Lyall.
There will also be a pair of amateur MMA matches featuring Tyler "Yogi" Hinton vs. Christian Andalon and San Diego's Tyler Schaefer vs. Tia Jablonsky.
All fights and fighters are subject to change.
Tickets, ranging between $20.00 and $129.00, are available to purchase at the Bob Carpenter Arena box office
Doors open at 6 p.m. ET, first fight at 8 p.m. ET.
IMPACT Wrestling's Bound For Glory Live Oct. 14 on Pay-Per-View, Streams Live Globally on FITE.tv
TORONTO | NEW YORK – IMPACT Wrestling, a subsidiary of Anthem Sports & Entertainment Corp., returns to pay-per-view on Sunday, Oct. 14 for its biggest event of the year Bound For Glory, presented by COMDA.com, from Melrose Ballroom in New York City, NY. The three-hour spectacular kicks off at 8:00 p.m. ET and will be distributed on cable, satellite and digital pay-per-view, including DISH, DirecTV, iN Demand, Vubiquity, Rogers, Bell, Shaw and Sasktel across North America, and streaming live globally exclusively on the FITE.tv app.
Tickets are still available at IMPACTWrestling.com for Monday, Oct. 15 and Tuesday, Oct. 16 as IMPACT Wrestling presents television tapings for its flagship weekly show IMPACT! at New York City's Melrose Ballroom, featuring all the fallout from Bound For Glory.
In the Bound For Glory main event, IMPACT World Champion Austin Aries defends his title against Johnny Impact, who is a contestant on Season 37 of the hit CBS TV show Survivor, which premiered on Sept. 26.
Meanwhile, Impact's wife Taya Valkyrie will make history, as she too challenges third-generation star Tessa Blanchard for the Knockouts Championship, marking the first time that newlyweds challenge for major world titles on the same night.
In other marquee matches, LAX and Konnan will end their ceasefire with The OGz and King, as the two teams go to battle in a "Concrete Jungle Death Match," while Pentagon Jr., Fenix and Brian Cage join forces against Sami Callihan and oVe in a six-man "oVe Rules" encounter. Plus former best friends will collide when Eddie Edwards goes one-on-one with former NFL offensive lineman Moose