Vazquez Marquez III Lives Up To Hype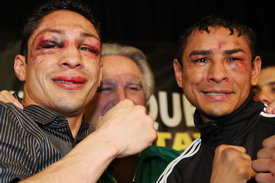 By Bill Calogero - TheDailySports.com, photo by Tom Casino/Showtime: The third installment of Israel Vazquez vs. Rafael Marquez lived up to all the hype. The fight, which was broadcast live from the Home Depot Center in Carson, California and broadcast live on ShowTime, was twelve rounds of non-stop action and the result should set the stage for a fourth encounter.

From the opening bell, it became obvious that this fight was picking up where Vazquez-Marquez II had left off. Both fighters went after each other. There was no customary "feeling out" round in this fight! In the first round, I felt that Rafael Marquez had the edge, thus giving him the round on my scorecard due to his effective jab. As was the case in the first fight, Marquez's jab was getting in and scoring. Vazquez landed powerful shots to the head and body, but on my card, the edge went to Rafael..

The second round was almost the same as the first. Marquez was scoring with hard rights following his stiff jab. Vazquez landed a solid uppercut that seemed to stun Marquez towards the end of the round, but I gave the edge to Rafael to win the round on my scorecard.

As the bell sounded for the third, both fighters resumed their attack on each other. It was another extremely fast paced round. Israel Vazquez landed the harder punches, more often during this round, thus winning the round on my scorecard.

During the fourth round, Marquez landed a solid left, followed by a punishing right cross that sent Israel to the canvas. Vazquez was up quickly and as soon as referee Pat Russell permitted him to continue, did so. Instead of running, Vazquez seemed to step it up a notch. Marquez went after what he thought was a hurt Vazquez and found out quickly that it may have been a mistake. Israel stunned Marquez with a flurry of his own which had the former two-time world champion backpedaling. The round ended with a 10-8 score for Marquez on my card.

Rounds five and six, on my card were split, Marquez winning the 5th and Vazquez winning the 6th. Both rounds were action-packed. After the 5th round, Marquez all of a sudden did not land his jab as successfully as he had earlier in the contest. Vazquez on the other hand WAS landing flush shots that seemed to be stunning Marquez.

Rounds seven, eight and nine, on my card all went to Israel Vazquez. Both fighters were at each other throwing non-stop punches, but I felt that Vazquez was landing the harder ones. Up to this point, Marquez had been warned for low blows on two occasions that were justified. They both were low, with the first one extremely low. Both warnings came prior to the 7th round. By the end of the eighth, Marquez's eye was almost swollen shut, while Vazquez was donning bad cuts above both of his eyes. Both fighters looked like they were in the exact fight they were!

Vazquez came out clearly the aggressor in the tenth. As the two combatants traded shots, toe-to-toe, a boarder-line low blow landed by Marquez cost him a point. The remainder of the round was Marquez's, resulting in a 9-9 round on my card.

The eleventh round was no different from the previous ten….both fighters were throwing & landing punches in bunches. How these two warriors kept up the non-stop action is STILL a mystery to me. The round was close, but on my card, I gave the edge to Vazquez. It seemed that every time he landed a flush shot, Marquez would take a step back. Rafael's eye was swollen shut and I suspected that he was not able to see much coming at him from that side. I gave the round to Vazquez.

The twelfth and final round, believe it or not, was MORE action-packed that the previous eleven. Both fighters came out to make a statement. It was Israel Vazquez who was clearly the winner of this round even before his brutal attack at the close of the round sent Marquez into the ropes and corner post. The referee justifiably scored it a knockdown and when the fighters continued, the bell sounded to end the round and the bout.

Both fighters looked like they were in a fight with more than one guy…that's for sure. Marquez could not see out of his left eye, while Vazquez's entire face was swollen to seemingly twice its normal size.

One judge at ringside scored the fight 114-111 in favor of Rafael Marquez, while the other two saw it at 113-112 and 114-111 in favor of Israel Vazquez, giving him the Split Decision victory and the retention of his WBC Super Bantamweight Title. TheDailySports.com scored the fight 114-111 also in favor of Israel Vazquez.

Israel Vazquez improves to 43-4 (32 KOs), while Rafael Marquez drops to 37-5 (33 KOs).

All in all….a GREAT fight and I personally hope to see a fourth match-up. It is extremely rare that two fighters create such entertaining match-ups in the ring for two, three and possibly four fights, but these two certainly do and will if given the opportunity. I have to give all the credit in the world to both fighters for coming out with the heart and determination that these two warriors did. All I can say is: GREAT FIGHT!

A great weekend of boxing, as has been the case for over a year and a half. Boxing is back and it's better than ever!
---
Vazquez Wins Via Split Decision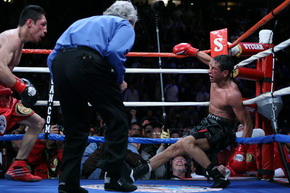 Photo by Tom Casino/Showtime - CARSON, Calif. (March 1, 2008) No one thought it would go the distance, but it did. WBC super bantamweight champion Israel Vazquez defended his crown and put an emphatic close to boxing's most exciting rivalry on Saturday night by capturing a split decision victory over Rafael Marquez in their historic rubber match on SHOWTIME CHAMPIONSHIP BOXING. Vazquez won by the scores 114-111 and 113-112. The third judge scored the bout 114-111 for Marquez.

The classic battle was promoted by Gary Shaw Productions, LLC, in association with Sycuan Ringside Promotions, Golden Boy Promotions and Romanza Boxing Productions. It will be replayed a few times in the next several days, including Wednesday, March 5 on SHOWTIME at 11 p.m. ET/PT (full replay schedule below)..

Marquez seemed to have control of the fight heading into the late rounds. He knocked down Vazquez in the fourth and punished the fellow Mexican native in the seventh stanza with precise jabs and powerful right hands.

Vazquez, however, would not be denied. Sensing he had to make a late push, Vazquez turned up the heat in the eleventh. Vazquez stalked Marquez through most of the round, bouncing left hooks and stiff right hands off Marquez' head.

"Some of his shots stunned me, but they didn't slow me down," said Vazquez, who is co-promoted by San Diego, Calif. based Sycuan Ringside Promotions and Oscar De La Hoya's Golden Boy Promotions.

"He hit me low from the beginning of the fight, but I shook that off. I had trouble seeing out of my right eye from the fourth round on."

Marquez appeared to have coasted the last few rounds, which ultimately hurt Marquez since Vazquez grew stronger as the fight progressed.

"I was throwing punches with bad intentions," said Vazquez, who improved to 43-4 with 32 knockouts. "I never stopped competing. I never stopped believing in myself. I knew in my heart that I would remain the champion.

"I know how to win tough fights. That is what I do."

The eleventh and twelfth rounds produced enough dynamite to blow through the thickest of concrete walls. Both of the rounds would belong to Vazquez.

In the eleventh, Vazquez began to wear down the tiring Marquez. Vazquez' relentless pressure would set up one of the most exciting finishes to a world championship fight in years.

In the twelfth and final round, Vazquez brought the sold-out crowd at The Home Depot Center to its feet by punishing Marquez with overhand rights and left hooks.

Vazquez never stopped throwing punches and Marquez, it seemed, couldn't wait for the round to end.

Vazquez ended up winning the final round 10-8 on all three scorecards.

"I felt that I won," said a disappointed Marquez. "I finished the fight and I felt strong even when Vazquez became aggressive at the end. I thought I dominated the entire fight.

"In the tenth round, they deducted a point because of a low blow, but it wasn't a low blow, I hit the belt line."

Saturday's sensational fight will re-air as follows:

DAY CHANNEL
Monday, March 3, 8:00 p.m. ET/PT SHO EXTREME
Tuesday, March 4, 10:00 p.m. ET/PT SHO 2
Wednesday, March 5, 11 p.m. ET/PT SHOWTIME
---
Vazquez defeats Marquez in an Amazing Fight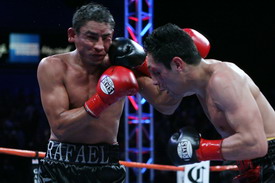 By Anthony Coleman, photo by Tom Casino/Showtime: Daaaaaammmmnnnnn!!!!! Now that is what makes Professional Boxing such a great sport. A week after Wladimir Klitschko and Sultan Ibragimov would give the world one of the worst Heavyweight title fights in recent memory, Israel Vazquez and Rafael Marquez would fight for the third and final(?) time, and once again put on a hell of a show. This was clearly the best fight of the series, and that is saying a lot seeing how special those first two fights were.

In the end Vazquez would win a razor close decision via and amazing 12th round in which he knocked Marquez down and came very close to stopping him, but there was no real losers in this fight. This was one of those rare boxing matches (and yes this was a contest worthy of the label of "boxing match"), in which both men were elevated because of their performances, and in the end the crowd was treated to another superb fight. This fight is a certifiable instant classic.

The fight started off with Marquez dominating the action behind his movement and slick jab. In my score card he swept the first 3 rounds. Then round four happened, and Marquez would badly stun then drop Vazquez with a right cross. Sensing his man being hurt, Marquez stalked for the kill, and then got badly buzzed by Vazquez in return. Marquez managed to stay on his feet and fight back in return. Great, great round of boxing; perhaps better than their legendary 3 round from their first rematch.

Then starting in round five the ebb switched in Vazquez's favor with him starting to come on strong with his pressure, double jab and he started unveiling his right cross, which sent Marquez off guard. He was obviously preparing for the champ's wrecking ball left hook, but the right cross began scoring often and gave him considerable trouble.

The middle rounds was back and forth with both men taking turns pummeling each other with their power shots and fighting with technical precision. It was the best of both worlds. Then in the late rounds, Vazquez began to impose his strength on Marquez and it was he beginning to set the agenda. Yet still when the fight went into the final round, the outcome was still up for grabs and there for the taking by either men. And the champ took it.

Vazquez came out like a man possessed and immediately landed a huge overhand right in the opening seconds. From that point on Marquez was battered from every corner of the ring and just trying to hold on for dear life as the bell rang while Vazquez was unloading with that right hand. Finally Vazquez would pin Marquez in the corner with another right cross and forced him into the ropes and referee Pat Russell did the correct thing and ruled it a knockdown. Then when the final bell rang Vazquez was announced as the winner via split decision with the deciding card of giving him the nod via one point. Personally I have no idea who won this fight. It was that close of a fight that is why neither man is diminished either way. They are still two of boxing's pound-for-pound elite.

But even more important is the series standing in history. This is clearly one of the greatest trilogies in the history of the sport. You could argue if it is better than Gatti-Ward, Ali-Frazier, Barrera-Morales or Zale-Graziano, but it is clearly in the discussion for greatest of all time. All three fights featured sustained ferocious action, and great boxing skills. Marquez and Vazquez used timing, ring-generalship, combination punching and defense to good advantage. And the third fight was a great capper because it featured so many changes in momentum and dramatic moments that it had you intrigued all the way through it.

In late 2006, when the first fight was announced, I was excited because I knew that they would produced a truly great fight. In the end these two men exceeded my expectations with their series, and it is the kind of fight you'd show to get people interested in the sport. While both men aren't the name brand stars of Roy Jones or Mayweather, and they will only get a short blurb on ESPN, they will always be remembered for what they have given the sport over the last year, and their effort is worthy of a standing ovation.
---
Vazquez vs. Marquez III - Controversy Reigns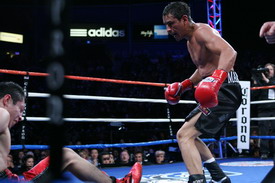 By Paul Strauss, photo by Tom Casino / Showtime: Two knockdowns a penalty for low blows and a split decision, what more could you want! Fans will be talking about and debating this one for a long time, as well as the two previous fights between these two great fighters. Maybe even until they fight again? I certainly would vote for a fourth fight.

Marquez and his corner-men thought he deserved the decision, directing interviewer Jim Gray to view the obvious damage to Vazquez' face. Once again Vazquez sustained cuts over both eyes, plus he had the usual swollen and possibly broken nose. Marquez didn't come out exactly unscathed either

To this viewer, one of the most amazing things was Vasquez' stamina. Considering the punishment he took, it was unbelievable how he mustered the energy to turn up the heat in the final round. He unleashed punch after punch, never giving Marquez a chance to catch a breath. He got Marquez in serious trouble, and was credited with a knockdown, even though Marquez didn't actually go down. It was obvious Marquez would have gone down if not for his right gloved hand clenched to the top rope. He was in a very vulnerable position as well, and Vasquez tagged him twice more with a straight right and then a left hook before the referee jumped in to administer an eight count. With only seconds left, a knockout was probably not much of a reality.

Two judges scored the fight 114-111, but for different fighters. The third judge scored it 113-112 for Vazquez, so he earned the split decision. But, I think fans' blood pressure will be elevated for quite sometime over this one

Marquez had his left jab working in the early rounds, and he was keeping his distance. Surprisingly, he hurt Vasquez with his left hook, rather than the reverse. However, even when he knocked down Vasquez, it did not appear that Vasquez was in danger of being knocked out.

Vasquez landed lead right hands several times, surprising Marquez, and when Marquez would fall in close, Vasquez was able to do additional damage with his short hooks and uppercuts. It appeared that by the second half of the fight, Marquez was beginning to slow down a bit. He became more flat-footed, and his stance widened, which resulted in some of his punches falling short, leaving him vulnerable for Vazquez' counters.

However, just when it appeared the momentum had shifted for good, Marquez would come roaring back, rallying and possibly stealing the round. At least in the eyes of one judge that was the case.

After the first two fights, it shouldn't have surprised anyone that these two warriors would put on another classic battle. There's just no quit in either one of these champions, and to think this wasn't pay-per-view! Showtime should be congratulated for putting together this trilogy. As Jim Gray put it, it was a privilege to watch these two great fighters. What do you think......maybe a

a fourth one, or a Vazquez vs Guerrero match-up? Wouldn't that be something! Well, let's give Vazquez a little time to celebrate, enjoy his victory and heal up before we start toying with that idea. Wow! What a fight!
---
Marquez vs. Vasquez III, One of the Greatest Rivalries in Boxing
By Frank Gonzalez Jr., photo by SUMIO YAMADA: March 1st, 2008 - It was a year ago that they met for the first time in the ring, Marquez was the WBC Champ then and after six brutal rounds, Marquez had broken Vasquez' nose so badly that he couldn't breathe, so he retired on his stool. Marquez got the win and they signed up for a rematch five months later, where Vasquez won by TKO 6 after the referee stopped the fight after Marquez was being hammered and not answering with punches. Marquez is tough as nails and refused to even believe what happened. They signed up to fight again seven months later..


Saturday night at the Home Depot Center in Carson California, WBC Super Bantamweight Champion Israel Vasquez (43-4, 32 KO's), one of the best power punchers in the sport fought that rubber match against one of the sharpest boxer-punchers in the boxing, Rafael Marquez (37-5, 33 KO's). It was an amazing fight and a definite candidate for "Fight of the Year" honors.

No Mariachi bands, no pre-fight swipes, no confetti, no hype, just pure, unadulterated fisticuffs from the first bell to the last.

Marquez won many of the early rounds with his powerful jab and combinations. Vasquez started to win more rounds late with his well timed punches that had Marquez in trouble a few times.

The referee deserves credit for a job well done. He made the right calls when he made them. Marquez was penalized for a low blow after numerous warnings. The last round saw the ref make the right call in a tough spot.

The Fight

Round One
Marquez led with his jab, following with rights and combos in spots. Marquez landed a nice body shot. Marquez in charge until Vasquez started landing some power shots that hurt Marquez, including an uppercut to the chin late in the round. Marquez went back to the jab and retakes the momentum as the bell sounds. Vasquez left eye reddened. 10-9 Marquez.

Round Two
Vazquez used his jab to get in closer and was effective. Vasquez landed a clean right. In close, Vasquez is dangerous. Marquez jabbed outside to retake a moment of the tempo. Vasquez pressured Marquez and during the exchanges, landed the bigger punches. Marquez best scores came from the jab. Vasquez landed a right hook and uppercut that stunned Marquez. A great fight as they exchange punches until Vasquez landed a big right as the bell rang. 10-9 Vasquez.

Round Three
Marquez looked great throwing his jab. Vasquez double jab stunned Marquez. Marquez kept landing his jab and an occasional right to follow. Marquez landed a low blow and gets a light warning from referee Pat Russell. 10-9 Marquez.

Round Four
Vasquez led with pressure, always punching and landing something. Marquez landed a strong right. Lot of action. Marquez landed more often but with less pop in his punches. Head butt occurred. Vasquez looked to suffer more from the butt. Marquez clocked Vasquez with a right and Vasquez was hurt and covered up. Marquez came forward and unleashed punches, many that scored and a right put Vasquez down for a count. Vasquez got up quick, and then rocked Marquez with a left hook and a double overhand right and was chasing Marquez down—as if HE was going for the finish! Incredible! Marquez came back with a solid left hook followed by an uppercut that stunned Vasquez. What a battle! 10-8 Marquez.

Vasquez corner told him to stay on the inside.

Round Five
Marquez was fighting 'long,' popping his jab and doing his best work when he kept Vasquez on the outside and at a distance. It was a very technical display from Marquez, who also did some work to the body. All Marquez, jabbing and controlling the action. Vasquez landed a big right hand to Marquez face near the ropes. Marquez 10-9.

Round Six
Marquez' jab is the story of the fight so far. Vasquez landed a few good right hands. Vasquez got Marquez on the ropes and went to work, landing at will with good clean shots that were hurting Marquez. Another low blow by Marquez, referee warned him strongly, saying he'd take a point next time. They traded shots and Marquez landed another low punch unnoticed by the referee. 10-9 Vasquez.

By the midpoint, Marquez looked clean and uncut. Vasquez had a gash over one eye, reddening over the other one.

Round Seven
Vasquez was more aggressive and worked his way in close where he didn't mind taking a shot to deliver one of his own. Marquez' right eye started to close and Vasquez was aiming that way. Vasquez took the momentum as he kept his right hand in the face and body of Marquez. Marquez landed a left hook to the jaw of Vasquez. Left upper cut by Marquez, who stole the round with a crowd pleasing rally, relentless to the bell. 10-9 Marquez.

Round Eight
Lots of action! Both try to reassert themselves quickly. Marquez jabs, Vasquez shot power punches into Marquez face and body. They switch roles and scored. What a GREAT fight! Big right by Vasquez rocked Marquez. Vasquez pressed Marquez toward the ropes and shot his combinations with no regard for the return fire. The tide is turning. Vasquez's power started to take over. 10-9 Vasquez.

Round Nine
Marquez makes it a boxing match, staying away, moving and popping his jab up or down. Vasquez effectively pressed forward into the chest of Marquez maintained control of the round, mindful to crack Marquez with heavy rights until about 10 seconds to go, when Marquez rocked Vasquez with a left uppercut, right cross combination that wobbled Vasquez just before the bell. 10-9 Vasquez.

Round Ten
Lots of back and forth action. Vasquez pursued Marquez with his jab, forcing him towards the ropes and letting the leather fly. Marquez landed a nice combination that caused Vasquez to hold. Marquez popped a power right straight into Vasquez face. Marquez landed another low punch and the ref stopped the action to take a point from Marquez, who protested the call. Vasquez moved in and Marquez had something for his ass as he peppered him with clean combinations that turned Vasquez' offense back into defense. The bell rang. Damn…how do you score this round? 10-9 Vasquez compliments of the point deduction.

Round Eleven
Vasquez was taking aim at Marquez' left eye, which was swollen like a fat lip and closing fast. Marquez takes a lot of shots to the face. Marquez moved a lot on defense. Vasquez kept on him. Marquez landed a few good shots but Vasquez landed more and heavier. Feels like Marquez is fading until with ten seconds left, Marquez lit up like a firecracker and the burst into fisticuffs until the bell sounded. What a fight!! 10-9 Vasquez.

Round Twelve
Vasquez landed a crushing right, they slugged it out. Vasquez the hunter, Marquez, the hunted. Vasquez rocked Marquez with a left hook to the face, followed by a right and a clinch initiated by Marquez. Right hook Vasquez, Vasquez combo. Marquez running. Marquez held on. Vasquez goes for the knockout and lands a slew of punches that staggered Marquez, who clinched. Vasquez landed shoeshine upstairs, Marquez staggers into ropes from a series of Vasquez punches. Marquez held onto the ropes but it was clear by his rubbery legs and semi conscious look on his face that he was down. If the ropes weren't there, he'd have fallen down for certain. The ref rightly counted. Marquez was up and protesting the call. The bell rang. It was over. 10-8 Vasquez with a BANG, not a whimper.


The official scores were 114-111 for Vasquez, 114-111 for Marquez and 113-112 for Vasquez, who won by Split Decision. Not to be a trouble maker but can you imagine if World Title fights were fought at 15 rounds instead of 12? I had it close and can see how anyone could have scored this fight close within 3 points for either guy. Vasquez did do the more telling damage and Marquez was the better technical boxer.

* *

During the post fight interview, Marquez was asked if he thought he won the fight. He said yes, by a point or two. Marquez showed frustration again at the consequences of two calls by the referee. First, he said the punch for which he lost a point, was actually a legal punch. The replays showed it was a borderline shot. But Marquez had been warned a few times prior for low punches, so it's hard to make too big a case for this. The second gripe was the ref counting him down in the final moments of the last round in the corner ropes. If the ropes weren't there, Marquez would have fallen backwards onto the floor, outside of the ring. Marquez ended the interview saying that he wasn't down, and that this was bullshit.

The truth will visit him when he watches the tapes.

Vasquez was gracious and humble, said he did what he had to do to win. When asked about the deduction on Marquez in the tenth, he said that Marquez did get away with a few head butts as well as low blows.

Maybe as a lead up to their fourth fight, Marquez and Vasquez ought to take on one of the other belt holders in their division. If they can beat the others and get their belts, it would make the fourth fight more interesting since they'd be fighting for all the belts and the True Championship.

Who's out there at Super Bantam? You have Steve Molitor (26-0, 10 KO's) of Canada. He's scheduled to face Fernando Beltran Jr. in April. There's current WBA champ, Celestino Caballero (28-2, 19 KO's) who'll be busy this coming May with a rematch against the formidable Daniel Ponce De Leon (34-1, 30 KO's). Either Vasquez or Marquez should be able to sign fights with either winners of those fights.

I can't think of anyone I'd rather see Marquez or Vasquez fight besides each other. Bring on Marquez vs. Vasquez IV! What fight fan would miss that? For blood and guts, you got to go with the rivalry of Gatti vs. Ward. For pure slugfest at a higher skill set, you got to go with Barrera vs. Morales but when it comes to overall blood and guts, high quality boxing skills and non stop action, Marquez vs. Vasquez is my pick for best rivalry so far of the twenty-first Century.