Pavlik Decisions Taylor in Rematch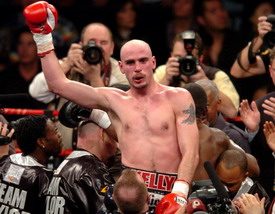 By Frank Gonzalez Jr, photo by Naoki Fukuda: Five months after Kelly Pavlik (33-0, 29 KO's) knocked out Jermain Taylor (27-2- 1 Draw, 17 KO's) and captured his WBC and WBO Middleweight Titles; they met again Saturday night at the MGM Grand in Las Vegas, where Taylor got a chance to redeem himself and win back his pride if not his Titles, which were NOT on the menu for this rematch. The contracted weight for the fight was 166-pounds, six pounds over the Middleweight limit. It was Taylor's request and Pavlik graciously accepted.

Taylor has a champion's heart and did not want to fight anyone other than the man who beat him. Like he said, 'this is boxing the way it ought to be.' And I concur. Lucky for us fans, Kelly Pavlik also has a champion's heart and he was as ready for the rematch as Taylor was intense.

The best part about this fight was the balances that often existed between both fighters in many rounds. Taylor obviously studied their last fight and trained himself mentally to not make the mistakes he made last time. To his credit, he kept himself away from the ropes and worked his jab and combinations. As emotionally charged up as he had to be, he kept his cool and didn't waste energy throwing meaningless punches.

Pavlik showed up much the same as he did last time up. He methodically worked behind his jab, pressing Taylor when he could and scoring well with jabs and follow up right hands. The difference this time up was that Taylor was so much more disciplined, he attacked in spurts instead of wildly so as to better conserve his energy. He fought a smart fight within the bounds of his abilities and gave a good account of himself. The intensity of Taylor alone was impressive. He managed to land many good shots but this time, Pavlik was a bit more astute on defense and avoided the canvas.

*

The Fight:

Just before they started, the stare down was pretty intense. Neither had an edge in that department.

Round One

It started with a measured tone. Both used their jab effectively. Pavlik landed a big jab that saw Taylor go backwards. Pavlik landed a good shot to the body. Taylor came back with a solid left hook! Pavlik landed a right. They exchange punches at the bell. 10-9 Pavlik.

Round Two

Pavlik pressed forward, jabbing and throwing rights. Taylor landed a few good shots and kept moving around. Pavlik landed to the body, then to the head. Taylor's speed was evident when he popped Pavlik with a big right hand. Taylor also followed with some punches below the belt and was warned by Tony Weeks, the referee. Lots of action as they traded shots, with Taylor doing some good scoring. Pavlik landed the heavier punches but Taylor excited the crowd with his faster hands. 10-9 Taylor.

Round Three

Taylor landed a jab to the body to start things. Pavlik backs him up with a combination. Pavlik sticks to his modus operandi and pops his jab and kept Taylor moving backwards. Taylor boxed, circled around and landed a hard right to the body. Taylor was beating Pavlik to the punch, landed a right hand and a left hook. Pavlik looked slowed a bit. Taylor's discipline was noteworthy. 10-9 Taylor.

Round Four

They waste little time and traded punches at center ring. Pavlik always kept his jab working and landing rights behind it. Things turned tactical as Pavlik pressed Taylor with his jab and scored at will. Taylor stepped up his jab output and landed many, followed with his right. Late in the round, Pavlik landed a right that slowed Taylor's attack. Pavlik landed harder punches as the bell rang. Both had some good moments. 10-10 Even.

Taylor's corner told him to relax. Very relaxed in his corner, Pavlik's people told him to double his jab.

Round Five

Pavlik's jab kept Taylor at bay. Taylor threw his jab but Pavlik had the better jab that landed more often. Pavlik followed up with right hands that often landed. Taylor landed a nice right that saw the sweat fly off Pavlik's head. A Pavlik right caused Taylor's nose to bleed. Pavlik scored at a high percentage as he pushed Taylor around the ring with punches. Taylor scored in spurts. Taylor rallied late and punched after the bell. 10-9 Pavlik.

Round Six

Pavlik continued to press forward with the jab. Both scored in spots. Pavlik constantly threw his jab, at one point he landed about ten in a row, all unanswered by Taylor, who conserved energy by punching less but exploding with attacks in spots that scored. Pavlik was in control. Taylor landed a hard left before the round ended. 10-9 Pavlik.

Round Seven

Taylor's eyes started to show swelling as Pavlik's jab kept finding a home there. Taylor had a few good moments, like a shoeshine to the body and showed some quality boxing skills. Pavlik kept coming forward, always working, always landing something and always pushing Taylor back. Taylor flurried to the body again and continued to punch after the bell—again.

10-9 Pavlik.

Round Eight

It was more of the same as Pavlik pressed his jab and Taylor circled around him, throwing shots when he could and managed to land a nice left hook. Pavlik kept punching. Pavlik scored the stronger punches and consistently kept Taylor moving backwards. Pavlik nose was bloodied from a Taylor left hook. Taylor landed a big right and Pavlik blocked the rest and as they clinched, both landed at the bell. Close, but Pavlik did more damage. 10-9 Pavlik.

Pavlik's corner told him not to shake hands anymore. Taylor's corner worked on his swelling cheeks and eyes.

Round Nine

More of the same, with Pavlik pressing and Taylor, getting pushed backwards. Taylor landed a nice right that stung Pavlik but Pavlik came right back at him with jabs and combinations. Taylor landed another left hook. Pavlik kept hammering his jab into Taylor's face, his eyes getting smaller with each shot. Pavlik never let Taylor change the tempo. With basic boxing fundamentals, he kept the momentum in his favor and didn't let Taylor land enough punches to steal the round. 10-9 Pavlik.

Round Ten

Virgin territory for Pavlik, who never fought past nine rounds. They boxed at a more measured pace early. They both had to be a bit tired by this point but neither showed signs of fatigue. Pavlik's efficient jab was the story of the fight so far. Taylor landed a hard overhand right, the crowd erupted with cheers. Pavlik returned with a hard, short punch inside. Taylor got busy late and landed good shots with enough intensity to take the round. 10-9 Taylor.

Round Eleven

They traded punches at center ring. Taylor had the faster hands. Taylor landed some nice distance shots, like a hook from down-under that snapped Pavlik's head back. Pavlik's jab constantly broke through Taylor's guard. Taylor double jabbed to the body. Pavlik landed a right. Pavlik goes back to his jab and finally caught Taylor against the ropes. Taylor was disciplined enough to stay away from the ropes just about the whole fight, but when he ended up there, Pavlik hurt him. Pavlik landed a vicious body shot and kept punching as Taylor held him for the final seconds of the round. 10-9 Pavlik.

Taylor's corner worked his swellings. Pavlik's corner told him he needed a knockdown.

Round Twelve

They went at it and both scored in spots, Taylor landed a big right. Pavlik cinched. Pavlik landed his jab into Taylor's face. Pavlik opened up with some combos and showed great stamina. Taylor landed a left hook. Pavlik continued to punish Taylor's face with a stinging jab. Pavlik to the body, Pavlik to the face. Taylor shoe-shined to the body. They brawled and clinched and with only seconds left, Taylor held onto Pavlik until the bell rang to end it. Pavlik looked disappointed at not being able to land anything in the final seconds but he definitely won the last round. 10-9 Pavlik.

They embraced at center ring and the mutual respect was obvious.

The Official scores were 117-111, 116-112 and 115-113, all for Kelly Pavlik.

* *

Congratulations to Kelly Pavlik, who remains unbeaten and improved his record to 33-0. He will go back to fighting at 160, where he'll defend his titles. Now that Pavlik has beaten Taylor twice, Miranda by KO and everyone else he's ever fought as a pro, who is next? IBF champion Arthur Abraham immediately comes to mind as does WBA Titleist Felix Sturm, who's slated to fight in early April. It would be great if Pavlik could fight the other title holders and consolidate the Middleweight Titles into ONE true Champion. Since the other title holders probably won't be available for political reasons, he might try to get a fight with Winky Wright, who is an excellent boxer. Pavlik is very strong and technically sound. I can't see anyone really taking his crown away anytime soon.

Congratulations also to Jermain Taylor, who fought a hell of a fight, gave everything he had and showed some real improvements in his game. It seems Pavlik is a bit too much for Taylor right now but if he plans on continuing to fight, which he absolutely should! He should consider going after Abraham himself. If he can beat Abraham, he'd have a new title and a legitimate reason to challenge Pavlik again. However, it seems that Taylor will move up to the 168 pound division, where he might rediscover success. Who knows, he may even be able to sign a fight with Joe Calzaghe, who would then have an excellent reason to come fight here in the USA. Whatever he does, I wish him well.
---
Pavlik Decisions Taylor; Undercard Report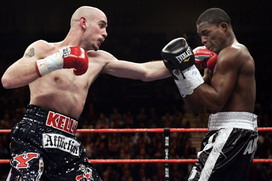 - By Bill Calogero, TheDailySports.com: Kelly Pavlik (photo by Chris Farina/TopRank) went twelve rounds for the first time during his professional career en route to a twelve-round decision over Jermain Taylor last night from the MGM Grand Resort & Casino in Las Vegas. The "Rematch" was broadcast live on HBO PPV and was co-promoted by DiBella Entertainment and Top Rank, Inc.

The first round started fast with both fighters attempting to establish their jab. Jermain Taylor rattled off several quick and stinging jabs that landed. Kelly Pavlik started the round off by using his jab effectively too. The only difference to me was that I felt that Kelly was able to follow his jab with several hard rights that landed flush. Taylor was able to show his much superior hand speed from the start of this round and ultimately throughout the fight. It was a close round but on my card, I gave it to Pavlik.

Round two was also a close round. Taylor landed several hard rights, which followed his snappy jab. His punches were crisp and powerful and you could see the determination on his face. Pavlik showed why he is referred to as a "Blue Collar Fighter" by systematically throwing his jab followed by the right hand. His punches were straight and were getting to Jermain before he could throw his own. Again, this was a close round, but I gave it to Kelly Pavlik on my scorecard.

The third round was similar to the second except in this round, I felt that it was Taylor who came out on top. Jermain was the one landing the right hand following his jab. Although Kelly continued to throw punches, I felt that Taylor won the round. He landed the harder shots.

The fourth round was another close one. Both fighters were successful, as they had been in the previous three rounds, landing stinging right hands that followed their jab. I gave the round to Pavlik mainly because it was he who pressed the fight and continued to throw punches for the whole round. Taylor fought in bursts and when he wasn't throwing punches, Pavlik was.

As the fifth round was going on, I couldn't help but think how workman like Kelly Pavlik is. He almost seemed robotic, throwing his jab, then his right…one-two, one-two. I thought Taylor was sitting back and timing Kelly….as if he was going to unleash a barrage of punches, but it never happened. On my scorecard, Pavlik won the round with his steady non-stop attack.

Taylor landed several very hard right hands during the sixth round. As was the case in the earlier rounds, he was able to loop his right after landing his quick jab. Although he was scoring, Pavlik continued his one-two, one-two approach, following his straight jab with straight right hands, which were landing squarely on the face of Jermain Taylor. Pavlik also began doubling up his jab, which caused Taylor to wait and "expect" the right hand to come and land. It did, consistently and I gave Pavlik the round on my card.

The seventh round was the slowest round of the fight. Both fighters seemed to take a break, but in my opinion, it was Taylor who took more of a break. Pavlik continued to press the action, winning the round on my scorecard.

In the eighth, Pavlik continued to unleash his jab followed by his right….one-two, one-two, one-two….very methodically. But in this round, Taylor started to fight with more purpose. He was throwing his punches harder than he had been. They were also landing flush and because of this, I gave Taylor the round on my scorecard.

As the ninth round progressed with Kelly Pavlik throwing his jab, followed by his right, exactly as he had for the entire fight, I couldn't help but think of the old "Tortoise and the Hare" story. Slow and steady wins the race and Kelly Pavlik was steadily throwing and landing his shots and on my card, was clearly winning the race. Taylor landed a few very hard punches, and if he could have thrown more in succession, I think he may have squeaked out the round, but he didn't and on my card it was another 10-9 round for Kelly Pavlik.

The tenth and eleventh rounds went to Taylor on my card. He was able to land a couple of hard body shots that seemed to take Kelly Pavlik out of his methodical rhythm. Once that happened, other punches seemed to get in and score for Jermain Taylor. Both rounds were close and Pavlik continued to press the action, but I thought that Taylor got the better of the two combatants, landing the more meaningful punches.

The twelfth and final round was no different from the previous eleven. It was close and featured both fighters throwing and landing their jabs followed by right hands. But it was in this round it became evident that Jermain Taylor was out of gas. He stopped punching mid-way through the round and let Kelly Pavlik one-two him to the point where it was obvious that Pavlik took the round.

It was a good fight. Both fighters showcased his talent. Both fighters landed a substantial jab and powerful right hands. Both fighters came in and fought their best and gave it their all. One judge scored the fight 117-111, one saw it at 115-113 and the third had it 116-112, all in favor of Kelly Pavlik giving him the unanimous twelve-round decision win in the non-title, 166 pound "catch-weight" contest. TheDailySports.com scored the fight 116-112 also in favor of Kelly Pavlik.

Kelly Pavlik showed he IS the real deal, improving to 33-0 (29 KOs) and will chart his way through the Middleweight division. Jermain Taylor proved he is a Champion caliber fighter, dropping to 27-2-1 (17 KOs) and will be back now campaigning in the Super Middleweight Division.

On the under card, Fernando Montiel retained his WBO Super Flyweight Title by stopping Martin Castillo with a crushing left hook to the body at 1:54 of the fourth round. Montiel dropped Castillo with a left hook to the head in the last seconds of the first round, but did not seem to put Martin in trouble, as he was up and ready to go as Joe Cortez reached the count of eight. The body shot however, put an end to the contest for good in the 4th.

Fernando Montiel improves to 36-2-1 (27 KOs) while Martin Castillo loses for only the third time in his pro career, dropping to 33-3 (17 KOs).

In an action-packed fight, Cristian Mijares retained his WBC Super Flyweight Title with a twelve-round unanimous decision over the tough, Jose Navarro.

There were no knockdowns during the bout, but there were many punches thrown and landed by both fighters. During the entire fight, both fighters fought toe to toe. There was not ONE clinch, which added to the excitement.

The fight started out one-sided, in favor of Mijares, but as the bout progressed, Navarro showed his toughness and battled back through his bleeding nose, which eventually turned his white trunks red. In the 11th round two back-to-back shots opened up a severe cut over Jose's right eye, but it did not prevent the warrior from finishing the fight on his feet.

Two judges had the fight for Mijares with scores of 115-113 and 117-111, while the third scored the fight for Navarro with a score of 120-108, which had to be an error, giving Mijares the split decision win. TheDailySports.com scored the fight 115-113, also in favor of Mijares.

Cristian Mijares improves to 34-3-2 (13 KOs) while Jose Navarro drops to 26-4 (12 KOs).

To round out the PPV card, Ronald Hearns stopped Juan Astorga at 1:10 of the eighth and final round to earn the TKO victory. Hearns improves to 18-0 (14 KOs) while Juan Astorga drops to 11-2-1 (6 KOs).

All in all, another great night of boxing. I DO have one comment I can't keep to myself. Harold Lederman, whom I have always admired as HBO's ringside unofficial judge, has been coming up with some crazy scores of late.

During the Pavlik-Taylor bout, his scorecard was, in my humble opinion, way out of whack. He continued to give Taylor rounds in which I asked myself what fight was he watching. Although Larry Merchant's card was different, he tried to support Lederman's, for what reason, I don't know.

It all seemed to add up looking to me like HBO had more to benefit if Taylor had come out on top. As a matter of fact, in the pre-fight discussions, Jim Lampley even said in not so many words that he felt Taylor was going to win this time. The way he said it was almost like…you all wait and see, this time it's going to be different. Don't get me wrong, everyone has his/her own opinion, but it just sounded like it was in the "plan" for Jermain to get the W. Maybe I took it wrong…..maybe not.

The bottom line was that they were all wrong. Taylor was a good fighter in the amateurs, but ever since he won the Middleweight Title, has been less than impressive. In both fights against B-Hop, AND in the fight against Wright, he was given decisions that should have gone the other way.

Although his performance last night was a good one, he wasn't the best man in the ring, Pavlik was. Maybe the TV networks should concentrate more on the production of their programs instead of the fighters. After all, is it their job to promote the fighters? They may have to promote a fight, but they should leave promoting fighters to the fight promoters.
---
Jermain Taylor: What Now?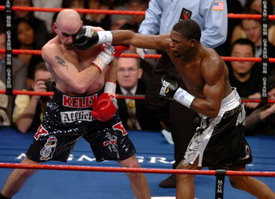 By Taj K. Eubanks-17 February 2008- photo by Naoki Fukuda: What began as journey of inspiration and success has now collapsed like a house of cards. Pavlik-Taylor II more than lived up to boxing fans' expectations as a 36-minute slugfest and potential Fight of The Year candidate.

Kelly Pavlik, galvanized by his previous drubbing of former undisputed middleweight champion Jermain Taylor, was firing on all pistons as he had an answer for every weapon in Taylor's arsenal. Taylor gave a good showing of himself with a spirited and, dare I say, more disciplined effort than in the previous match. It was not enough, however. While Kelly Pavlik's hands were once again raised in victory, Jermain Taylor's second loss only raised questions.

Once the darling of HBO and a can't-miss contender, Jermain Taylor's career trajectory has now taken a surprising freefall. Athletically gifted, good-looking, and humble with a hardscrabble story to match, Taylor was someone with whom anyone could identify and Madison Avenue could adore. His two controversial wins over Bernard Hopkins established him as a star but also left many with the impression that Taylor might not be the real deal. After all, as the old axiom says, "You have to BEAT the champion to beat the champion," which many felt Taylor did not do. Still, armed with the lineal middleweight championship, Taylor carried his momentum into matches with Kassim Ouma, Winky Wright, and Corry Spinks. His performances, however, were less-than-stellar and doubts about Taylor's legitimacy as a true champion, which began as whispers, grew to deafening levels when Taylor's championship slipped away as he was viciously knocked out by Pavlik.

Taylor's second defeat delivered more questions than answers, however. Should Taylor move up to the super-middleweight division? This seems like a logical choice as it has become clear that Taylor cannot beat Pavlik, who intends to lord over the middleweight division for the foreseeable future. However, Taylor's prospects at 168 pounds are not much more promising as he will ultimately be forced to knock on the door of one of boxing's top three fighters pound-for-pound, Joe Calzaghe. And of course to get to Joe Calzaghe, he must first navigate a hostile terrain speckled with contenders like Mikkel Kessler and Edison Miranda who, like Calzaghe (and Pavlik), can box AND punch and who do so at a higher weight.

Taylor also has the less enticing option of remaining at middleweight and trying to pick up Arthur Abraham's fringe belt, but this avenue seems unlikely as Abraham apparently has no intention of fighting in America and happens to be a virtual unknown to the boxing public. Also, having a single belt for the sake of having it makes no sense either, as unification is always (or should be anyway) the ultimate goal of a champion and, assuming Taylor could snatch Abraham's trinket, all middleweight roads ultimately lead to-you guessed it-Kelly Pavlik.

One final option which has yet to be discussed (an almost criminal oversight, this writer feels) but yet is plainly obvious, is to bring back the architect who made Jermain Taylor a tour de force in the professional ranks to begin with: Pat Burns. No disrespect to Ozell Nelson, who certainly corrected many flaws in Jermain's game between the first and second fights, but Pat Burns may be able to provide a return to form of the Jermain Taylor who dethroned Hopkins, an incarnation many feel was his most impressive to date. Saturday night's Taylor was fierce and determined but fought in spurts, abandoned his jackhammer jab all too often, and seemed to receive little sound advice with which to make adjustments. Pat Burns' return may be the trump card that Team Taylor needs to get back in the game.

And so it stands that Jermain Taylor's brain trust has its work cut out for itself. He is still young and healthy and has time to further refine his skill set. Yet make no mistake about it, the next decision that is made for the former champion must be made soberly and with the utmost deliberation, for his career hangs in the balance.
---
Was Jermain 'Taylor' Made For Pavlik?, Or Is The End Really Near?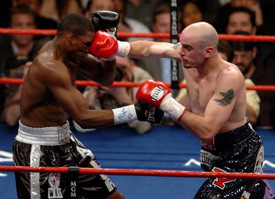 By Vivek Wallace, photo by Naoki Fukuda: On Saturday night before 9,000 plus fans, Kelly Pavlik found himself on the winning edge of yet another classic matchup with Jermain Taylor. Coming into the fight, Taylor knew that he would have to employ more head movement, more jabs, and more endurance to overcome the "Ghost". From a gameplan standpoint, that was totally accurate. The trouble is, he was suppose to do that for more than the first 9 rounds.

His inability to maintain that strategy in the Championship rounds was the X-Factor, because as it stood in the end, that was exactly where his ambition to overcome his career's lone obstacle fell short..

In the aftermath, now that Pavlik has taken away Taylor's shot at redemption, the questions about Taylor's future have began to surface.

When you analyze the career of Jermain Taylor there's somewhat a double-edged sword. His will can never be questioned. His skill, depending on who you ask, can.

Either way it goes, one thing that I've personally learned about Jermain is that his biggest asset has perhaps become his biggest liability. That asset - turned liability - better known as his heart, is the common denominator in this whole equation.

In an era where fighters are constantly bashed in the media for taking what are known as tune-up fights, or 'lay-downs', it seems that this was the one thing Taylor should have possibly given more thought to in an effort to preserve himself a bit.

His last 5 opponents spanning over his last 7 fights register a solid 189-11 record collectively. The barrage of names, equal in stature.

Arguably the greatest middleweight of this era, Bernard Hopkins, whom Taylor became the first in over 10 years to defeat, which he did in two fights. Arguably the greatest defensive fighter of this era whom Taylor battled to a 12 round draw with, in an action filled fight. Two smaller, yet very skilled fighters in the slick Cory Spinks and the battle-tested Kassim Ouma. Then finally, his eventual conqueror, the very dangerous and still undefeated Kelly Pavlik.

How many men in this sport would have the heart or courage to entertain this many 'top-billing' fighters consecutively?

As rugged as welterweight 'next-man-in-command' Miguel Cotto is, there's no coincidence why he chose the talented yet far-under-the-radar Alphonso Gomez after facing Zab Judah and Shane Mosley in two consecutive bouts, rather than pursuing an Antonio Margarito, or more dangerous opponent.

Even Pound for Pound great Floyd 'Money' Mayweather lasted no more than four consecutive grueling bouts before embarking on what will equate to a 9 month hiatus prior to his second matchup with Oscar Dela Hoya - after taking on Judah, Baldomir, Dela Hoya, and Hatton.

No matter what fighter you look at along the rankings in the various weight divisions, few have had the heart and will to engage in battle after battle, with the sports elite. On the heels of such an effort, we now must wait to see what next for a man that is far better than his recent losses lead on to believe.

Personally, I think There's a huge upside left in Taylor. Many in the sport would beg to differ. When you think about it, it probably doesn't matter because who's right and who's wrong has very little to do in the end when it's time to decide who's right and who's left. That's what this sport is all about, and in the end, I think Taylor's ability will easily allow him to rise to the surface again.

Is the end near for Jermain Taylor? Only if Pavlik is his nemisis. Very few other fighters would have walked away with a victory against Taylor as he appeared in Saturday's fight.

If Jermain Taylor can take some time to regroup his mind and face a few not-so-great contenders to not only hoan his craft, but also rest his body, there's no doubt in my mind that Taylor can compete.

His future success will all come down to whether or not he chooses to, (for once), be weak in the face of his previous strength, and disobey that courage of heart that at this very moment beckons for him to answer the recent challenge of Roy Jones Jr, or the possibility of Mikkel Kessler.

If he can lose that courage of heart temporarily and resist that urge, he may benefit. If he fails to, he won't. It's that simple.

Only time will tell.
---
Pavlik – Taylor Post Fight Comments

Matthew Hurley: After their compelling rematch Saturday night in which Kelly Pavlik won a twelve round unanimous decision over Jermain Taylor the two fighters retired to the media room in the MGM Grand Hotel and spoke of the fight and their future plans. While Taylor's disappointment could be summed up in his comment that he was going to "take my ass home and go fishing," the Arkansas native not only did himself proud in the ring but also continued to do so outside the ropes..

Before taking the podium his promoter Lou DiBella spoke of the fighter's courage and praised not only his performance but also that of Pavlik's. The good vibrations were reverberating all over the room.

"It was the kind of fight that was hard to score," he said, alluding to some of the ringside press that had the fight scored a draw or in Taylor's favor. (I had the fight scored 116 – 112 for Pavlik.) "You saw two terrific fighters get out there and perform. We're proud."

The crowd that had gathered for the post-fight press conference was extremely gracious, acknowledging the spirited effort put on by both fighters.

Taylor addressed the audience from behind a pair of dark sunglasses, but his humble nature shown brightly.

"It was a great fight," he said, in his halting manner. "I worked 110% in the gym. I give all the credit in the world to Kelly. He fought a great fight."

When asked if he thought he won the bout Taylor deflected his answer to a noncommittal, "I just listen to my corner."

But the former middleweight champion refused to take anything away from Kelly Pavlik.

"I remember when Bernard Hopkins did it after out fight," he said, referring to Hopkins complaints after losing two decisions to Taylor. "He took some of the glory away. Let him (Pavlik) be happy. The man is the middleweight champion of the world, let him enjoy it."

As for the wicked body shot in the eleventh round that seemed to seal Taylor's fate, at least in terms of the scorecards, Taylor agreed that the hook was a telling blow.

"He did catch me with a good body shot in the eleventh round. He did hurt me but you got to keep on fighting. It was a great fight all around. I give it to him."

At that Lou DiBella chimed in that Taylor will now be a permanent fixture in the super middleweight division.

"Jermain will never fight at the 160 pound division again. I expect Jermain to be a dominant fighter at 168. Jermain's next fight will be on HBO and somewhere down the line we want another shot at Kelly Pavlik."

After being introduced by promoter Bob Arum, the always soft-spoken Kelly Pavlik continued the laid back festivities.

"I hope everyone enjoyed it," he said, his smile belying the purple welts on his bald head and face. "I think we put on a good one."

As to what Jermain did differently that proved to be so difficult for him to counter Pavlik admitted that Taylor's movement and unwillingness to lay back on the ropes, as has been his habit in past fights, caused him to alter his attack.

"He slid off the ropes. He didn't stay in the corner. He was making some good spinouts; I've got to give him credit for that. I couldn't get the body shots going until later. I thought I took the first round and then I'd give him two through six, but after that I thought I was dominant, particularly in the last three rounds. But I have to go back and watch the tape because we're both working in there, thinking of the next move, so…"

After the press conference when asked about a possible third bout with Taylor, Pavlik nodded and alluded to, perhaps, an eventual rubbermatch at 168. But for now he has business in the 160-pound division. Two opponents seem to be vying for Kelly's first defense of the middleweight crown, aged Puerto Rican icon Felix Trinidad and relatively untested Irish middleweight John Duddy. Although Duddy seems all but a lock, even Pavlik admitted that a fight with Trinidad in Madison Square Garden would be a huge money event that even the blue collar hero might not be able to turn down. Although, he may have no choice as the WBC and the WBO will demand a mandatory defense by June.

As for the man who has given him everything he could handle for nineteen rounds Pavlik smiled, sighed and said, "I think I'm done with that kid for a while."